Grosvenor Casino set to rebrand across 52 venues and online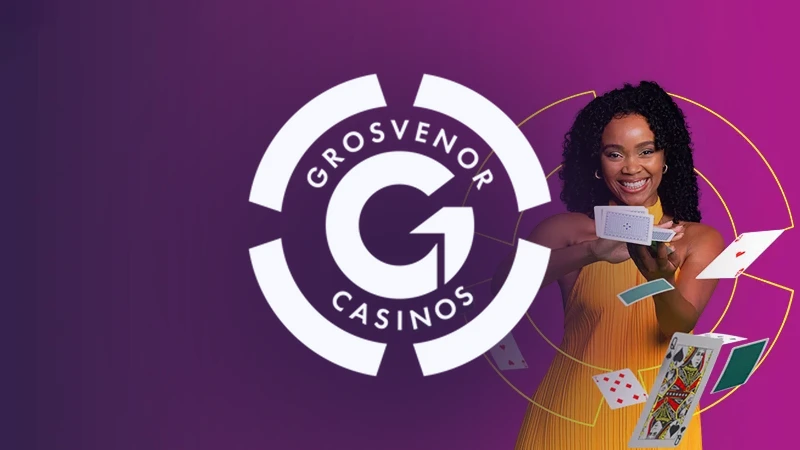 The rebranding will include a new advert as well as a new game
As one of the biggest casino brands in the UK, Grosvenor Casino is a name that every player knows. The company has over 50 land-based venues as well as a popular low wagering casino with online slots, live casino games, table games and even sports betting.
Grosvenor has announced a rebrand as part of a repositioning strategy and says that its rebrand will focus on offering a more modern casino experience to players. MrQ rebranded in early 2022 and found huge success with this - so it's likely that Grosvenor Casino will as well.
Play at Grosvenor Casino Here:-
What is Grosvenor planning for the rebrand?
According to the casino, the rebrand will roll out across 52 Grosvenor venues and online to recreate the brand as more "stylish" and "fun". Grosvenor will "move away from the stereotypical experience" to deliver players something more fresh and exciting.
Alongside the visual redesign, Grosvenor has launched a new TV advert called 'Entertainment Time' which provides a more colourful and vibrant tone of voice for the brand whilst also focusing on the positives of the casino such as fast payouts and casino experts on hand.
This rebrand will also launch a new game called Beat The Timer which will give players 60 seconds in a skill-based challenge to match symbols in order to win daily prizes.
"About opening up the world of Grosvenor," says Marketing Director
Grosvenor Casinos Marketing Director Sarah Sculpher said: "In an ever-changing and multi-faceted world, repositioning the UK's leading casino brand was never going to be easy. The scale and complexity of our gaming, leisure and hospitality offer on and offline required real foresight and a commitment to deliver change."
"Hours of extensive research, as well as customer insight of existing players and casino considerers, resulted in a transformational brand identify switch as Grosvenor Casinos looks to set itself apart from its competitors now and in the future."
She concluded: "The repositioning exercise was all about opening up the world of Grosvenor and its amazing team of passionate experts to make it more accessible and welcoming to a new generation of customers who demand more from their time."
Play at Grosvenor Casino Here:-