Starburst Features
You might be surprised to hear that Starburst is actually devoid of many of the popular features and mechanics most online slots have in this day and age. This simple 5-reel, 10 payline slot only has one single feature to talk about, Starburst Wilds.
Ultimately, don't let this game's lack of bonuses detract you from playing, this game is built on the back of how easy it is to play. If you want straight up online slot gameplay without any of the gimmicks then give these reels a spin.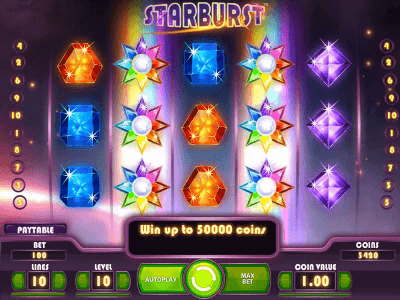 Starburst Wilds
When a multicoloured star lands in the middle of reels 2, 3 or 4 it will substitute any symbols above or below, expanding over an entire reel and triggering up to 3 re-spins.
Starburst Review
NetEnt cult classic Starburst is without a shadow of a doubt the most famous online slot game ever released.
This sensational sci-fi inspired slot has been around for a number of years having been released in 2013, yet still sits atop the charts as one of the most popular games going.
There are a number of reasons this 5-reel, 10 payline slot has such a good reputation, first and foremost thanks to its low volatility and generous betting range that makes it perfect for players with a low bankroll.
We'd be lying if we said it wasn't somewhat lacking in the feature department, but ironically that's what makes this game so enjoyable... It's simple, easy to understand and just gives players what they want from the word go.
If you're a newcomer to the world of online slots then we'd highly recommend you start out with Starburst, we can't think of another game out there that's better suited to easing you in to the wild and wonderful world. Ignore the fact that this game will be approaching it's 10th birthday in the not too-distant future, it's truly stood the test of time.