Starburst Features
You might be surprised to hear that Starburst is actually devoid of many of the popular features and mechanics most online slots have in this day and age. This simple 5-reel, 10 payline slot only has one single feature to talk about, Starburst Wilds.
Ultimately, don't let this game's lack of bonuses detract you from playing, this game is built on the back of how easy it is to play. If you want straight up online slot gameplay without any of the gimmicks then give these reels a spin.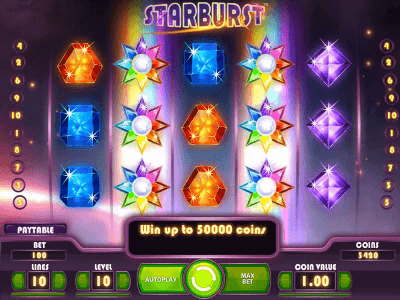 Starburst Wilds
When a multicoloured star lands in the middle of reels 2, 3 or 4 it will substitute any symbols above or below, expanding over an entire reel and triggering up to 3 re-spins.
Starburst Review
NetEnt cult classic Starburst is without a shadow of a doubt the most famous online slot game ever released. This sensational sci-fi inspired slot has been around for a number of years having been released in 2013, yet still sits atop the charts as one of the most popular games going.
Design
The beauty of Starburst is its simplicity. There is a deep purple landscape space with stars floating and the reels are adorned with sparkling gems to light up the reels as well.
As for the audio, players can find a relaxing electronic sci-fi melody fitting the aesthetic perfectly. There are tranquil synth tones when a win is registered adding more excitement.
Gameplay
We'd be lying if we said it wasn't somewhat lacking in the feature department, but ironically that's what makes this game so enjoyable...it's simple, easy to understand and just gives players what they want from the word go.
Like most slots, the menu bars can be found at the bottom of the screen with the spin button and bet level. There is a minimum bet of 0.10 and a maximum bet of 100.00 for players wanting to go big.
Win Potential
There are a number of reasons this 5-reel, 10 payline slot has such a good reputation, first and foremost thanks to its low volatility and generous betting range that makes it perfect for players with a low bankroll.
Ultimately, this means that players gain frequent wins but they are often quite lower. The maximum win for this slot is 500x your stake or 50,000 coins which is a decent amount for a low volatility slot.
Our Verdict
If you're a newcomer to the world of online slots then we'd highly recommend you start out with Starburst, we can't think of another game out there that's better suited to ease you into the wild and wonderful world.
Ignore the fact that this game is over ten years old as it's truly stood the test of time. Starburst is a timeless classic that continues to remain one of the staples in the online slot world.