Chris Philp: "Reform is undoubtedly long overdue"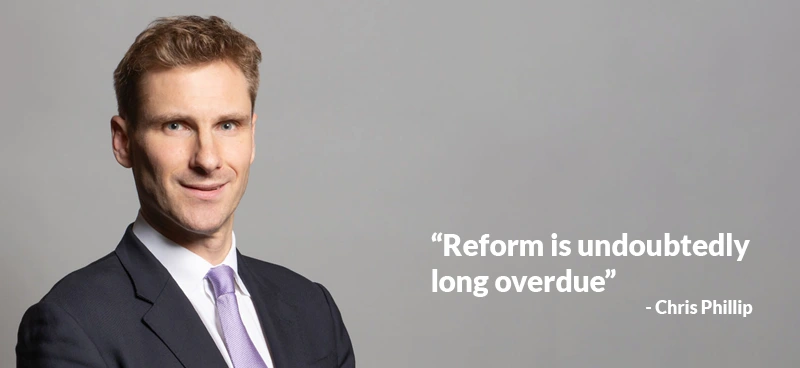 The UK Gambling Minister spoke on the state of the gambling industry
Ahead of the white paper on the 2005 Gambling Act, the UK's Gambling Minister, Chris Philp, spoke at a Gambling Reform Rally earlier this week.
Organised by Gambling Related Harm APPG and Peers for Gambling Reform, Philp spoke as the keynote speaker and addressed some concerns about the upcoming Gambling Act Review.
"Due to be published very soon," says Philp
Speaking as the keynote speaker, Philp started with commenting on the current atrocities in Ukraine before moving on to the topic on hand. He said: "Reform is undoubtedly long overdue. We're working on a white paper which will set out a revised policy in this area, and it is due to be published very soon."
"As you will appreciate, I cannot pre-announce the policies in our White Paper which we are in the process of finalising," said Philp. "What I can say is that we know that the gambling landscape does need reform - significant reforms - as it is now significantly different from the last time our gambling laws were comprehensively reviewed some 17 years ago."
He goes on further to discuss how the internet has grown and online gambling was not an issue that was prevalent in 2005.
"Operators failing to meet their duties," says Philp
"We've heard too many cases of operators failing to meet their duties to protect people. Just last week, the Gambling Commission levied a huge fine against an online gambling company for breaches of their responsibilities to prevent harmful gambling and investigate their customers' source of funds."
He goes on in further detail to mention one NHS worker was allowed to set a deposit cap at £1,300 when they were earning £1,400 a month. Another example included a customer losing £37,000 in a short period with no checks whatsoever.
"That is simply not right, and it shouldn't take the Gambling Commission acting after the event to catch them," stated Philp. "It shouldn't happen in the first place."
"We need to use that data to help protect the public, which means having a regulator that has the powers and capability to get hold of that data and properly analyse it, to understand where bad practices are happening and ensure compliance," said Philp.
The Gambling Commission is also going to publish a list of enhanced requirements alongside the white paper for customers to make sure that operators are doing the proper checks and make sure that protections are in place.
"Prevention is a lot better than cure," says Philp
"Everyone is at risk of developing a gambling addiction, but many people are able to gamble reasonably. We're a free country, and people should be allowed to do that. What we can't have is people being led down a path to a very dark place. Too much of that is happening at the moment."
He added: "Prevention is a lot better than cure, which is why we do see this as a public health issue and why we do have and should have, controls that protect everyone who chooses to gamble - through the licensing regime to regulation to technical standards."
Philp also mentioned that there is more work to be done on the treatment side of things with only two gambling clinics in the UK at the moment. There are more clinics opening with a planned 15 clinics over the next couple of years. This news comes after the NHS severed funding with Gamble Aware.
"Led by the evidence," says Philp
"People are being exposed to risks in an unreasonable way, led down what can be a very dark path. So we are going to act, and act quickly," stated Philp. "We'll do it in a way that is balanced and proportionate, that is led by the evidence."