NHS severs financial ties with GambleAware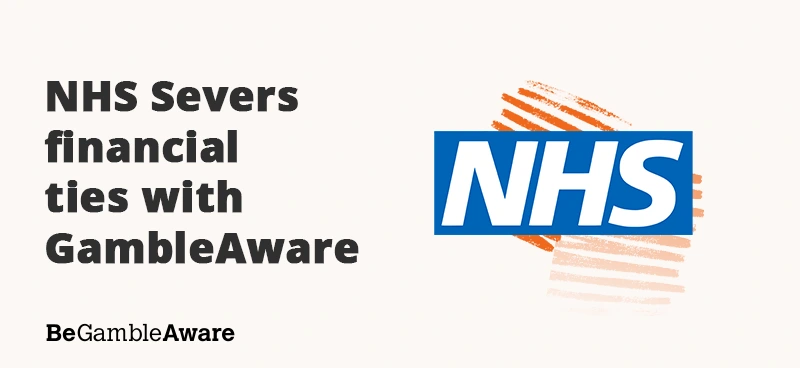 GambleAware will no longer be funding the NHS specialist clinics
The National Health Service (NHS) for the UK has announced that they are cutting financial ties with the GambleAware charity for specialist gambling clinics from the 1st April 2022.
Since 2019, the NHS and GambleAware have been working together across the UK with GambleAware funding specialist clinics with donations from the gambling industry. It was only announced at the start of February 2022, that GambleAware received £16m in donations from the gambling industry.
Move to general NHS funding
Claire Murdoch, the NHS national health director, confirmed the news in an open letter to GambleAware chief executive Zoë Osmond that the NHS would use general funding instead.
In the letter, Murdoch stated: "We are very grateful to GambleAware for the funding that you have provided over the last 3 years, which has allowed us to roll out treatment services faster than would have otherwise been possible."
She added: "However, as these become part of normal recurrent spending commitment and the number of clinics is expanded, we want to move the funding into general NHS funding, as is standard for other similar services."
Influenced by patients
This decision has been heavily influenced by patients who have previously expressed concern "about using services paid for directly by industry."
Murdoch also mentioned that NHS clinicians feel that "there are conflicts of interest in their clinics being part-funded by resources from the gambling industry."
Still work with GambleAware
Despite the severing of financial ties to GambleAware, the NHS will continue to work with GambleAware to develop a treatment system that is fit for its purpose.
"The NHS cannot address the harms caused by gambling alone, nor is it the NHS's job to tackle this on its own."
"Would like to see the industry take firm action," says NHS
"Gambling treatment services do not prevent people being harmed in the first place and we would like to see the industry take firm action so that people do not need to seek help from the NHS."
"We hope that you will continue to join us in calling for the gambling industry to be more heavily regulated and taxed to generate public funding to address gambling harms."