A Guide to the Most Popular Bingo Formats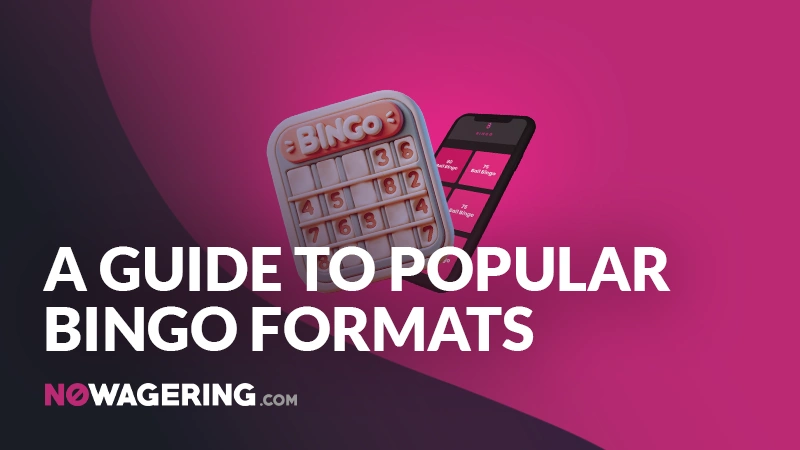 Bingo, alongside the Pools, the Grand National and FA Cup Final, evokes nostalgic memories of the British experience of a generation or two ago. And it's probably safe to say that along the way bingo became a national institution.
Bingo returned to Britain following the Second World War, when a version known as Housey-Housey – popular amongst servicemen – was repatriated and popularised. To this day, many of the common bingo calls and terms have roots that can be traced back to these military origins.
But it wasn't until the Betting and Gaming Act 1960 that bingo became truly popular nationwide. Bingo halls began springing up as the new craze swept through towns and cities across the country. Well-known terminology and jargon for numbers and calls became more widely recognised as bingo became imbedded in the national consciousness.
The launch of Bingo Zone, the first online bingo site in the US in 1996, took the game to a whole new level. Today, bingo is one of the world's most popular gambling games, played by millions of people every day around the world.
Part of bingo's enduring popularity comes from the breadth of formats that exist, keeping the game fresh and interesting for regular and repeat players. But what are the most common formats you'll come across, and how do they differ from each other?
90 Ball Bingo – The UK's most popular format
In 90 ball bingo, 90 balls are drawn – one at a time and selected randomly, unsurprisingly perhaps, from 1 to 90. Each player has a card containing 25 squares across 5 rows and 5 columns with the squares showing a random selection of numbers from 1 to 90. Players check off the number called when it matches a number on their card.
Numbers are marked off your card, either manually in the case of physical bingo cards, or automatically when you're playing digitally. Typically, there are three chances to win – be the first to call one line, the first to call two lines, or the first to land a full house (all 25 numbers checked off). Prizes vary according to the scale of the win with the full house being the biggest. If two or more players call at the same time, prizes are split equally.
90 ball bingo is the most popular format of the game, and therefore the most likely to be well attended (which is generally bad news for competition). However, if you're also looking to make friends with other players online, or to get more involved in the bingo community, 90 ball bingo can be an excellent place to start.
80 Ball Bingo
The concept in 80 ball bingo is the same as 90 ball, but you'll immediately notice the tickets are different. 80 ball bingo uses a 4x4 grid, and numbers are grouped into colours to make it easier to identify which numbers have been drawn. In addition to full house, single line and two line wins, there are often prizes for four corners – paid when you land on all four corners of your card.
With fewer numbers in play, 80 ball bingo tends to run quicker than a 90 ball game. You've also got that additional chance of winning something with the 4 corners, but you'll miss out on the traditional bingo calls, which aren't called in 80 ball. Instead, 80 ball tends to be a more focused game for more serious bingo players, rather than those in it purely for the fun.
75 Ball Bingo
75 ball bingo is played on a 5x5 grid, with the central square blanked out, giving you a total of 24 numbers in play. The aim with 75 ball is to make up lines by matching the numbers called – either one line, two lines or a full house. In some cases, alternative patterns are also acceptable for prizes, though this depends on the specific rules of the game and bingo room you're playing in.
This tends to be very fast paced, and new players can feel a little overwhelmed.
Speed Bingo - 30 Ball Bingo
The fastest of the lot, there are only 30 balls in play with so-called Speed Bingo. It doesn't take long for winners to be called here. Tickets are played on a 3x3 square, and the aim is to land a full house in order to win. While you will occasionally find prizes for a line or two lines in 30 ball bingo, it's not the norm. The game is too fast paced, and as a result, it's normally a straight shoot for a full house to find a winner.
A fun, simple and quick game for those who like to cycle through tickets and enjoy their action at speed. Again, probably not ideal for the first time player, but a nice change of pace for veterans of online bingo who prefer to mix things up a bit from time to time.
Slingo
Imagine a cross between slots and bingo; that's Slingo! Spin the reels to reveal numbers which will be marked off against your ticket, and play bingo in the usual way to win prizes. It's based around a 75-ball game, with a 5x5 grid for you to play your numbers from. There's also the chance to play for incrementally increasing prizes as you knock off more of your numbers. Typically, a maximum number of spins is stipulated, so you have to land your lines within the maximum number of spins to walk away with a prize.
A fun alternative to regular bingo, Slingo is one for slot lovers who fancy trying their hand at bingo, or for bingo enthusiasts who stray into the world of slots from time to time.
A word about bingo bonuses, free wins and T&Cs
Whether you're trying out a new variation for the first time or you're a veteran of the online bingo world, there are always bingo bonuses, free wins and other promotions designed to appeal. These can be great value. For example, the free wins games, where you can play online bingo for free and win real cash prizes, or take part in promotions at no cost with a chance to win real money, real-money spins or other bonuses. These act as a great incentive for you to try out online bingo, and can make a real difference – no matter which format of online bingo you choose.
As always, it's important to pay close attention to the T&Cs when considering offers. The not-so-popular terms and conditions set the boundaries of different promotions and bonuses, so you know where the red lines are. Cross them at your peril and you'll void any bonus, and leave yourself open to account termination from the bingo site. Instead, far better to familiarise yourself in advance, so you can approach each promo from a position of knowledge.
With so many bingo promotions out there, and so many variations of the game to choose from, there's never been a better time to get stuck into online bingo!