No wagering casino T&Cs to be aware of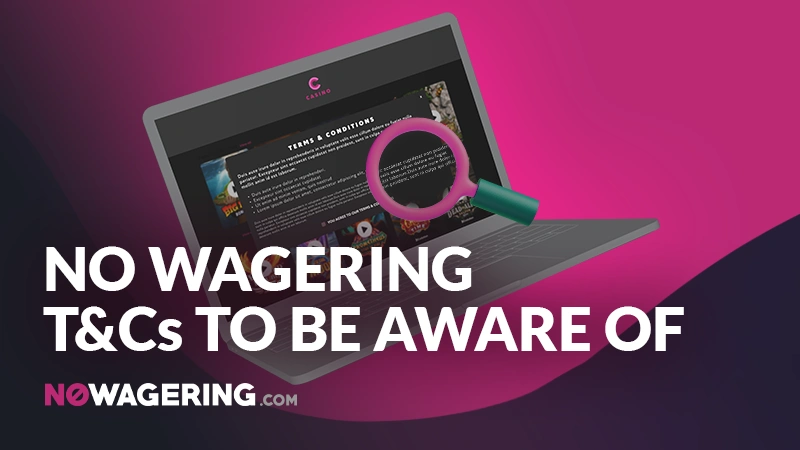 No wagering bonuses are becoming increasingly common, as online casinos steer towards more transparent promotions. But as the small print becomes more prominent, the list of caveats starts to grow. Terms and conditions always apply, no matter the type of bonus you're eyeing up, and you need to know and understand the restrictions to any offer before pinning your hopes on it.
It's true that many players don't bother taking the time to read bonus offer terms. Nothing takes the fun out of your gaming session quite as much as getting bogged down in legalese. But you should, because no one wants to get caught out and end up voiding the bonus and any winnings from it before you've had time to withdraw. Worse, in some cases, you could even end up jeopardising your account, all because you've inadvertently fallen foul of the rules.
At No Wagering, we look at the bad as well as the good when it comes to reviewing no wagering casinos and their offers. It's all part of what we do on behalf of our players, so you never have to get your fingers burned with a bonus offer.
Here are a few of our top tips, and some thoughts you should be mindful of as you proceed through your no wagering journey.
Always read the T&Cs
It sounds obvious, but we recommend you always actually read the terms and conditions. They're incredibly important and will tell you how to use bonuses in a way that won't cause disappointment.
While offers vary depending on the casino's objectives and limitations, there are a few common terms you'll see cropping up time and time again that you need to keep an eye on.
Maximum cashout
Many casinos have maximum win clauses attached to their bonuses. This is to prevent them from being too heavily out of pocket from free bonus offers. In practice, these act as hard caps on your withdrawals, so no matter the amount you win from your no wagering bonus, you can only cash out up to the maximum. These caps can be generously high but could be a lot less attractive, depending on the terms of the offer.
There may also be a maximum bet clause, which stipulates the most you can bet using bonus funds. Bets larger than this amount could see any winnings confiscated, and this isn't always an obvious term – you'll need to read through the T&Cs to check whether a maximum bet is applicable.
Deposit amounts & methods
Watch out for minimum deposit clauses. Sometimes, offers require a minimum amount to be deposited before you can enjoy a bonus. A deal may state that you get a 100% bonus, but this will only kick in when you deposit £20, for example. Even if the casino usually accepts deposits of £10, you'll still need to stick to the bonus rules in this case.
Other rules may apply to the deposit method used to qualify for the bonus. E-wallets, such as Neteller or Skrill might not be eligible forms of payment to access a deal, so take your lead from the terms and conditions, and be sure to stick to the rules.
Time limits & game restrictions
Free spins and bonuses will almost always have an expiry clause attached, stating a number of days within which the bonus can be used. These tend not to be open-ended offers as the casinos want to know when their liability ends. If you don't use it within the period, you lose it. This might be anywhere from 24 hours to several days, so it's worth getting a move on whenever you land one of these bonuses.
Other restrictions you're likely to encounter include game selection, where you can only use free spins and bonus credit on select games. Free spins are likely to be offered on a specific title whereas bonus credit will, generally, enjoy a little more freedom.
Promo codes
Sometimes, bonuses come with a promo code attached, which you'll need to insert when you're depositing, or setting up your account. There will usually be a field asking for a promo code at sites which make use of them for marketing purposes. Failure to enter this when required means you'll not be eligible for the bonus. Promo codes are usually detailed in the small print, and they should be clearly stated on any promotional material.
Final thoughts
No wagering bonuses are a great way to make the most of your deposits and casino play. But you need to have your wits about you to take advantage of these deals. Terms and conditions are there to protect the casino, and failure to follow the rules will see you losing access to your bonus and probably also any winnings from your bonus.
Now you know what to look for, make sure you put this into practice with your next no wagering bonus, so you can stay on track to withdraw the winnings you're entitled to.