How we rate and review casinos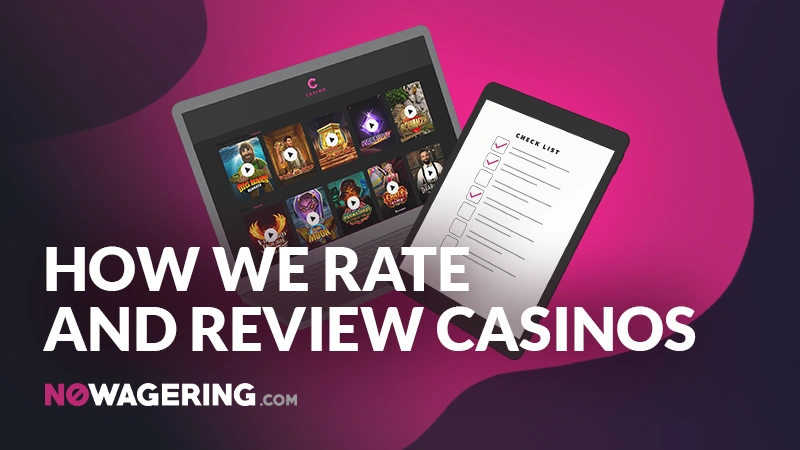 There are a lot of casinos out there, and the truth is they aren't all made equally. That's why we provide honest, straightforward reviews of no wagering casinos. We also occasionally look at some low-wagering casinos, but they've got to be exceptional to get a coveted spot on our list.
Quite simply, whether it's the scoop on terms and conditions or an honest look at a site's customer service, we want to give you the information you actually need, rather than copy-pasting generic text and regurgitating borrowed facts. So, how do we do this? By considering everything that makes for a good online casino experience!
Scoring
First and foremost, we want our reviews to be helpful to players. This means ensuring they are honest, unbiased, comprehensive and include quantifiable information.
To provide clear and accessible feedback, we rate each site based on six main criteria, using a five-star scale. We also explain exactly how we arrived at that score – it's not just an arbitrary number with no reasoning! The scores in these six main categories determine the casino's overall score.
Our main criteria
When we explore a new casino site, the six main criteria are kept firmly in mind. We're not easily impressed, so if a casino fails significantly in any one of those key areas, you won't see it on No Wagering. Our site could contain reviews of hundreds of casinos, but we're rigorous in our assessments, staying true to our ethos, which is why you'll find only an elite selection.
Design
There's nothing like making a good first impression, and one of the main factors influencing this is site design. After all, it's the first thing new players see and casinos tend to know the importance of good presentation. For a casino to score well in our 'Design' category, it needs to be easy on the eyes.
This section incorporates things like themes, which help to target specific audiences, as well as incorporating colours, graphics, animations and aesthetics. The quality of the text and descriptions will also influence a casino's 'Design' score, with concise, informative writing preferred. Text which is bloated, or which contains unhelpful information will score lower.
Usability
'Usability' is related to design, but has more to do with casino layout. Casinos which score higher in this respect are generally easier to navigate, with helpful search functions, different categories for different types of games, and a clean, uncluttered layout.
We'll also factor in how well the site performs on a mobile, whether that's through a browser or a dedicated app. It should always be easy to find whatever you're looking for, without having to manually trawl long lists of games or blocks of text. All things considered, the site should be intuitive, logical and organised.
Games
Games are obviously central to the casino experience, and we pay close attention to the categories included and the number and variety of games on offer.
It's important to look at which games the casino puts in its 'shop window', as this provides a likely indicator as to the type of player they're trying to appeal to.
Equally important is the quality of the games in the casino's library, and the developers who make them. A healthy mixture of reliable favourites and underdog newcomers is always nice to see. Variety is the spice of life, and it's also how casinos will score highly in our 'Games' category!
Promotions
Bonuses are important, and no wagering bonuses are what we do best, so it should be no surprise that 'Promotions' is a key criteria. When examining a casino's promotional offerings, we only consider those with no or extremely low wagering requirements, so that players get to keep their bonus winnings.
Crucially, promotions must be fair and transparent. This means having reasonable terms and conditions and attainable requirements. We also factor in things like the minimum deposit required to claim a bonus, maximum win, valid deposit methods and more.
In addition to welcome bonuses, we look at a site's ongoing promotions. These will likely include reload deposit bonuses, free games, weekly giveaways, cashback schemes and loyalty programmes. A good range and mix of these will help a casino score highly in the 'Promotions' category.
Banking
The 'Banking' category incorporates things like the range of payment methods accepted, payment processing times, minimum and maximum deposit and withdrawal limits, and fees.
When joining a casino, most players expect e-wallets and debit cards to be accepted, and these are both essential if a casino is to score respectably in this category. Additional niche payment methods indicate that a site is going above and beyond the call of duty.
Deposits should be instantaneous, but withdrawal processing times can vary significantly between casinos, so we pay close attention to this. We like withdrawal limits to be low and preferably without any fees.
Support
Every so often, you might need to talk to someone at the casino and it's nice to know that when this happens, you can quickly and easily get in touch with a real, competent, friendly human being who can help you. This is where 'Support' comes in. A high score in this category indicates the casino cares about its players and their experience.
In addition to a comprehensive FAQ section, we expect a decent casino to offer multiple ways for players to get in touch. These generally include email, phone or live chat. We also put the casino's live chat to the test to see how quickly they respond and we consider the quality of response.
Other considerations
In addition to the above criteria, our reviews also cover other aspects about the casino. The following additional considerations aren't scored in the same way, but they do help inform how a casino scores in the main categories.
Individual impressions & reviewer opinions
Our reviewers are casino enthusiasts and human beings – often in that order! They have their own opinions and enough hands-on experience to provide our readers with genuinely helpful insights. This means our reviews contain honest feedback and reactions.
Platform & software
Casinos tend to be based on one of several foundational pieces of software, and casinos run by a single operator often share the same platform and server. You may well have noticed similarities between certain sites.
Some casino software is more robust than others, with the less reliable being prone to broken links or sluggish loading. When reviewing a casino, we always consider the performance capability of the underlying software.
Security
There's no overstating the importance of security when it comes to a player's personal details and real money. We only review sites licensed and registered with the UK Gambling Commission, so you can relax knowing you're choosing a safe and legal place to play.
Other factors such as the use of encryption, additional licences and transparency can also feed into our reviews.
Operator
Sites we review are sometimes part of a family of casinos operated by a larger company. We consider the size, reputation, background, longevity and credentials of operators when reviewing their casinos, rather than just the 'brand' itself. We'll also draw your attention to any noteworthy sister sites.