Different offers every day throughout October and beyond at Mecca Bingo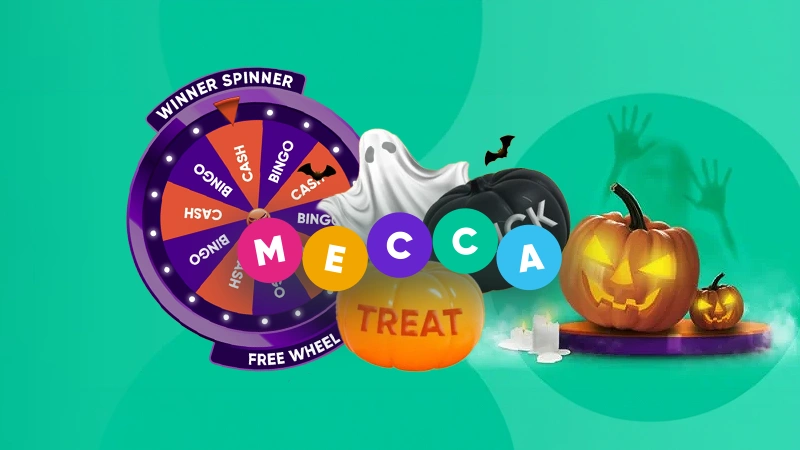 Mecca Bingo might just have cemented its place as one of the nation's most-loved bingo sites with its latest incredible promo, offering a line-up of different offers throughout October. But the action doesn't stop there! Bonus offers feature heavily at this site with further fantastic deals on the horizon.
From Jackpot Mondays to Super Sunday, there are promos and rewards available every day, giving players the chance to win a share of special prizes and cashback—plus prizes for 1TG and 2TG too.
You don't have to do anything special apart from buy your tickets to enter. Some days, you can even chance your luck for free. The current promotional calendar runs until the end of October, but the next top offer is never far away at Mecca Bingo. With so much on the table, and new chances to win every day, there's still plenty of opportunity for you to be a winner.
Different offers every day
Jackpot Mondays
Start the week with your chance to win a slice of £50,000 worth of jackpots with Jackpot Mondays. Every Monday sees 5 jackpot games with up to £10,000 to be won in each of them, running every Monday night from 6pm-11pm. Head over to the Born in the USA room and buy your tickets from just 5p, to be in with your chance of landing one of these incredible prizes. Not a bad way to get over those Monday blues.
£80k Tuesdays
Tuesday's child may be full of grace, but there's nothing graceful about a chunky £80k. Every Tuesday, you could be in with the chance of landing a share of £70k, plus there's a further 10 x £1,000 games you can get involved in. The games run from 7pm-10pm on Tuesdays, over in the Main Event, 2 Little Ducks, Lucky for Some and Penny Lane rooms within your Mecca Bingo account. Tickets cost just 10p and can be bought in advance or on the night, depending on how prepared you like to be. One of the tastiest wins on the promo, Tuesdays are looking like a great night to be getting busy at Mecca Bingo.
Freebie Wednesdays
Wednesdays are your chance to take part for free, with up to £250 to be won in boosted bingo prizes. The prize fund comes in at £4,000, with winners in line for their share of the spoils. Win £50 for a line, £100-£150 for 2, or between £100 and £250 for the full house, with a £50 roll-on prize available too. Free entry every Wednesday in the Lucky for Some room between 8pm and 10pm. No strings attached - just a straightforward free chance to win cash with no wagering requirements or other serious restrictions.
Winning Thursdays
Winning Thursdays deliver prizes even if you don't win, guiding you more gently towards the good vibes of the weekend. Running every Thursday from 7pm-10pm in Main Event and 2 Little Ducks, prizes are awarded for 1TG, 2TG and Last Chance Saloon—effectively more ways to win from your ticket than you'd normally get. Buy in from just 10p a ticket, either in advance of the night or ahead of your chosen game starting.
Feel Good Fridays
Get that Friday feeling with a whopping £100,000 on the line. Your chance to win a share when you buy tickets from just 10p a go—play every Friday between 7pm and 10pm. The games get underway in Main Event, 2 Little Ducks, Lucky for Some, Gold Bingo, and Penny Lane, plus there's also 10 x £1k prizes for a Full House in 2 Little Ducks and Main Event. Celebrate the start of the weekend in style and win a share of one of these beauties.
Sizzling Saturdays
Things get a little hotter on Saturdays, with a further £100,000 in guaranteed prizes on the line. There's also 10 x £1k full house prizes, and 5 x £500 full house prizes up for grabs, as Mecca throws caution to the wind for a Saturday night. Get involved from 7pm-11pm for play in Main Event, 2 Little Ducks, Lucky for Some and Penny Lane. Tickets cost just 10p, and you can buy them ahead of time or right before you get started, whatever works best.
Super Sundays
The culmination of the week is Super Sunday, where £100,000 in guaranteed prizes meet 20% cashback on stakes up to £10. Simply use the code CASHBACKSUN in the bonus section of your account, and you'll be able to claim cashback on the following Monday for any amounts played over £0.05. Of course, there's also the small matter of the £100,000 here, just waiting to be won. Someone's got to win a share—why shouldn't it be you?
With seven amazing promos running this month and loads more to look forward to in November, there's always something going on at Mecca Bingo. If you don't yet have your account, you can register in just a few minutes to take advantage of the top prizes.