Free spins or bonus funds – what should you choose?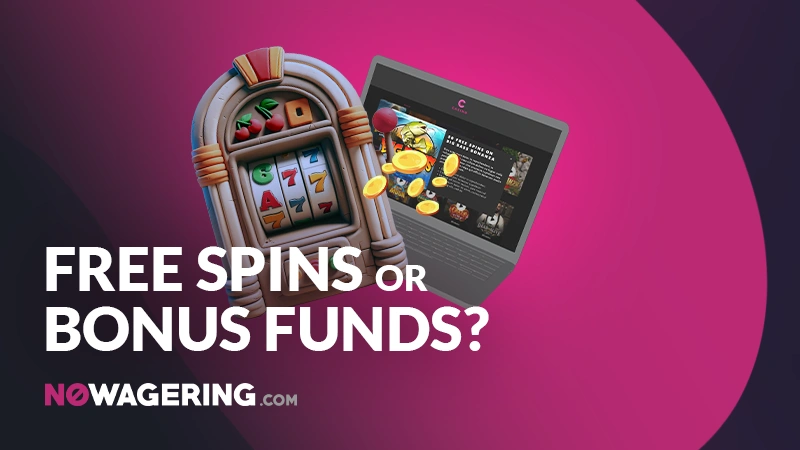 Free spins or bonus funds – that is the question. Do you want the flexibility of bonus funds, which can be applied to many different types of games? Or are you better off with free spins you can use on your favourite slots, without using your own money, to spin for a chance to win?
What about the terms and conditions that accompany them, such as wagering requirements and expiration dates? Does this change how you view each type of bonus and its relative value?
There's a lot to think about when it comes to choosing your preferred bonus type. The answer is ultimately an individual one, and only you can decide what suits your preferences and playing style best. It all begins with understanding how each type of bonus works.
Free spins explained
Free spins bonuses are typically packaged as a specific number of free spins on selected slots, which are worth a defined monetary value – e.g. 20 x £0.10 spins. Some well-known games you'll see are Fishin' Frenzy and Starburst, but it will vary from site to site. Free spins are generally either applied to slots being promoted or medium to low-volatility games which are less likely to cause the operator any financial headaches.
Generally, you'll find that free spins have wagering restrictions attached, or maximum win restrictions in place in order to protect the casino against undue losses. Free spins with no wagering requirements are increasingly common and recommended whenever you're looking at a free spins bonus, simply because it's easier to keep money from your free spins when there's no wagering involved.
Free spins will, naturally, suit those who enjoy playing slots and perhaps aren't necessarily looking for big wins. And this can be a great way to try out some of the latest titles grabbing players' attention.
Bonus funds explained
The second type of bonus commonly available takes the form of bonus funds – credit you can use on a wide range of games, so long as it's permitted under the terms and conditions.
Rather than just being restricted to slots, as is the case with free spins, you might be able to use bonus funds on bingo or table games, or just about anything else that the casino awarding the funds has to offer. Of course, you can also use your bonus funds for slots if that's what you choose. In some respects, bonus funds are a more flexible option.
However, bonus funds usually come with wagering requirements that must be met before any winnings can be withdrawn. They will also likely have contribution requirements as well, which means not every pound you bet is equal and some games will contribute less towards the wagering requirement than others.
In this respect, while bonus funds can often be in larger amounts than free spins, the free spins will usually be easier to work with. It doesn't matter if a bonus is more generous if it's ultimately hampered by repressive wagering and other restrictions. However, for those who prefer table games to slots, or who are just looking for a little more flexibility in their promos, bonus funds might still win the day.
Always remember the Terms and Conditions
Whatever type of bonus you ultimately choose, don't forget to check the terms and conditions. A bonus is only ever as good as the terms restricting it, and you shouldn't judge a bonus at face value.
Sometimes bonuses that seem attractive are less so when you dig into the terms and conditions. And often those that don't seem too hot on the face of things can actually turn out to be much more valuable once you've read and digested the T&Cs. Perhaps this is because there's no wagering attached, or the timeframes and scope of the bonus are more generous than others.
These secrets are buried in the terms and conditions, and you'll only know the truth once you've read and digested them. While T&Cs aren't always the most gripping read, a quick skim through them will provide the key points needed to make a truly informed decision next time you're weighing up whether to plump for the free spins or just take the bonus cash.
The decision is yours
Some bonus requirements will be harder to meet than others, so you need to decide which type best serves your needs. For the slots fan, that might well be free spins but blackjack fanatics might have a different perspective. Either choice is valid, so long as you understand the terms of the bonus and know your style of play.