Spin Buzz Bingo's Halloween Spinner for free to win bingo treats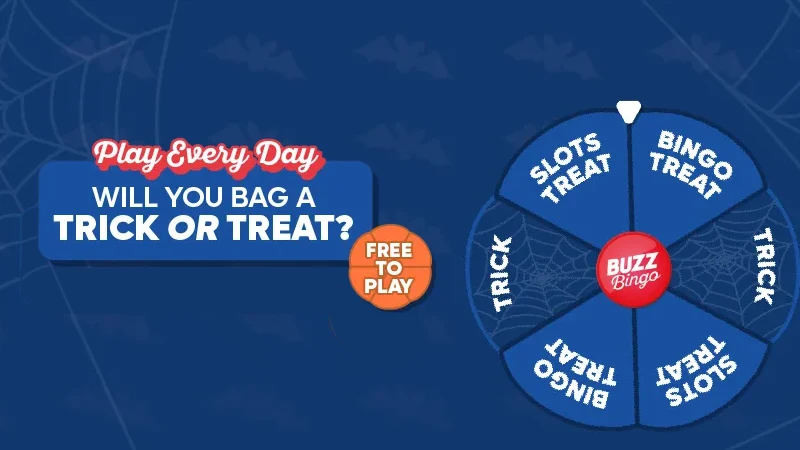 The spooky season is upon us!
It's that time of year when everything gets spooky meaning it is time for Buzz Bingo's amazing Halloween spinner. Every day throughout October, players can spin the mighty wheel for free in hopes of winning amazing prizes.
These include bingo treats or online slot treats! Of course, there is the option of landing a trick and ending up with nothing - but the beauty is that you can try again the day after for free!
How to enter Buzz Bingo's spinner
Like most Buzz Bingo spinners, all you need to do is have a valid Buzz Bingo account and be aged 18 or older. Once this is confirmed, all you need to do is head on over to the promos section.
From this location, you'll find the Halloween Spinner which can be clicked from 6am until 11:59pm each day. Every day, you can spin to see whether you get a trick or treat!
What prizes can be won on the spinner?
There are two types of prizes in this promotion which are tricks or treats. The treats are what you are wanting with bingo and slot bonuses available. As for the bingo treats, players can win 20p or 30p bingo bonuses.
The slot bonuses can include 20p or 30p spins on Lucky Halloween. Sadly, there is the chance for a trick to win nothing - but you can just try again the next day to win! Be sure to try out this spinner every day until the 31st of October 2022.
Terms and Conditions
The spinner begins on the 3rd of October and runs until the 31st of October. This promotion also runs from 6am until 11:59pm.
This is only available to players aged 18 or over with a verified account.
Falling in line with Buzz Bingo's terms and conditions, there is a £5 minimum withdrawal that applies.
All bonuses are for staking purposes with no wagering requirements attached.