Lothar Matthäus Be a Winner Features
This slot has so many different features to keep you entertained throughout your playthrough. Starting with the Winning Cheer Bonus, you land 2 or more goal symbol to trigger this bonus and even get to cheer into the microphone. Each level contains a random amount between 3x and 40x as a winning prize.
The Free Kick Bonus is triggered by landing 2 or more bonus symbols, but you get to shoot and win between 3x to 25x your stake. There are also free spins, The Winner's Trophy and a Wild Thunderkick from Lothar Matthäus himself.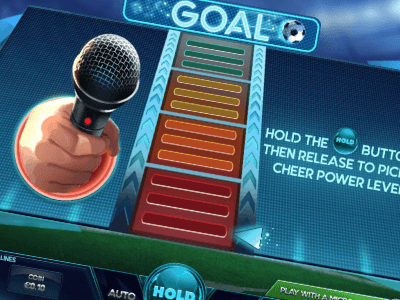 Winning Cheer Bonus
If you land 2 or more goal symbols on reels 2 and 4, you'll trigger this bonus. You cheer 'goal' into the microphone or hold the button for random cash prizes.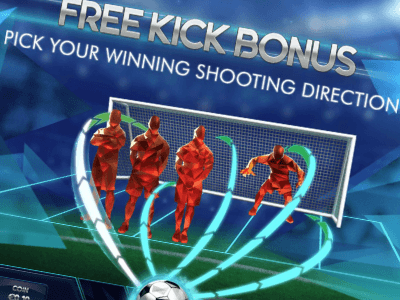 Free Kick Bonus
Land 2 or more bonus symbols on reel 2 and 4 for the Free Kick Bonus. You get to shoot and score for the chance to win a cash prize.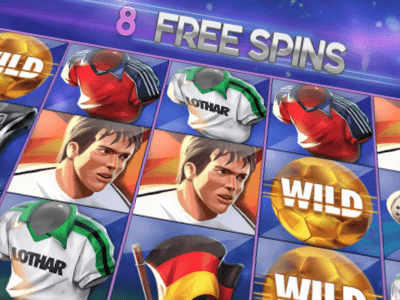 Free Spins
Lucky players who get Mr Matthäus' autograph 3 times on reels 1, 3 and 5, then you'll win free spins. This can also be triggered by The Winners' Trophy as well.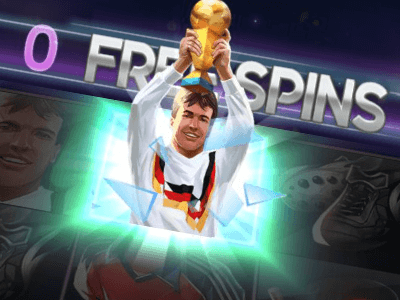 The Winner's Trophy
On reel 5, you can land The Winner's Trophy and keeps moving left until it leaves the reels. You can win extra free spins if Matthäus is underneath when it gets to reel 1.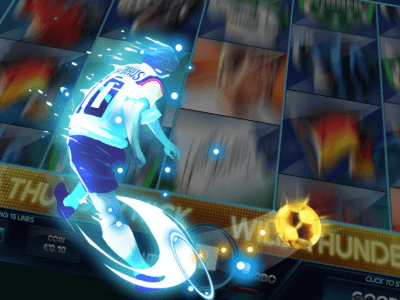 Wild Thunderkick
During the main game, Matthäus can appear and kick a golden ball on the reels which awards random wilds for the chance for even bigger wins.
Lothar Matthäus Be a Winner Review
Lothar Matthäus is an icon who is hailed as one of the greatest German footballers of all time. Of course, Skywind saw this and decided to make a slot all about his extensive career with the Lothar Matthäus seal of approval.
Lothar Matthäus Be a Winner plays on 5-reels with 15 paylines with so many different features. There are 5 main features in this football slot and it's unlike any other slot you'll find! So join Lothar Matthäus' team and see if you can be a winner as well!
Design
Matthäus opens the slot by providing inspirational commentary with a motivational techno track underneath. He sounds like a motivational speaker and it's an incredible experience. Once the slot actually loads, you'll notice that it's extremely modern with bright and vibrant colours mixed with cool geometric shapes. The slot opens up with Matthäus giving his autograph and building you up to free spins.
Throughout spins, Matthäus gives feedback and tries to motivate you to carry on. It's impressive but it can become a little surreal and may become hilarious after you hear him shouting 'winner' at you.
The actual designs of the slot are semi-realistic with drawings of Matthäus and his different football jerseys throughout the years. There are some real-life stills and memorable moments in the background. Overall, this slot is fantastic and needs to be played to experience the full effect.
Gameplay
Whilst this slot has crazy features, the core gameplay isn't complicated and can appeal to anyone. The Winning Cheer Bonus adds a microphone that is innovative and gets you fully into the spirit of football. There are other alternatives if you don't have a microphone.
Anything else you could need can be found at the bottom of the reels. The spin button is centred with the autospin and turbo button next to it. Other menus are just to the side and easy to find.
Win Potential
This slot is fantastic but the win potential is a little disappointing. The maximum payout is 750x your stake which can be found throughout wilds or other Lothar Matthäus symbols.
The RTP is pathetic at 93.90% with a medium to high volatility level so it completely brings down the slot.
Our Verdict
Lothar Matthäus Be a Winner is a slot unlike any other in terms of outstanding gameplay, design and overall aesthetic. It is a complete letdown in terms of win potential as it's too low for what we want.
We definitely recommend trying out this quirky slot as it's original and you'll not find anything else like it. Of course, if you want a better payout for a football slot, then definitely check out Football Star Deluxe.