AP McCoy: Sporting Legends Features
AP McCoy: Sporting Legends is full to the brim with features ready to help you out. From traditional wilds and free spins to the mighty progressive jackpot - there's so much to experience within this slot.
Perhaps the biggest feature has to be the Bonus Wheel. You can activate this feature by landing the scatter on reels 1, 3 and 5. From here you'll randomly gain a cash prize or bonus within the free spins round.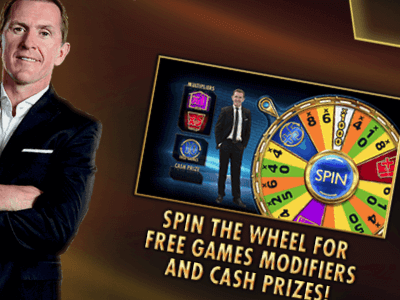 Bonus Wheel
Spin the wheel to win cash prizes or to boost your gameplay in the free spins. You can gain up to 5 extra free spins, increase the wild multiplier, increase the regular multiplier or a tasty cash prize of up to 1,000x your stake.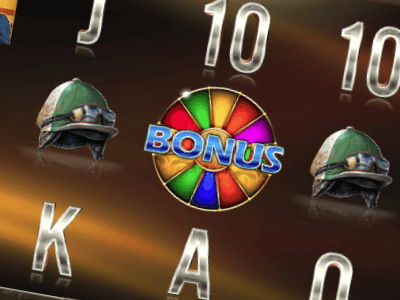 Bonus Wheel Respin
The Bonus Wheel respins in the centre afterwards to give players up to 6 respins or give you access to the Winning Line Free Games with 10 starting free spins. Previous wins from the wheel will be added and the multiplier can reach up to 7x.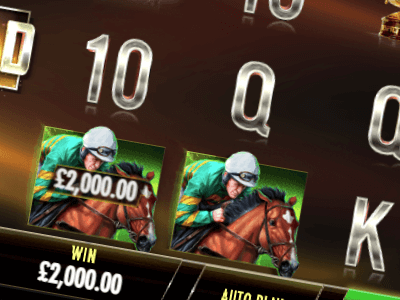 Winning Line Free Games
Starting at 10 free spins, players will find that they can win multipliers of up to 7x. Winning on more than 1 wild can add those numbers together meaning that the maximum multiplier could go up to 49x!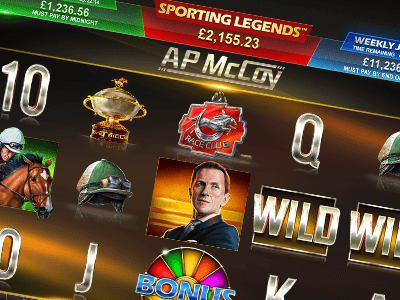 Sporting Legends Jackpot
You'll find a daily, weekly and Mega Jackpot within this slot that are triggered at random amounts depending on the requirements. The biggest pot is the Mega Jackpot which can reach legendary amounts! If the jackpot triggers, you will enter the jackpot game and will win at least 1.
AP McCoy: Sporting Legends Review
Released after AP McCoy retired from the sport in 2019, AP McCoy: Sporting Legends is a part of Playtech's Sporting Legends slot series. It focuses on the legendary horse racing sport and McCoy himself.
Played on 5-reels with 243 ways to win, this slot is one that is packed with jackpots and bonus plays that'll leave you feeling like a champion. It's a great homage to the iconic AP McCoy.
Design
On the surface, the slot looks like a traditional fruit machine that you'd find in a pub. The background isn't anything special and the reels look traditional. What makes it stand out is the fantastic McCoy himself. You'll notice him on the reels and during the Bonus Wheel. The addition of him really brings the slot to life.
As you play, you'll hear him giving lines of encouragement which feels refreshing. Along with the motivational music to make you feel like you could conquer anything. The entire aesthetic feels bold and powerful which is a refreshing feel on a slot.
Gameplay
Most of the gameplay is entirely traditional with no crazy mechanics to learn. Some slots may have the option to use Playtech's Power play where you can buy spins with your own funds. However, this may not be available in the UK.
The bottom of the reels has the spin button with the autospin button next to it. Players can set between 10 to 99 autospins on this slot. Information and how to guides can be found at the bottom left with the gameplay setting situated at the top right.
Win Potential
Saddle up for some incredible win potentials in this slot. AP McCoy: Sporting Legends is a medium volatility slot with an RTP at 95.03% - which is so much higher than you'd expect for a slot with a jackpot attached. During the Bonus Wheel you can win up to 1,000x your stake just straight away.
With multipliers throughout free spins, you could win even higher! Other win methods include the mighty Sporting Legends progressive jackpots with 3 different jackpots to win. Basically, there are so many different ways to win big within this slot!
Our Verdict
Fans of horse racing will absolutely adore this gem. It pays homage to one of the greatest racers in history and gives players the chance to win life changing wins with the jackpot. The fact that you hear McCoy giving you encouragement throughout and witty banter is incredible. Playtech have really created a sports slot that does the sport justice.
The graphics may not be earth-shattering, but the gameplay and win potential sure make up for it. It's not meant to be a flashy slot, it's supposed to feel like playing a traditional slot. If that sounds like something you'd enjoy, give AP McCoy: Sporting Legends a ride today. Make sure to check out other Playtech titles such as Frankie Dettori: Sporting Legends and Ascot: Sporting Legends.