UK iGaming search study - What's hot, what's not?
A definitive overview of the iGaming search landscape during lockdown in the United Kingdom
The BBC recently reported that search interest in 'online casinos' was at an all time high in the United Kingdom, with many pointing to the forced closure of physical betting shops and casinos as the reason behind this increase.
However, this statistic doesn't quite tell the full story. Whilst search interest has increased, it had already been steadily increasing year on year since 2012, which is hardly surprising as advancements in technology has allowed online casinos and bookmakers to cement their status as a convenient alternative in the same way that Amazon has revolutionised shopping.
There have been a number of incredibly intriguing shifts in the volume of specific search terms since COVID-19 struck the UK and lockdown was initiated back in March.
Not only were emerging sectors of the iGaming world given a huge boost, but old favourites made a surprising resurgence as people desperately looked for a new way to combat the monotony of being confined to their own home.
In this article we'll take a look at some of the many of the niche iGaming related search terms that will be familiar to many of us and assess how they've fared since the lockdown began.
Google Trends - How does Google determine volume?
For the purpose of this piece we'll be using Google Trends to assess the interest in specific search terms over the last 12 months within the UK specifically.
Google currently ranks the popularity of a specific search term between 0 and 100. A value of 50 means that the search term is half as popular. A score of 0 means there were not enough searches, therefore not enough data for a term.
Numbers on the y axis of graphs shown in the article represent search interest relative to the highest point on the chart for the given region (UK) and time period (The last 12 months).
We'll also look at alternative statistics from outside sources where available to further strengthen and bring clarity to the data we've uncovered in this study.
Online casino searches - Are the national media forging a false narrative?
As mentioned, the BBC recently reported that searches for 'online casinos' were at an all time high, which is the case when you look at the data from 2004 up until today. However, when you view the statistics over the past year it's clear to see that searches haven't increased quite as rapidly as some have been suggesting.
There has been an increase from when the lockdown was initiated, which makes sense considering sports betting, an incredibly popular past-time in the UK, was taken away. However, interest has reached these highs previously, during the midst of Summer when the football season had come to a close and somewhat more surprisingly over Christmas.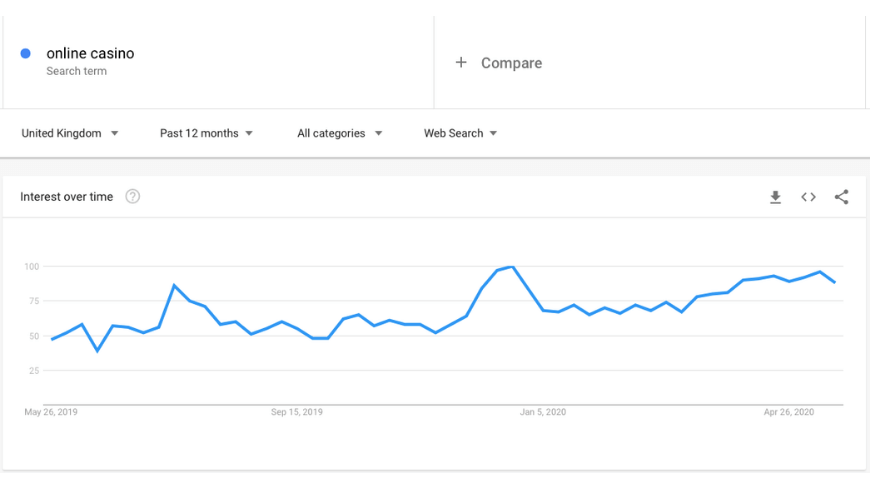 Searches for the term 'online casino' have seen a stable increase since lockdown was initiated, however it wasn't the first time they'd reached those heights in the last year.
A recent YouGov survey commissioned by the Gambling Commision actually found that gambling participation was down overall. However, those who were already engaged in gambling activity were trying new products to fill the void left by sports betting.
In March 2020 there was a 25% year-on-year increase in people playing online slots, a 40% year-on-year rise in people betting on virtual sports and a 38% year-on-year increase in people playing online poker. Of course, this coincides with a 31% drop in the number of people betting on live sports.
It's thought the drop in sports betting would have been much higher, however several major sporting events that were incredibly popular with bookmakers and punters alike took place including the Cheltenham Festival and Liverpool vs Atletico Madrid in the Champions League.
Ultimately, we can say with some confidence that people are searching for something new to fill the gambling void left by sports betting, but that's not to say that lockdown and online casinos are responsible for creating a whole horde of brand new problem gamblers.
Unfortunately, it should be noted that those regular players that were already thought to be struggling with their gambling habits may need to be monitored closely and could require intervention, as their participation and spend has risen in recent weeks.
Lockdown breathes life into stagnant online poker market
Surprisingly, one somewhat forgotten iGaming market has managed to experience a staggering comeback as a result of the pandemic. Online poker has seen a huge increase since the lockdown was imposed with traffic growing by over 240% in Europe and the US.
It's fair to say that poker is a market that has stagnated in recent years, having experienced the peak of its popularity in the mid 2000s, Google searches for the competitive card game had been consistently dipping and plateauing for many years.
In a bid to find new ways to socialise with friends from the safety of their own homes many people in the UK turned to online poker to inject some excitement into their week. However, from what we can see in the trends, it doesn't seem as if the poker revolution is here to stay (Unless searches are dropping because everyone has found a site to play at).
Regardless of whether players are already tiring of online poker, operators certainly aren't going to grumble at the additional revenue they've raked in over the last few months.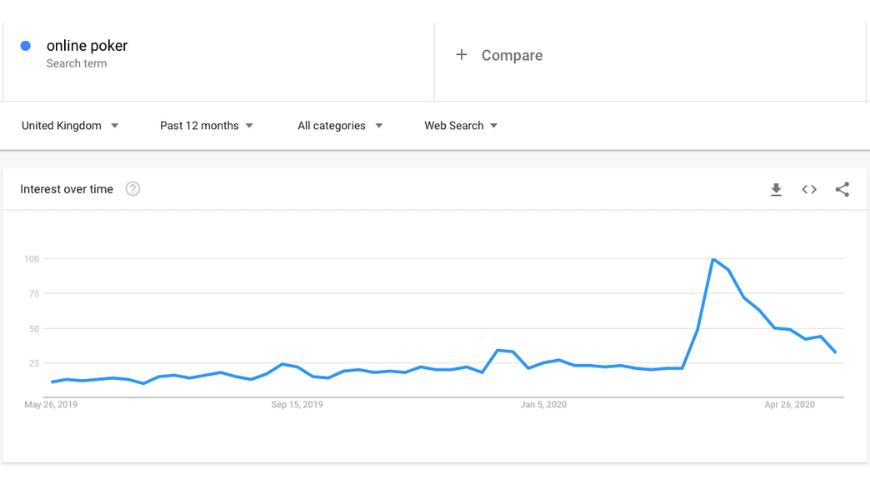 The interest in online poker grew nearly five times during the start of the UK lockdown. The last time poker was at that level of popularity with users was in 2011.
The Stars Group, the company behind PokerStars, SkyBet and Oddschecker saw a 27% rise in revenue during their first quarter as a huge number of lapsed players returned to PokerStars, reactivating their account to play poker solo or with their friends.
As mentioned, the upward trend in people looking for a fix of poker doesn't just stand true for the UK. The four US states with legal online poker (Nevada, New Jersey, Pennsylvania and Delaware) have all reported record poker revenues in March as well.
Opportunity knocks for eSports operators and affiliates
Despite economic hardship around the world, the gaming industry as a whole has registered great success as a result of the COVID-19 pandemic. With everyone spending considerable time at home, millions of people have been given the opportunity to indulge themselves in luxury pastimes including gaming. Because of this, engagement with video game culture as a whole has never been higher.
More and more people have been exposed to eSports, the big money ultra competitive side of the industry that was once just considered a 'pastime for nerds'. This has somewhat been helped by major sporting organisations such as Formula One and the Premier League turning to eSports to keep their fan bases entertained and engaged.
In the US, NASCAR has seen unrivalled success by replacing their cancelled real-life events with its iRacing Series, which attracted a peak of 1.3 million viewers on live television.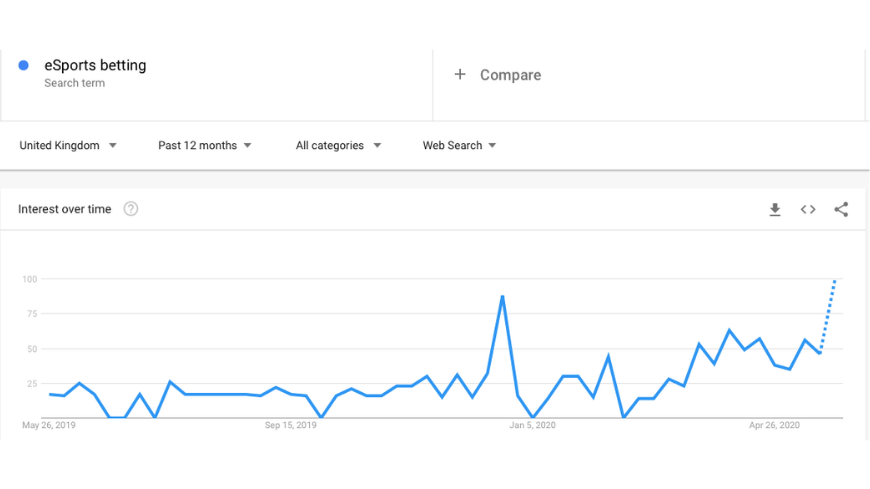 Interest in the search term 'eSports betting' has seen a steady increase since lockdown measures began and is only expected to strengthen, especially as live events return.With eSports engagement up considerably, operators and affiliates that offer betting markets on popular games such as Counter Strike, FIFA and League of Legends are cashing in, and it only looks as if it's going to get better going forward.
We've seen the eSports scene grow year-on-year for the last decade now, however the last few weeks and months have really helped brew the perfect storm needed to grab the attention of casual gamers. For many operators the reality is that when eSports is thriving, so are the betting markets.
Brand specific searches - Sportsbooks suffer as a result of lockdown
One thing that has been evident is that brand specific searches have dropped considerably in the last few months for operators that specialise in sports betting. Major players such as Bet365 and SkyBet have all seen massive drops in search volume after enjoying an initial surge during the Cheltenham Festival week, as shown below.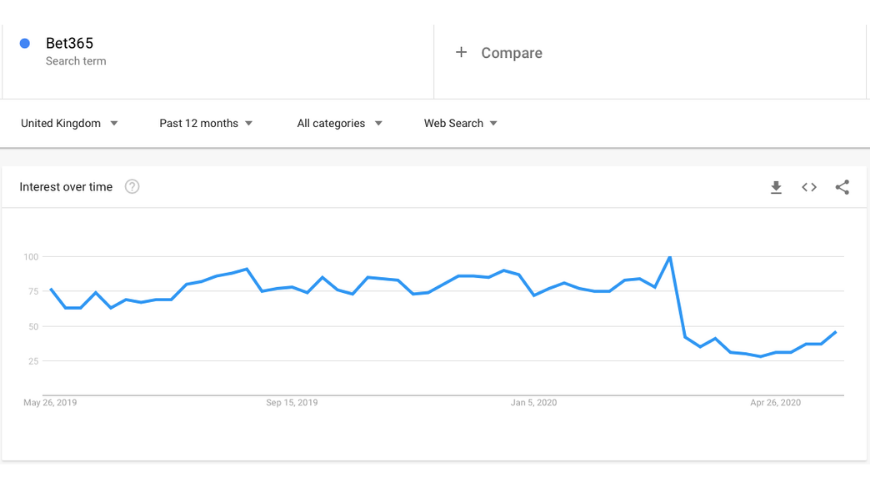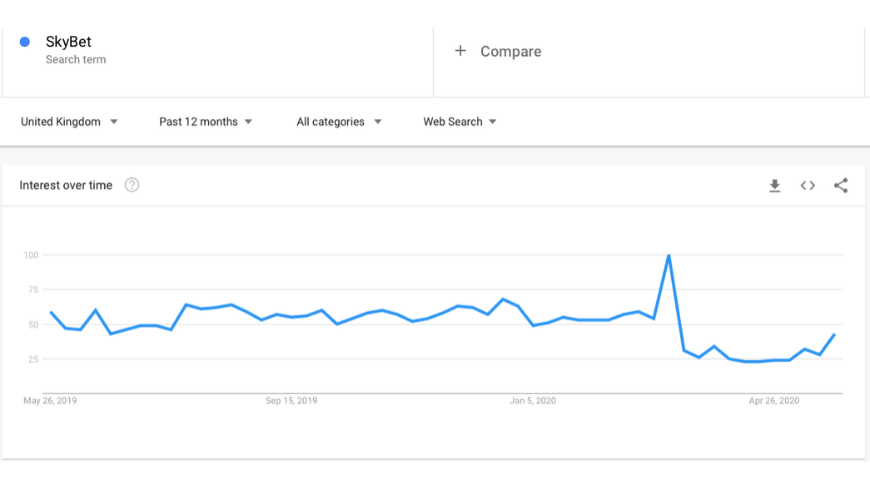 Despite the dramatic fall in traffic to sportsbooks, the companies behind these popular sites have worked hard to diversify their offerings in order to keep revenue high, which has worked surprisingly well, especially for the Stars Group who cashed in on the poker market as well as pushing new online casino offers and virtual sports on their main brands.
For those operators that don't have a sportsbook and focus on table games, online slots and bingo at the core of what they offer it's a different story. On the whole most have remained fairly consistent and have not seen any particular stand out gains or losses.
However, that's not to say these operators haven't seen an influx of new players through game specific searches such as 'Online slots' or 'Online bingo' which have seen much greater interest since lockdown began.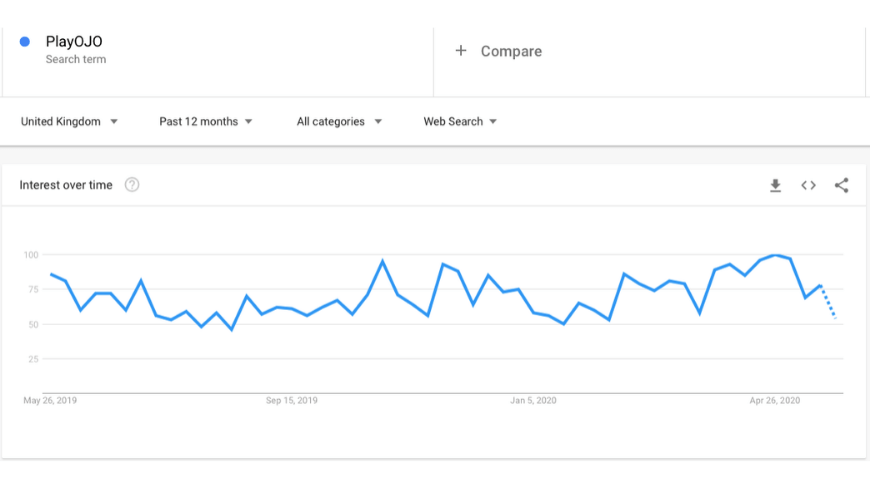 Popular online casino PlayOJO is a common example of an operator that hasn't seen too much of a dramatic change in search traffic as a result of lockdown measures.
Game specific searches - Have individual casino games fared well?
Like online poker, searches for a select number of casino games have seen a sharp rise in interest since lockdown began, specifically games that promise much larger returns for very little investment on the users' part.
Both 'online bingo' and 'online lotto' have done particularly well which is no surprise, considering they require very little input from the players themselves. In the case of bingo, many users will no doubt be playing for the social aspect, just as much as they're playing for the money. And in the case of lotto, it's easy to see why people might be trying their luck at winning life-changing sums of money for the mere cost of a coffee.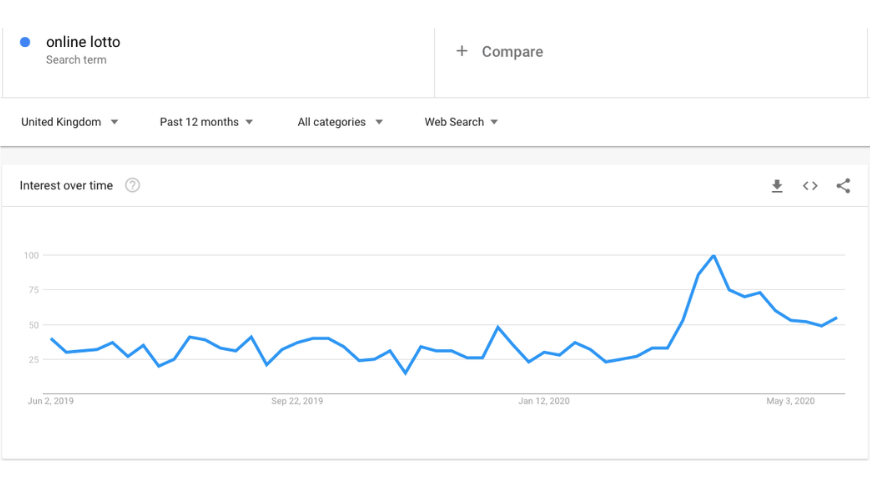 Another big winner has been online slots, which also comes as no surprise considering there's a healthy appetite for progressive and daily jackpot slots right now as well as slots with generous welcome offers attached to them such as wager-free spins, which means players will keep what they win without having to play through their winnings to fulfil wagering requirements.
However, the dramatic increase in interest surrounding the search term 'online slots' should be taken with a pinch of salt, many of the searches that have come in during lockdown are in fact related to online shopping delivery slots, which does skew the data somewhat.
That said, with operators reporting increased revenues and statistics from the Gambling Commission's survey with YouGov there is evidence that a select number of players are turning to online slot games slightly more than they have done in the past.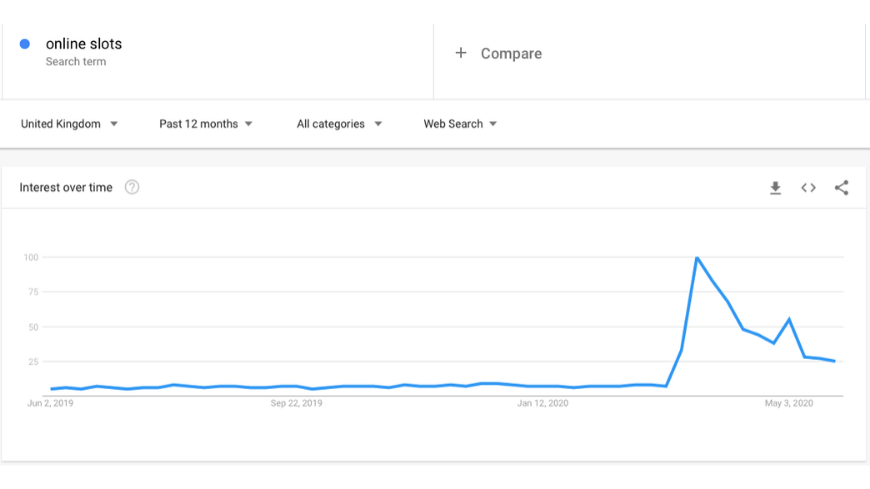 During the course of this study we also looked at a number of offer specific search terms that many affiliates will be familiar with to see if there were any notable increases in search interest between March 2020 and May 2020.
Common free spin related terms such as 'free spins no deposit', 'free spins no wagering' saw very little change, which is to be expected considering those who usually search for these terms are already familiar with the concept of these bonuses and where to find them.
The same can be said for other casino bonus search terms such as 'casino cashback', 'reload bonus' and 'no deposit bonus', which have stayed stable and consistent.
What we learn from search trends during lockdown?
It's fair to say that there has been an obvious increase in the amount of interest people have shown towards niche iGaming sectors during lockdown, which can be put down to social factors and people's desire to continue doing things they're used to, just via a new platform.
In the UK, sports betting plays an important role in the social lives of many people, mainly young men who are bonding over horse betting and football accumulators. With these taken out of the equation many have had little choice but to move over to poker in order to fill that social void, the same goes for eSports and virtual sports.
Similar can be said for online bingo. At the start of the UK lockdown bingo operators such as Tombola used their television and radio advertising slots as a means to promote their product as a way of keeping in touch and socialising with friends from the safety of their homes.
Search trends have shown that whilst there has been an increase in search volume for certain markets, it's not necessarily because people are looking to make money through gambling in a difficult economy. Had this been the case bonus related terms would have soared.
Ultimately, people are looking to fill their time with activities that can still be enjoyed from home that give them some reminder of normality.
Players might not be able to attend their local bingo hall, watch their favourite football team play live or play poker with their friends… But they still enjoy all of those things in a slightly different way from home.