Safer Gambling Week, 13-19 November 2023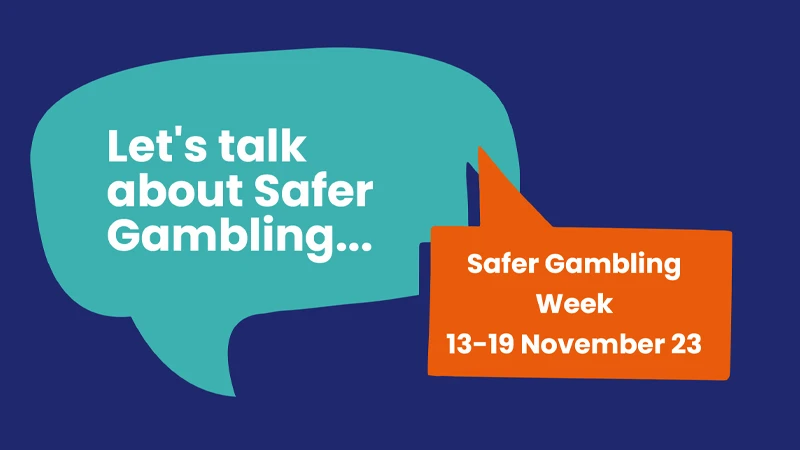 Safer Gambling Week is upon us once again. A chance to take stock and reflect on the importance of responsible gambling, the campaign brings together voices from across the gambling industry and associated stakeholders to promote safer gambling in the UK and Ireland.
It's one of the most important weeks in the calendar for slot sites and casinos – recognising industry obligations around protecting gamblers, particularly those in vulnerable groups, as well as minimising the harms that can be caused by problematic gambling.
About Safer Gambling Week
Safer Gambling Week aims to raise awareness of the questions to ask and the behaviours to consider when it comes to problem gambling, as well as providing tips and resources for gambling more safely. It also looks to raise the profile of support services in the sector.
In particular, the campaign looks at tools like deposit limits, self-exclusion, and the support and advice available from organisations like the National Gambling Treatment Service, the Northern Ireland National Gambling Helpline, and the Republic of Ireland National Gambling Helpline.
Managed on behalf of the regulated gambling industry in the UK by the Betting and Gaming Council, the annual event helps raise awareness of gambling support, while promoting responsible gambling messages.
Takeaway tips for safer gambling
While Safer Gambling Week spotlights a number of strategies, tools, resources and services for safer gambling, there are a few simple tips players can build into their habits and thought process to keep on top of their gambling habits. Try the three pronged approach we've outlined below to draw boundaries around your session – a time limit, a spend limit and a win target.
1. Set a time limit for how long you're going to play. For some players, it's easy to get carried away and allow your sessions to run indefinitely, which is a recipe for problems. The longer you play, the more likely you will ultimately lose money, or develop an unhealthy relationship with gambling. Whether you're winning or losing, setting a firm expiry time on your gaming session at the outset and sticking to it is a sensible way of controlling your gambling.
2. Set a £ limit on what you're prepared to spend and only ever bet what you can afford to lose. And decide before you start how much that is. And as with a time limit, it's important to stick to it. When you reach that limit, quit – regardless of the time spent or other factors. Tomorrow is another day and if you've spent your £ limit in this session, it's time to check out.
3. How much do you want to win? Have a target figure in mind you what you want to win from your session. Should you reach it, quit – regardless of how long you've been playing or how much you have wagered. Hitting this amount should be the finish line for your session if it comes before your spending limit or time limit is up. By setting yourself boundaries and sticking to them, you can prevent yourself from running into problematic territory and behaviours.
A Betting and Gaming Council initiative
Safer Gambling Week is now an annual event and part of the work of the Betting and Gaming Council which represents the interests of licensed gambling operators in the UK. Aside from lobbying the government on gambling regulation, the BGC also has a remit to promote the message of responsible gambling, working with its members on initiatives and programmes for safer gambling, year-round.
Michael Dugher, CEO of the Betting and Gaming Council, said the event was further proof of the regulated industry banding together to address problem gambling.
"Safer Gambling Week is now an established annual event. We know that rates of problem gambling are low and are now falling, which is great news, but Safer Gambling Week is further evidence of the regulated industry's determination to keep raising standards."
"BGC members demonstrate their commitment to safer gambling every day… Safer Gambling Week is a great opportunity to highlight this fantastic work – and emphasises the difference between the regulated industry and the unlicensed and illegal online black market, which has none of the safeguards which are commonplace among our members."
Safer Gambling Week runs 13-19 November, with the campaign heavily backed by the gambling industry to raise awareness of the problems, and possible solutions, to preventing gambling harms.
One of a number of measures...
Safer Gambling Week is one of a number of measures designed to support gamblers and limit harmful behaviours. Government proposals for a mandatory levy on operators to be channelled into the NHS to support RET (research, education, treatment) seems inevitable sooner rather than later. Regulations around advertising are also being tightened with a view to protecting younger people. Collectively these measures will support responsible gambling behaviours and minimise harm across players.