GamCare: "Our phone line is open 24/7 over the Christmas period"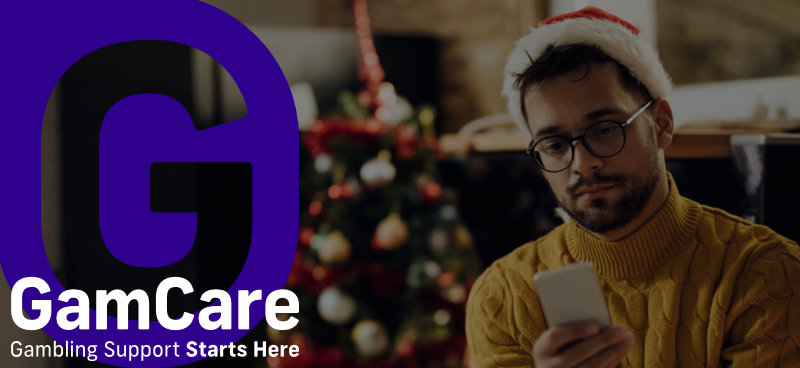 Help from GamCare is available 24/7 over Christmas
This Christmas, GamCare is driving its responsible gambling initiative evening more and urging people to look out for the signs that someone may be struggling with gambling over the Christmas period.
GamCare previously awarded £250K in female-focused research along with £4 million dedicated to responsible gambling research. The independent charity aims to increase its efforts even more in 2022.
The GamCare helpline recorded an 18% increase in referrals into treatment during pre-lockdown in January 2020 which is why they are trying to raise awareness on how to spot the signs of problem gambling and the places that can help.
Problems exposed throughout Christmas
According to GamCare, it's been suggested that Christmas can expose two problems such as the financial issues, social isolation and mental health difficulties surrounding a gambling problem or the problem of an early payday in December leading to extra temptations.
New research carried out for GamCare shows that over six million Brits know someone with a gambling issue in a study of over 1,000 adults. They also found that 1 in 5 Brits have used a Christmas pay or bonus to place a bet with a quarter of Britz regretting placing the bet.
"Feel very vulnerable at being found out," says helpline advisor from GamCare
A helpline adviser from GamCare said: "A lot of people get their Christmas pay early, so if they bet it all there won't be another wage until end of January. This is a long time to go without any money."
"The biggest risk is the expectation that those struggling with a gambling problem will feel from others to provide for their family at Christmas. If they are hiding their gambling, but needing to explain why they haven't been able to buy presents, they will feel very vulnerable at being found out and very low that they have let people down."
"A message of hope – that is essentially what we're giving people," says GamCare
"With more financial and family pressures, we know that the festive holidays can be a tough time for people trying to control their gambling," said Fiona Macleod, the Director of Clinical and Communities at GamCare. "During December, along with an early wage, there are more sporting events in close succession, heavy advertising from gambling companies, coupled with many people having free, unstructured time away from work."
Macleod goes on to mention that people may hide any issues they may have and the added pressure of buying presents for children is something that can trigger them even more. For others, it may be the isolation and loneliness at Christmas that could trigger them.
"We are always here to listen and support you when you might feel you have no other options. A message of hope – that is essentially what we're giving people. Our phone line is open 24/7 over the Christmas period. In lockdowns, we have seen an increase in people opting for our live chat option. We want to remind people that this is still available if privacy is a concern."
Signs to look out for
GamCare has identified five different signs to look out for if you are concerned about someone else's gambling and these are:
Withdrawn - such as not wanting to join in usual activates, needing to check their phone and wanting to stay at home more frequently.
Changing Mood - sudden changes in their mood or behaviour such as agitated upset for no apparent reason.
Sleeping Problems - anxiety or constant worrying can lead people to be up all hours and lead them to get barely any sleep.
Financial Signs - such as money missing from bank accounts, short of money and borrowing money on a regular basis.
Lying - are they lying more about what they are doing and hiding things from you?
If you are worried about someone or feel that you need to chat to someone over this, you can constant GamCare for free every day at any time on 0808 8020 133. Additionally, if you prefer to use live chat, then you can find the chat icon at the bottom right of any GamCare page to talk to someone through there as well.