Gambling Commission's roadmap for fairer and safer gambling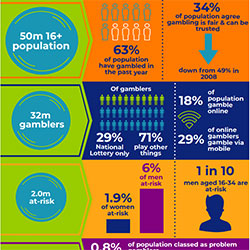 The UK Gambling Commission has revealed a new strategy to better regulate the British gambling market. The gambling watchdog has revealed that the three-year plan will lay out a roadmap for fairer and safer betting when put into place. This will be implemented to protect the interests of consumers and prevent gambling-related harm to the public by raising standards within the industry.
The UKGC has focused on five key areas in the strategy to clamp down on gambling regulations. The five priorities are as follows:
Protect the interests of consumers - To achieve this, gambling operators must intervene more often to ensure that all gameplay is safe and that vulnerable customers are protected. Strict sanctions will be put into place to punish any companies that fail to treat their players fairly.
Preventing harm to the public - The new regulations will require customers of betting brands to be better informed with details about gambling, its risks, the law and their options when it comes to controlling problem gambling.
Raising standards in the gambling market - The UKGC expects operators to arrange for effective and independent resolutions to all customer complaints and disputes.
Optimising returns to good causes from lotteries - The commission will place tighter regulations on the way that national lotteries donate towards charitable causes. The plan is to roll out a new license and set of rules by 2023.
Improving the way the Commission regulates - Finally, the UKGC plans to improve the way it taps into gambling issues and informs the public. The regulatory body intends on working closely with the gambling industry to help operators comply with the new rules but also be tough on issuing penalties to those who fail to meet certain standards.
The UKGC is confident that consumers will be well protected under these new guidelines. Chairman of the commission, Bill Moyes has described the plan as "an ambitious strategy to deliver fairer and safer gambling over the next three years." He adds:
"we can only be successful in this by engaging with consumers and by working closely with all our regulatory partners and the industry."
The Commission has also announced that it will be challenging itself, as well as operators, to deliver effective, targeted and innovative regulation.
This new three-year roadmap was planned out as a direct result of recent issues within the gambling industry which have come to light. Investigations by the UKGC has unearthed significant public concerns about ethical practices and have resulted in numerous operators receiving hefty fines, including BGO, 888 and Stanley James.
At the end of the three years, the Commission expects to see changes in the gambling market, with companies striving to continuously raise their standards, treat customers fairly and protect the most at-risk people.