Safer Gambling Week 2020 - What safer gambling tools are available?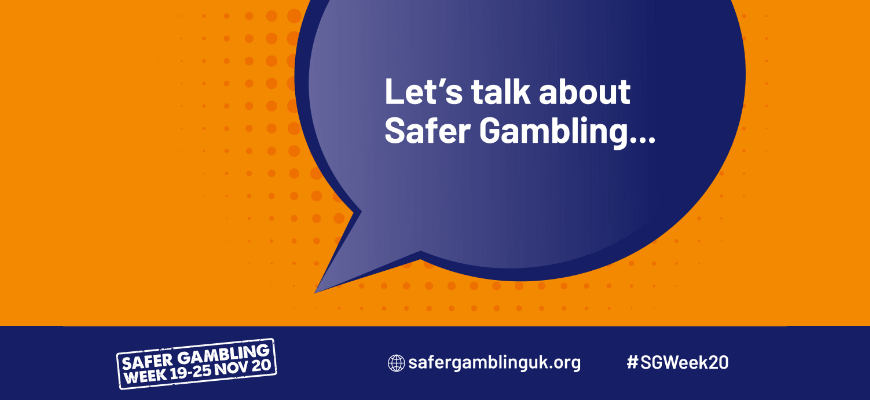 Tools that allow you to stay safe when playing at your favourite online casinos
There's no doubt about it, gambling can be extremely enjoyable when you're doing well... However, when the tables turn things can very quickly go south. It's incredibly important to be aware of the various tools that enable you to enjoy your time spent online safely without fear of your gambling spiralling out of control.
Thankfully, in 2020 the UK Gambling Commission requires all licensed operators to adhere to strict rules that ensure they offer a range of different safer gambling tools that put players firmly in the driving seat with it comes to negating gambling harm.
What tools are available to players wishing to limit their gambling activity?
There are a number of different tools you can take advantage of that safely limits your gambling activity to a level that suits you. On one end of the scale, there are tools that ensure only a pre-set amount of money can be spent and on the other end of the scale, there are tools that completely prohibit you from gambling at all. Below are
Deposit Limits
It's easier than you might think to lose sight of just how much you've gambled when you're having fun and enjoying yourself, setting a deposit limit stops you from spending more money then you may be able to afford.
Deposit limits can be decreased at any time if you wish to lower how much you're able to deposit, further limiting your spending, however, any requests to increase your deposit limit will only be actioned after a minimum of 24 hours.
This minimum time limit is in place as it gives you an ample amount of time to consider whether increasing your spending is a good idea. Usually, after 24 hours the urge to continue betting will have passed, if not then it's probably time to consider looking at stricter safer gambling tools.
Loss Limits
Setting a loss limit is very similar to setting a deposit limit, however, the former means that once you have lost a set amount of money then that's that for your gambling activity for a set period of time. You will be unable to play any more until a certain period of time has passed, this could be a day, week or even a month.
Considering many operators offer various products nowadays, most will allow you to set loss limits on specific products. You may want to set a loss limit on casino games such as online slots, where you personally find it easier to spend more quicker when playing, whilst having no limit on sports betting where you bet less frequently.
Session Limits
Many operators will ask you to set a session limit when you first log into your account or launch a specific game, you must declare how long you'd like to be able to gamble for before getting a session limit reminder.
At the end of this time period you are asked whether you would like to continue betting, in some cases you will be given no choice but to take a 20-minute break to take stock of your gameplay before deciding whether you wish to continue playing.
Cooling Off Period
All operators are required to offer you the opportunity to activate a cooling off period. Doing so will block you from accessing your account and gambling for a period of 24 hours, 48 hours or a week at most.
This allows you the opportunity to step away from the casino and make an informed decision as to whether continuing to play is a good idea. During this period the operator will not send you any marketing materials offering bonuses or encouraging play.
Temporary Suspensions
Following the same rule as a cooling off period, a temporary suspension sees you locked out of your account for a set period of time. The only difference between a cooling off period and a temporary suspension is that the suspension offers you more protection as it lasts longer. On average a temporary suspension will last either 30, 60 or 90 days. During this period the operator will not send you any marketing materials offering bonuses or encouraging play.
Self Exclusion
Self exclusion is the most powerful tool you can use if you feel you need to curb your gambling. You can self-exclude yourself from any licensed online casino for any time between 6 months and 5 years.
Doing so will only exclude you from a specific casino, not all of them. You can also self exclude yourself from a certain product such as online casino games, sports betting or bingo if you so wish.
Gambling blocking software
If you feel like you need significantly more controls in place to stop you from gambling online then you should seriously consider using an independent casino blocking service such as GAMSTOP. GAMBLOCK, Betfilter and Betblocker.
This software may come at a cost, but it can place a blanket ban on all online casinos, meaning you cannot access and place bets at any licensed online casinos as long as the software is active.
Blocking bank transactions with your bank
Many banks now offer you the opportunity to restrict your gambling spend, allowing you to turn off certain types of payments to certain types of retailers.
The following banks currently offer a service such as this: Royal Bank of Scotland, Lloyds Bank, Halifax, Bank of Scotland, HSBC, Monzo, Starling, Natwest, Barclays and Santander.