Win up to 50 free spins with no wagering requirements at Buzz Bingo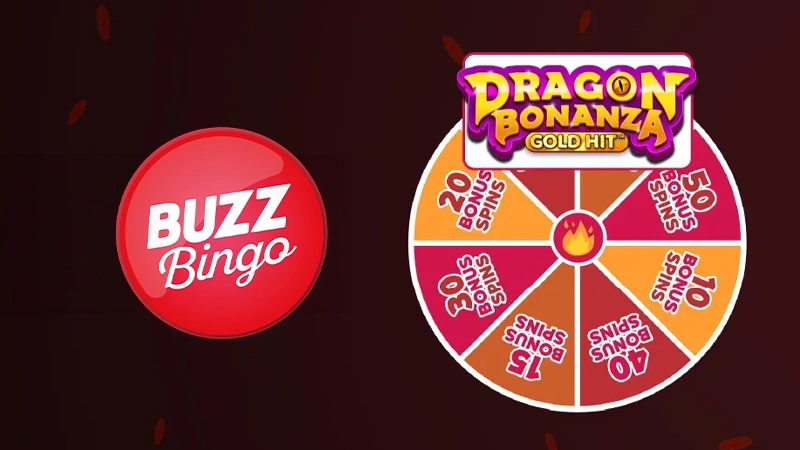 What's that buzz? Only the sound of Buzz Bingo, back with another free spins promotion to get excited about this autumn. For the next week, Buzz Bingo is giving players the chance to wager £20 on any slot and a spin on the Sizzling Slots Spinner with a chance to land as many as 50 free spins for their trouble. All you have to do is bet £20 on a qualifying slot, and you'll be spinning your way towards these great prizes.

There are no wagering requirements with any of the free spins you win – you can simply withdraw anything you win directly to your payment method of choice. This makes for an incredibly valuable bonus, especially when you consider it's an added extra. If you're spinning slots at Buzz Bingo anyway, it's a nice added incentive over and above anything you win on the reels themselves.


How it works
This is a pretty straightforward promotion to get your head around, without too much required to get involved. All you have to do to qualify for a spin is to play £20 in a single day on any Buzz Bingo Slots game. This will give you up to 50 free spins at Dragon Bonanza: Gold Hit. Anything you win can be withdrawn immediately, without the need for any further wagering requirements or other restrictions—subject to the £5 minimum withdrawal at Buzz Bingo.

The Buzz Bingo Sizzling Slots Spinner is a bonus wheel you get to spin to win a guaranteed prize. It won't always be the 50 spins as there's anywhere from 5 free spins to 50 free spins to be won. However, you are guaranteed to win something when you take the wheel for a spin.

The bonus spin can be unlocked once per day, with the promotion running until Tuesday 7 November.
The prizes
The prizes on offer are exclusively free spins for Dragon Bonanza: Gold Hit, starting at 5 spins, and ranging right through to the 50 spins. Each spin is valued at 10p, and you can play these on the slot as you would with a real-money 10p stake. Anything you win is yours to keep, and you can withdraw any amounts beyond your £5 minimum withdrawal limit.

Spins are available to win in lots of 5, 10, 15, 20, 25, 30, 40 and 50, depending on your luck. Players are most likely to walk away with 10 free spins, which occurs in 85% of cases. The least likely to win are the 5 and 50 free spins which come up in just 0.25% of cases. A prize is guaranteed, and anything you win gives you the chance to play Dragon Bonanza: Gold Hit with some risk-free spins.
Terms and conditions
As always, terms and conditions apply to the offer, and you'll need to meet them before you're eligible. Fortunately, there isn't anything in here that's unreasonable – Buzz Bingo tends to be pretty fair promotions-wise, and that's still the case with this offer.

The main thing you need to do to qualify is to bet £20 on an approved slot, and that's any slot under the CASINO or SLOTS & GAMES menus, excluding Diamond Mine 2 Megaways. You need to stake your £20 between 6am and 11.59pm to be eligible for a spin of the bonus wheel, but beware, you need to use your free spin before midnight, or you lose them.

Play the Sizzling Slot Spinner by selecting the relevant option from the Promotions page, and you'll instantly be able to spin to see how much you've won. All withdrawals are subject to the usual £5 minimum, but with no wagering requirements at all on anything you win, that's a small hurdle to overcome.

There are just a few days left to run on the promotion, so there's no time like the present to get involved and spin to win at Buzz Bingo. With guaranteed prizes on the line after every spin of the Sizzling Slot Spinner, you'll be raring to go with some free spins in your pocket in no time.