Safer Gambling Week 2021 - How to gamble more safely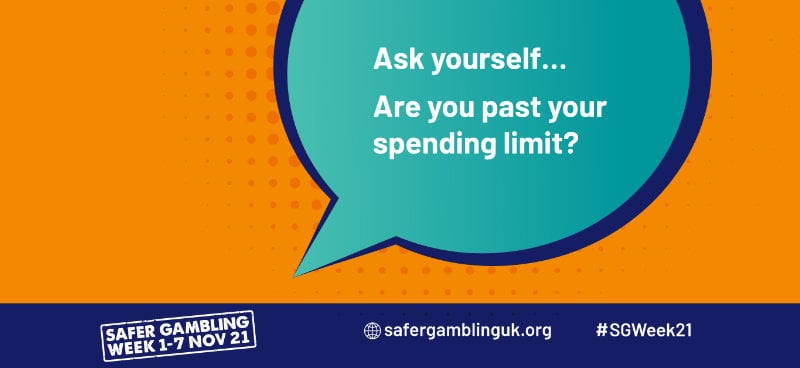 The five key behaviours of safer gambling to follow
Gambling is a form of entertainment designed to be exciting and enjoyable, but it's also possible for it to get out of hand and become a problem. That is why the entire UK and Irish gambling industry have come together for the fifth annual Safer Gambling Week 2021.
One of the main areas of discussion this year includes raising awareness of how to gamble more safely. There are 5 key behaviours highlighted by Safer Gambling Week 2021 that are associated with safer gambling, and that everyone should be aware of.
Only spend what you can afford
It's always worth keeping in mind that gambling should be an entertaining activity and not bring any harm to everyday life. Sometimes it can be tempting to keep playing as you sense a big win around the corner, but you should never risk more than you can afford to lose.
Ensure that you are playing with surplus funds and not those needed for crucial expenses such as rent or bills. Futhermore, it's important to still enjoy hobbies, social activities and holidays, so make sure you're not spending money that could be put to better use elsewhere.
Set your limits for time and money
Decide and stick to how much you will spend before starting, as well as how long you will spend playing. All licensed casinos in the UK and Ireland have tools allowing players to set deposit and loss limits to help manage time and money. Amazingly, these sites will alert you when you've reached your limit and lock you out so that you don't spend more than you intended.
There will also be the option to lock yourself out from your account for a certain number of days or weeks. If you feel like you need a complete break from gambling altogether, you can also self exclude via GamStop which will block you from all UK licensed online casinos at once.
Gambling is not the answer to any problem
Whilst escaping into entertainment is enjoyable and allows us to shut off from the stresses of everyday life, it doesn't necessarily solve any problems. Gambling is a fun activity that should provide enjoyment - but that's all. If you are struggling with issues of any nature, including money, health, relationships as well as gambling, be sure to seek help for those issues and not to turn to gambling as way to forget. Gambling will likely only lead to making matters worse, as over time only the house wins.
GamCare is always ready to listen 24/7 to any issues you may have via telephone for free at 0808 8020 133 or via online chat at www.gamcare.org.uk.
Tools are available to help you gamble more safely
Whichever online casino you choose to play at, providing it's licensed to serve UK players it will provide useful tools to help players gamble safely. These could include the loss and time limit tools mentioned above, as well as self-assessment and 'reality-check' features that remind players how long they've been playing for and how much they've wagered, won and lost, such as PlayOJO's Safe Mate. An activity or play history will also be available, as well as blocking tools to limit social media ads or newsletters.
Gambling shouldn't interfere with personal relationships
It's important to spend time with the people you care about most and attend social events with your friends. These should always take priority over gambling, and if you find yourself making excuses not to see people so you can gamble, then you could be at risk of developing a gambling addiction and should seek advice immediately.
Let's talk about Safer Gambling
Following these behaviours will ensure you stay on track, gamble safely, and enjoy yourself when doing it. Gambling should be entertaining after all. If you do find yourself, or someone you care about, doing the opposite of these recommended behaviours, then it may be time to seek support.
You'll be able to find all the Safer Gambling Week 2021 tools and support resources here at No Wagering throughout the week.