Safer Gambling Week 2021 - Sources of advice and support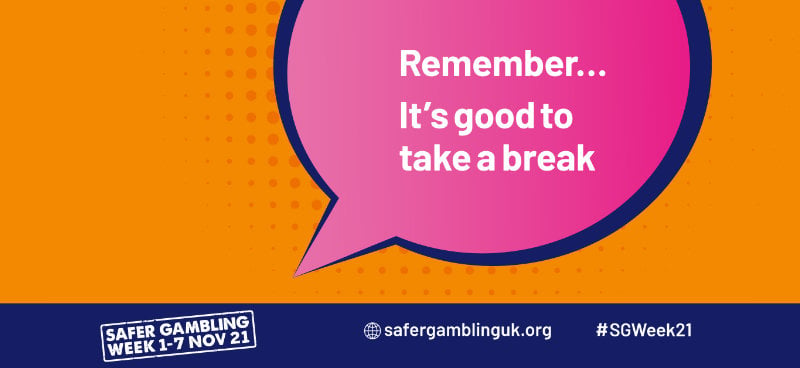 Where to find advice and support for those affected by gambling
From the 1st November until the 7th November 2021, the entire UK and Irish gambling industry are coming together to promote responsible gambling through Safer Gambling Week 2021. The goal of this week is to get everyone talking about safer gambling and where people can find resources if they need them.
Gambling is meant to be a fun activity, but it's so easy to lose track of your spending or time when you are enjoying yourself. This is exactly why there's a huge amount of support available and you can find it all here.
GamCare
As the leading provider of gambling help and support for those in the United Kingdom, GamCare is available whenever you might need them. They can be contacted for free via the National Gambling Helpline on 0808 8020 133 or via live chat, 24 hours a day, 365 days a year. There's even an online forum that is free to use with like-minded and experienced people ready and willing to help.
BeGambleAware
As an independent charity, BeGambleAware funds education, prevention and treatment services. They have incredible resources promoting responsible gambling and provide confidential help should you ever need it.
BigDeal
GamCare provides another support service called BigDeal which is aimed at young people who may be affected by their own gambling, or the gambling of someone they know. This service offers support to children and teenagers from 11 years up and offers confidential support and advice.
BigDeal have a 24hr live chat service that's available on their website. They also can be contacted by phone on 0203 092 6964 - but phone lines are only open Monday to Friday from 9.00 am until 9.00 pm (5.00 pm on Fridays). Of course, you can always phone the National Gambling Helpline on 0808 8020 133 if you need help outside of BigDeal's hours.
Gordon Moody
Gordon Moody provide advice, counselling, online support and structured treatment for those suffering with problems created by gambling. They can be contacted via telephone on 01384 241292 or live chat service.
As part of the Gordon Moody service, there is Gambling Therapy which offers free online advice and emotional support for those affected by gambling with a multi-lingual service supporting over 250 languages.
Gamblers Anonymous
Founded in 1957, Gamblers Anonymous brings together all those who have been affected by gambling - it is a fellowship of men and women who have joined together to do something about their own gambling problem and to help other compulsive gamblers do the same.
They have weekly meetings in most cities across the UK that can be attended in person or via video call/chat. Within their service, they also offer aids such as a forum, chat room, literature and regular meetings.
Free Debt Help & Management Services
For those that are suffering with debt issues, there are a number of free support services available:-
National Debtline - https://www.nationaldebtline.org/ or freephone 0808 808 4000.
Citizens Advice - https://www.citizensadvice.org.uk/
Citizens Advice Scotland - https://www.cas.org.uk/
PayPlan is the UK's largest providers of free debt advice and works in partnership with GamCare offering long-term debt solutions and guidance on how to improve your financial situation.