Safer Gambling Week 2021 - What's it all about?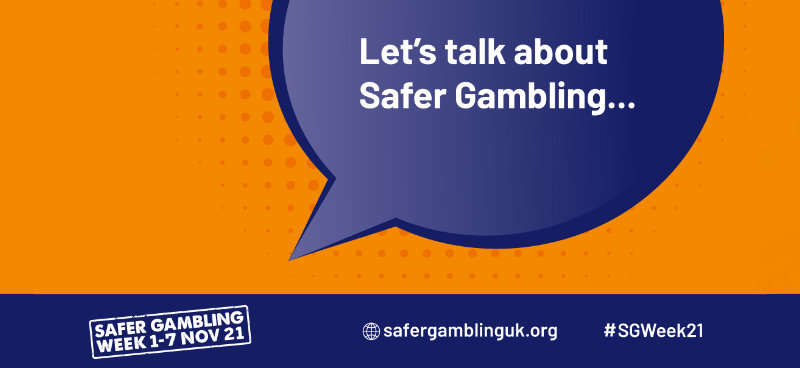 Let's talk about Safer Gambling
From 1st November until 7th November 2021, the whole UK and Irish gambling industry is banding together to create a conversation with customers, staff and the wider public about safer gambling.
This years campaign will build on the success of the previous four years to continue to raise awareness and provide support to those who may need it. The entire gambling industry will be led by three trade associations - The Betting and Gaming Council, The Bingo Association and The British Amusement Catering Trade Association (BACTA).
Safer Gambling Week 2021 aims to reach a wider audience and engage even more with those who may just need a little bit of help. During this week, the whole gambling industry in the UK and Ireland will be coming together to support Safer Gambling.
What are the key messages of Safer Gambling Week 2021?
For Safer Gambling Week 2021, the focus is on three key points that will drive awareness of responsible gambling and how to have fun without taking it too far. The three areas of discussion for Safer Gambling Week 2021 are:
How to gamble more safely.
The tools that are available to help people gamble safely all year round.
Sources of more advice and support.
On top of the three areas of discussion, Safer Gambling Week 2021 will ask questions about gambling behaviour, highlight five key behaviours of safer gambling and provide details of how to obtain further information if needed.
What is No Wagering doing as part of Safer Gambling Week 2021?
We at No Wagering are fully committed to promoting safer and responsible gambling. Throughout the week, we'll be covering the three main areas of discussion for this year's Safer Gambling event and will be sharing tips on how to gamble safely, explaining what safer gambling tools are available and where to find more advice and support should you feel you need it.
We thoroughly recommend having a read through all the information available whether or not you feel you need it, as being able to spot the signs of problem gambling in someone else can be just as important. So, stick around, and remember to 'Take Time to Think'.