Mega Moolah Goddess Features
Mega Moolah Goddess is pretty threadbare in terms of bonus features and mechanics, but that's understandable considering this game is a jackpot slot that can see people win the iconic Mega Moolah progressive jackpot.
The jackpot is triggered randomly on any spin (winning or losing) and will see players spin of wheel-of-fortune that's covered in 20 different segments, wherever the wheel lands will determine which of the four Mega Moolah jackpots the player will win.
Mega Jackpot - Seeded at £1,000,000
Major Jackpot - Seeded at £10,000
Minor Jackpot - Seeded at £100
Mini jackpot - Seeded at £10
Mega Moolah Goddess also boasts a gamble feature and an incredibly generous free spins round that can see players receive up to 25 free spins with a 6x win multiplier on top of whatever players collect during the bonus.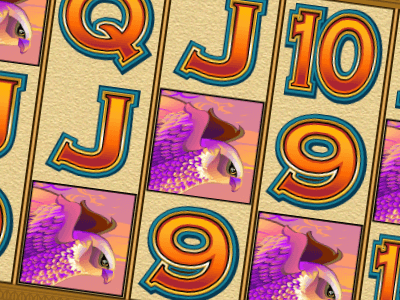 Free Spins
If players land three or more eagle scatter symbols on a single spin then they'll automatically trigger a free spins bonus round. If players land 3 they'll receive 20 free spins, 4 they'll receive 25 free spins and 5 they'll receive 30 free spins. ALL wins during this round are subject to a 6x multiplier.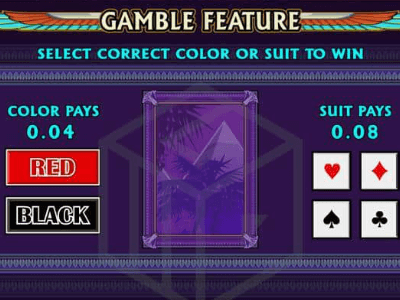 Gamble Feature
Players can choose to gamble any (non-progressive) win on Mega Moolah Goddess. To do so they play a card game that sees them double their winnings if they pick the correct card colour, or quadruple their winnings by picking the correct card suit.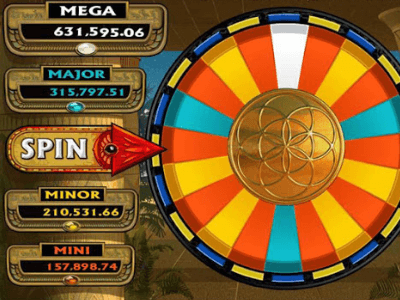 Mega Moolah Jackpot
The most sought after feature in Mega Moolah is, of course, the progressive jackpot! This is triggered randomly on any spin of the reels, whether that be a winning or losing one. Players must spin a 20-segment wheel-of-fortune to determine what jackpot they win.
Mega Moolah Goddess Review
If you're a keen jackpot hunter then you'll most certainly know all about Mega Moolah Goddess. This 5-reel, 25 payline slot is Egyptian themed slot is the second instalment in the legendary Mega Moolah series, and like its famous predecessor, it offers players the chance to potentially win tens of millions of points at the drop of a hat!
It's not a game for the faint-hearted, with a somewhat difficult RTP of 88%, however, that said, this game is still a LOT of fun and given the right circumstances can be very lucrative. If you've got the bankroll to sustain your gameplay then we'd certainly recommend playing Mega Moolah Goddess, if not then it's perhaps better to give this one a miss.