Responsible Gambling Week 2019 - Let's Talk About Safer Gambling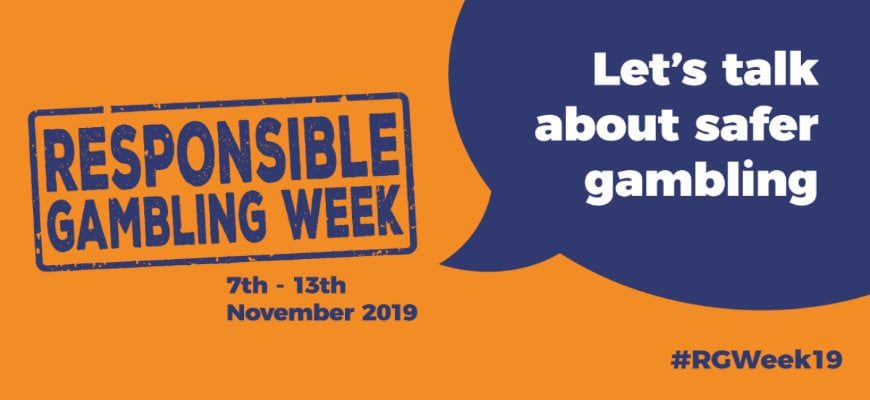 No Wagering supports Responsible Gambling Week
Responsible Gambling Week 2019 is here and as you know we at NoWagering are committed to promoting safer gambling and being at the forefront of conversations around the subject.
This is the third year the initiative has been running, and since taking off it has gained significant support from some of the biggest players in the betting industry including Betfred, bgo, Grosvenor, King Jack Casino, Paddy Power, PlayOJO, Party Casino, Tombola, Matchbook, Betfair and Trada Casino.
This year Responsible Gambling Week is running from November 7th 2019 until November 13th 2019, during this time ourselves and more than 120,000 members of staff from various bookmakers, land-based casinos, online casinos and other areas of the gambling industry from across the United Kingdom and Ireland will actively raise awareness in the following key areas:
How to gamble responsibly when playing at online casinos
The tools available to players that allow them to gamble safely
Where players can receive advice and support related to gambling
Playing safely and responsibly online
While gambling online is a form of paid entertainment, there are of course risks involved that players should be well aware of when logging in to play at their favourite casinos.
It's important that players understand how different games vary from each other in terms of odds and the rules, so that they do not go into any session uninformed, potentially putting themselves in a reckless position. It's also important to note players have the opportunity to set a pre-specified betting limit when signing up to a new online casino, so that they have a set amount of money to play with that they can potentially afford to lose - because it has to be accepted that sometimes you win, sometimes you lose.
The moment players begin to chase losses, see gambling as an investment or a money-making tool or put gambling before themselves and others around them then it's a sure sign that it's quickly becoming a problem, and it's time to seek help.
What are organisations doing to get involved?
As mentioned, over 120,000 people across the United Kingdom and Ireland are getting involved in efforts to help raise awareness for safer gambling, so you can expect a lot of activity!
Online, at many of your favourite casinos you'll find you may come across responsible gambling messages via pop-ups and banner ads, as well as seeing tips for playing safely on their social media channels.
Land-based casinos will be setting up dedicated 'responsible gambling areas' and hosting 'take a break sessions' for the first time ever and you'll find prominent responsible gambling messages in bookmakers across the country, including on their fixed odds betting terminals.
Elsewhere, the British Horse Racing Authority will be displaying responsible gambling messages at racecourses across the country, all Punch Pubs and Co. pubs will be displaying responsible gambling messages on beer mats and on promotional posters and the English Football League and sponsors SkyBet will be advertising on stadium hoardings and in the each club's matchday programme.
How is No Wagering getting involved?
Throughout Responsible Gambling Week 2019 we'll be sharing detailed articles and resources on our news page on a range of topics including:
Who to follow during Responsible Gambling Week 2019
If you want to find out exactly what's going on throughout Responsible Gambling Week 2019 then we'd recommend following the official twitter account at @RGWeek19, you can join in the conversation online by using the hashtag #RGWeek19.