Safer Gambling Week 2022 - What's it all about?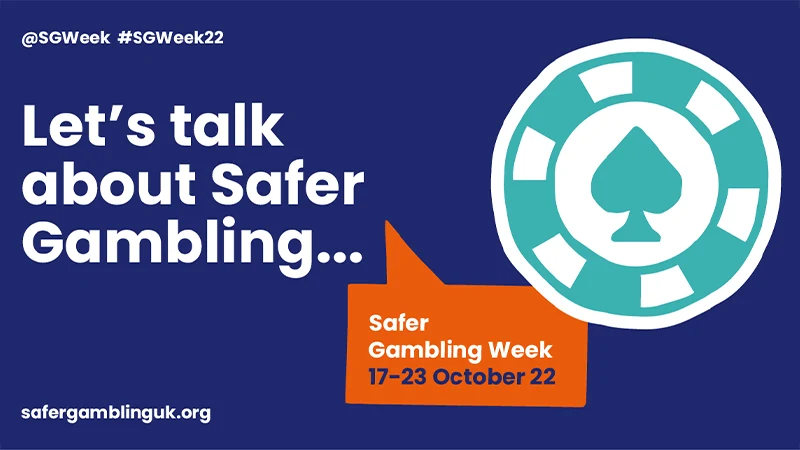 What to expect from Safer Gambling Week this year
Safer Gambling Week 2022 is fast-approaching and is only a few weeks away. It's the most important time of the year for the gambling industry as iGaming and land-based gambling band together to promote responsible gambling.
Following the success of Safer Gambling Week 2021, this year aims to be even bigger than ever and reach the largest audience yet. This cross-industry initiative runs from 17th - 23rd October and focuses on promoting safer gambling across the United Kingdom and Ireland.
What are the focal points of Safer Gambling Week 2022?
This year's event aims to stimulate conversations around safer gambling and raise awareness of three different topics:
Let's Talk About Safer Gambling with a focus on the questions and behaviours to look out for.
Taking Action with Safer Gambling Tools available all year round.
Getting Support through sources of advice and support.
During this week, venues and websites will provide information on safer gambling in a concerted effort to raise even more awareness of these three different topics.
Stimulate nation-wide conversations
In response to the campaign, Safer Gambling Week has said: "The objective is to stimulate nation-wide conversations about safer gambling, giving people the information they need to gamble more safely, as well as directing those who need further advice and support to the right point of contact."
"While the campaign focuses on a week of events, promotion and training, the commitment to safer gambling is all year round. It happens all day, every day with a wide range of safer gambling apps, tools, initiatives and campaigns from operators, sector groups, interest groups and charities."
What is No Wagering doing for Safer Gambling Week?
Responsible gambling is at the forefront of everything that we do at No Wagering and Safer Gambling Week is the perfect time to emphasise all the resources available for those who may need them.
For Safer Gambling Week, we will be producing a number of articles covering the three focal points of the campaign including sources of advice and support, the safer gambling tools available and the questions players should be asking themselves. So be sure to stick around to see all the resources available.