Safer Gambling Week 2022 - Take Action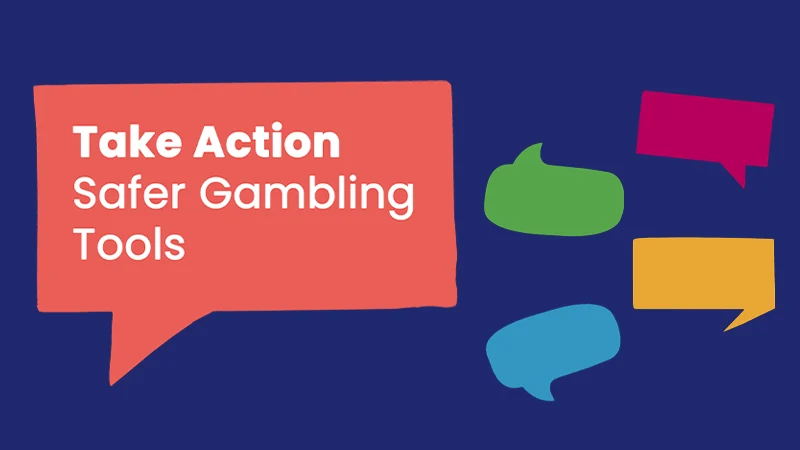 Take action with these safer gambling tools
In our previous Safer Gambling Week guide we talked about the signs and behaviours of excessive gambling and the importance of getting help should you suspect you might be at risk. However, taking action to prevent excessive gambling is just as important. One of the main areas of discussion throughout Safer Gambling Week 2022 is around taking action to gamble responsibly and making use of all the tools that are available to help.
The licensed gambling industry within the UK and Ireland takes its commitment to safer gambling extremely seriously and has identified five tools that are available to help you manage your relationship with gambling.
Set your time and deposit limits
The first step in taking action is to set limits which can involve time or deposit limits. All UK licensed gambling operators will offer ways to help you keep track of the time and money you are spending gambling.
Set gambling time limits
One of the ways to do this is through gambling reality check timers. These allow you to set on-screen alerts to remind you how long you have been playing for, and most will allow you to choose how often you see this alert.
Every operator will offer a 'reality check' feature which can be found in the safer gambling section of their website.
Some gambling websites, such as Paddy Power and Videoslots Casino, offer gambling time trackers that show how long you have been signed in for. Keep an eye on this clock as a reminder for how long you've been online for, and take time to think at regular intervals about whether it's time to log off and pause.
Time tracker apps are also available which monitor how much time you are spending gambling and allow you to set your own time limits.
Set gambling deposit limits
Having a deposit limit is a great way to ensure that you do not spend more than you want to. According to Safer Gambling Week, over 400,000 deposit limits are set every month.
In order to set a deposit limit, follow the shield-tick symbol to the safer gambling section on the operator's website. There will be on-screen instructions on how to set your limits with the option to personalise the tool to better suit your needs.
There are some fixed-odds betting terminals (FOBT) that give you the option to set a spending limit for the machine making it impossible to go over your limit during the session.
Similarly, if you have a membership card used to earn points on machines or table games, some operators will allow you to use this to set a deposit limit, details of which can be found in the membership area of their website.
Finally, if you are attending a gambling venue in person, then be sure to speak to the staff about the tools available and setting limits. There are often leaflets in venues providing further information.
Self-exclude from gambling
Sometimes setting limits is not enough and further assistance is needed. This is where self-exclusion tools come in handy to provide effective assistance to help you regain control. All licensed gambling venues and sites will offer self-exclusion schemes.
Whilst each scheme works differently, these often allow you to exclude yourself for a minimum of six months (or twelve for betting shops) which means that you will be removed from all marketing databases related to this and you cannot leave the scheme early.
Once you leave the scheme, you will not be added to marketing databases. There are five self-exclusion tools that Safer Gambling Week recommends:
GAMSTOP
This is a free service for users within the United Kingdom and helps you to control your gambling. GAMSTOP is incredibly easy to set up and will prevent you from using gambling websites and apps run by companies licensed in the UK for a period of time.
Self-exclusion from Adult Gaming Centres
The tools available for gambling arcades and gambling centres can be found by visiting the specific centre or by telephoning them as they are trained to guide you on the best steps.
In order to be excluded from the wider area, the best thing to do is call BACTA Self-Exclusion Services on 020 3930 9769 for further assistance.
Self-exclusion from Betting Shops
For those with concerns about the time and money they spend gambling in betting shops or bookmakers, there is a multi-operator self-exclusion scheme available which is customised to registrants' needs and habits.
The registration process is telephone-based on 0800 294 2060 and allows staff to fully customise the needs of the caller. This also shares submitted photos to operators to help staff recognise you and intervene if needed.
Self-exclusion from Bingo
The Bingo industry has a voluntary scheme that allows you to request exclusion from land-based licensed bingo premises across the UK. However, it's worth mentioning that this does not apply to online bingo websites and GAMSTOP should be used for that.
Self-exclusion from Casinos
For those wanting to exclude themselves from land-based casinos, the best option is the Sense Exclusion scheme which can be done in person or via email.
Block gambling websites
Another tool at your disposal is blocking gambling websites altogether. With helpful tools, you can block your access to gambling websites on your computer or mobile phone.
This can be done through software that blocks betting websites or through software that blocks any sites that you choose. There are three tools that Safer Gambling Week recommend.
BetBlocker
Not only is this tool free, but it allows you to control your gambling. BetBlocker can be installed on as many devices as you want and will block you from accessing over 15,000 gambling websites. The best part is that you can select how long you want to be blocked.
Gamban
The Gamban tool is also free and can be accessed by calling GamCare's helpline or using the live chat function. This blocks access to thousands of gambling websites and apps with quick and easy installation on up to 15 devices.
GamBlock
This tool was created to prevent underage gambling as well as gambling in the workplace. This is to assist those who are unable to control their gambling, but be aware that Gamblock is not free.
Limit the gambling content you see
Another way to take action is by reducing the content that you see on social media by taking easy steps from the UK Gambling Commission. Sadly, this is not 100% effective as gambling content by social media contacts will be seen.
Twitter
The easiest way to limit what you see is by unfollowing an account which should reduce the amount of gambling content that you see. There is also the chance to reduce your interests within your privacy settings to deselect any gambling-related words.
Promoted Tweets may seem impossible to remove, but there is an arrow icon on the Tweet that can be clicked. This allows you to select 'I Don't Like This Ad' which will lead to Twitter giving you less promoted Tweets like this.
If this still isn't enough, there is the option to mute accounts by clicking on the profile or even muting specific words that you do not want to see. If in doubt, just block certain pages to stop seeing them on your timeline.
Facebook
There are similar options available on Facebook that will help you limit the content you see. The first way to do this is by controlling the ads you see by clicking the 'hide' or 'X' button on the actual ad to hide it. Once this has been done, you can go to ad preferences to further decide what influences the ads you see and how to change them.
This can be customised further through the ad preferences tool that allows you to review advertisers, hide advertisers and manage whether you can be targeted based on certain attributes listed in your profile. The full specifics of this can be found on the Gambling Commission website.
YouTube
Thankfully, YouTube provides users with the ability to opt-out of seeing gambling adverts on the platform through the preferences within the Google Ad settings.
There is a section called Ad Personalisation that will allow you to personalise your interests allowing you to remove categories such as alcohol or gambling. You may see gambling ads if you search for one of those related topics, but you should see fewer ads than usual in the future.
Block gambling payments with your bank
Most major banks will offer you the ability to limit your spending on gambling. If you are worried that you are spending too much on gambling, then blocking gambling transactions with your bank is the best way to do this.
Whilst most banks offer card locking services, each bank offers a slightly different implementation. Bank of Scotland, Natwest and Barclays offer card locking features that block gambling transactions specifically.
Halifax offers various tools and support such as financial tracking, personal support and access to Gamban licenses to block online gambling. Starling, Santander and Monzo offer similar blocks to stop gambling transactions.
HSBC allows customers to add or remove gambling restrictions but also offers a 'Cool Off Period' meaning that customers can set an exclusion tool for a period of time on specific transactions.
Finding the tools
In order to gain access to all these tools, Safer Gambling Week suggests looking for the shield symbol with a tick inside that is found on operator sites. For land-based gambling tools, be sure to speak to staff to learn more about the tools at hand.
Whatever tool you decide on, these are all quick and easy to use, so be sure to take advantage of them. If ever in doubt, just contact GamCare for support available 24 hours a day.