Best video game themed slots at no wagering casinos 2022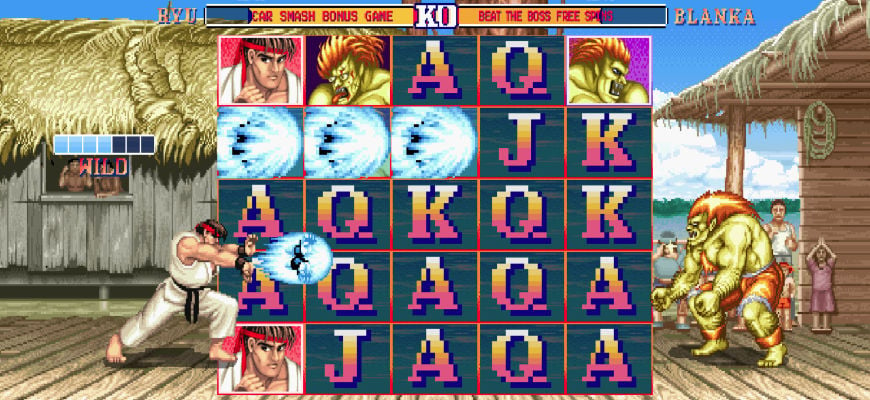 Online slots and video games combining for an epic collaboration...yes please!
Who doesn't love playing video games? They give unimaginable worlds to excite and delight players. What's even better is when they are combined with online slots to give you the chance to win big with your favourite video games.
Here at No Wagering, we are dedicated to giving you the best slots available to play at no wagering casinos, and video game themed slots are no exception. So get ready and prepare to enjoy our list of 5 of the best video game themed slots at no wagering casinos in 2022.
Street Fighter II: The World Warrior Slot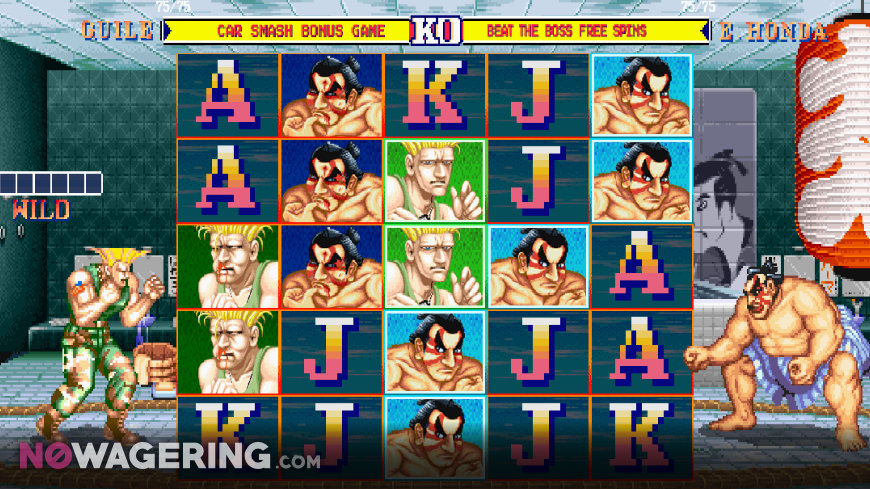 Name: Street Fighter II: The World Warrior Slot
Developer: NetEnt
Reels: 5
RTP: 96.06%
Max payout: 7,000x stake
Theme: Gaming
Volatility: Medium-High
Released: May 2020
The original Street Fighter II was a complete landmark in video game history. Not only did it popularise the Street Fighter series, but is considered as one of the best fighting games of all time. It's only natural that a developer like NetEnt would pay homage to the series by creating a slot version.
Featuring Ryu, Ken, Chun-Li, Dhalsim, E. Honda, Guile, Blanka and Zangief, the slot brings everything you loved from the original game and adapts it to online slots. You can smash cars and beat the boss - but win some mighty prizes whilst doing so. Each playable character has their own perks and will completely change your playthrough. Street Fighter II: The World Warrior Slot is a masterclass in how to adapt video games to slots.
Lara Croft Temples and Tombs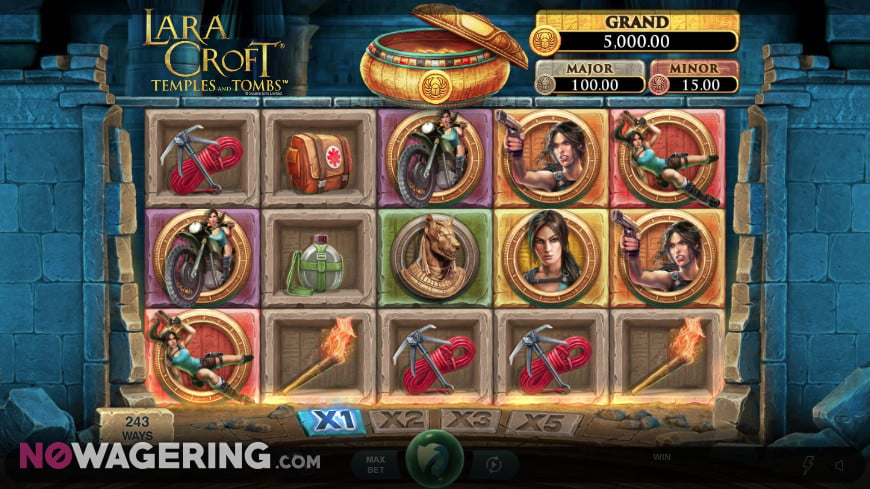 Name: Lara Croft Temples and Tombs
Developer: Triple Edge Studios
Reels: 5
Win lines: 243
RTP: 96.05%
Max payout: 5,000x stake
Theme: Gaming
Volatility: High
Released: May 2019
Everyone's favourite treasure hunter now is immortalised with her own slot featuring a bountiful payout of up to 5,000x your stake. The Tomb Raider franchise stars Lara Croft as she travels across the world to multiple locations all with the goal of uncovering hidden mysteries. It doesn't hurt that she often finds valuable treasures along the way.
Naturally, Lara Croft is the perfect character for a slot and Triple Edge Studios absolutely delivered. You can spin the reels and see Lara take on Egyptian Gods as she reclaims the hidden treasures. It's satisfying for gamers and online slot players with up to 80 free spins available to be won. Lara Croft Temples and Tombs encapsulates everything gripping about the series but adds an incredible online slot edge for satisfying payouts.
Worms Reloaded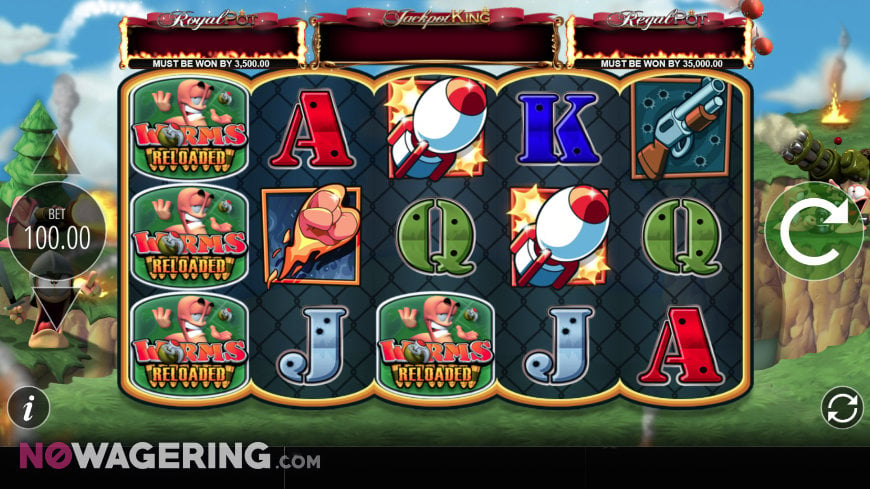 Name: Worms Reloaded
Developer: Blueprint Gaming
Reels: 5
Win lines: 20
RTP: 92.66%
Max payout: 500x stake
Jackpot: Jackpot King Deluxe
Theme: Gaming
Volatility: Medium
Released: August 2016
Based on the game of the same name, the Worms Reloaded slot is absolutely bonkers. All the madness and insanity from the Worms series is brought in full effect in this slot with some outstanding features. The Worms games focus on turn-based tactics surrounding actual worms and all the crazy ways you can defeat your opponent.
Thankfully, they bring this ferocity to the slot with 4 features and 5 bonus modifiers. You have the chance to win 2 different free spins and multiple bonus screens for additional cash prizes. The modifiers randomly unlock extras to help you in your game, such as multiple wilds, teleporting symbols and exploding symbols. Worms Reloaded is both faithful to the source material whilst adding in extras to make this a slot that appeals to all types of online slot players.
Tetris Extreme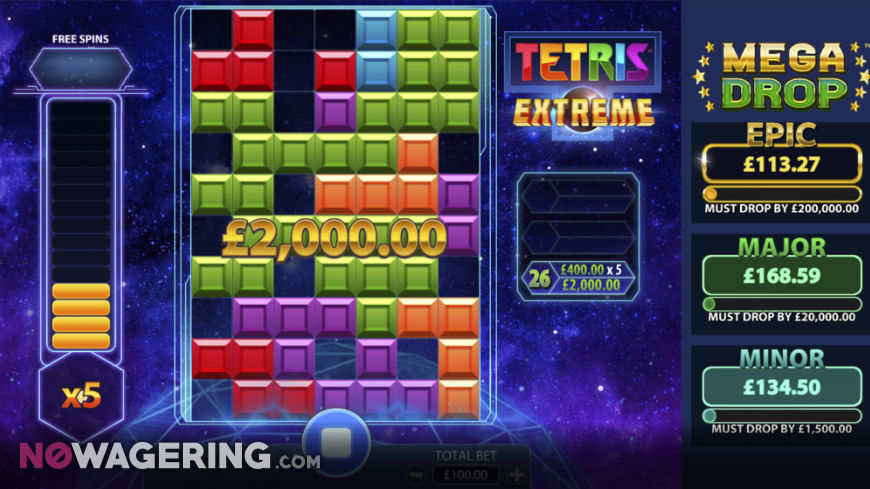 Name: Tetris Extreme
Developer: SG Digital
Reels: 7
RTP: 96.31%
Max payout: 2,500x stake
Jackpot: Mega Drop Jackpot
Theme: Gaming
Volatility: Medium
Released: December 2019
Everyone has heard of the original Tetris or played it at some point in their lives. It's a staple in gaming and has a mass appeal with its simplicity. The timeless look and feel of Tetris combined with a win potential of up to 2,500x your stake make for an exhilarating slot.
Red 7 managed to design a slot that doesn't feel like one at all with the cluster mechanic that matches the same coloured blocks together and removes them from the game. New blocks will fall just like in the original game - only you aren't just playing for fun this time as you are playing to win cash prizes. There's even a Mega Drop Jackpot with 3 different pots, meaning that you can win even bigger! Tetris Extreme is definitely a slot not to be missed by slot enthusiasts and gamers.
Hitman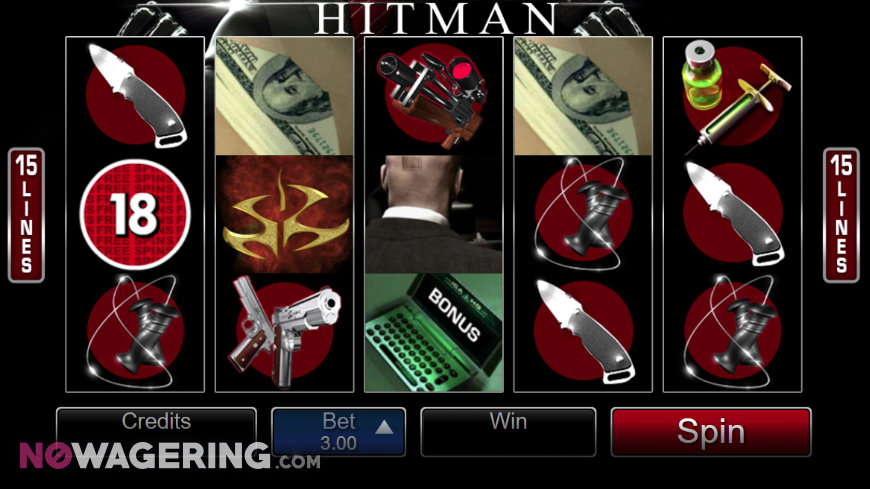 Name: Hitman
Developer: Microgaming
Reels: 5
Win lines: 15
RTP: 95.72%
Max payout: 200x stake
Theme: Gaming
Volatility: Medium
Released: March 2007
Within the video game world, there is only one Agent 47 and he is arguably one of the best assassins out there. Throughout the Hitman series, he has taken down countless targets with the most creative and brutal takedowns controlled by players. Despite the series being over 20 years old, Hitman is a franchise that gives players the chance to become an assassin with their own unique methods. Arguably one of the first video game themed slots, Microgaming's Hitman hit all the right notes when it realised all the way back in 2007.
Thankfully with upgrades throughout the years and innovative gameplay, it still manages to stand out as one of the best video games slots out there. With bonus rounds such as Contract and Insignia, Hitman manages to bring in familiar elements from the games. This included Agent 47 and other familiar nods to the series making an appearance on the reels make it ideal for fans. Added with straightforward gameplay as well cements Hitman as one slot that is perfect for all types of players.