Tetris Extreme Features
Tetris Extreme is a visually stunning, high-octane online slot that sees players register wins when they form a winning cluster of symbols across an entire row, with no gaps in between Tetromino blocks.
Each time a row is cleared a multiplier meter on the left-hand side of the game reels increases up to a maximum of 50x during base gameplay (this can be significantly higher during the bonus). All blocks pay the same amount, regardless of colour.
If players manage to land 15 winning combinations in a row then they'll automatically trigger the game's free spin bonus feature that sees players win 10 free spins with an increasing multiplier.
If the golden tetromino comes into play during the free spins bonus then players will see the line clear multiplier multiply itself by 5x, which can prove to be hugely lucrative.
Finally,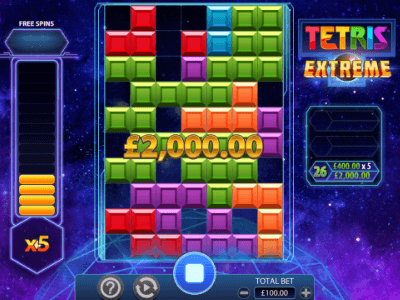 Cluster Wins
Cluster wins are registered when Tetrominos (unique geometric shapes that Tetris is so famous for!) fall down the reels and form entire winning lines with no gaps whatsoever.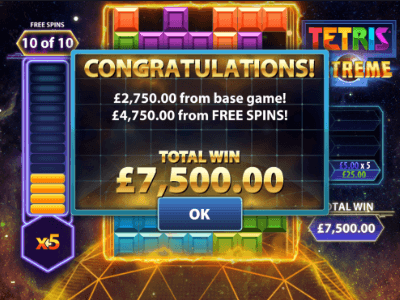 Free Spins
If players remove 15 consecutive lines from the game screen as a result of a single spin then they'll automatically trigger the game's lucrative free spins bonus feature, receiving 10 free spins.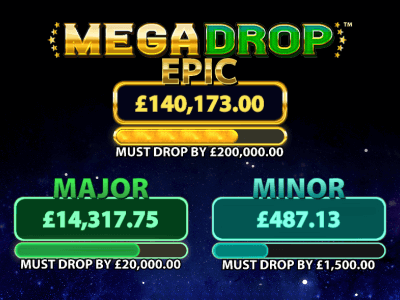 Mega Drop Network
Tetris Extreme is part of the Mega Drop Network, meaning that players can get their hands on one of three lucrative progressive jackpots. The Minor, Major and Epic jackpot.
Tetris Extreme Review
Tetris Extreme is a truly unique video-game themed slot developed by SG Digital that celebrates the world-famous puzzle game of the same name! This 7-reel retro extravaganza features a high-octane techno soundtrack based on the original game's music, huge multipliers and most impressively, a lucrative three-tiered progressive jackpot that can see players get their hands on hundreds of thousands of pounds!
Design
This slot will bring a tear to the eye of any retro video game enthusiast, not only does it pay homage to the original game in the best way possible, but it also looks distinctly modern and genuinely impressive! Behind the game's reels are gorgeous shining stars that are dotted across a vast galaxy. What's most important about the way this game has been put together is the fact that it emulates the original video game down to a tee, there are no reels or typical slot imagery you might find in a bog-standard standard online slot, instead, you'll find all of the original coloured blocks you'd come across find in the 1984 game.
Upon hitting spin a techno version of 'Korobeiniki' plays, the original music Russian folk music that has been synonymous with Tetris for over 35 years. Red 7 didn't really need to go as hard as they did with the soundtrack, as we were already very impressed with what they had to offer up until this point, but we have to say... It really is the icing on the cake!
We mean it when we say that as far as branded slots go, Tetris Extreme is amongst the cream of the crop! You won't find many games that stay so true to the original IP.
Gameplay
Players register winning combinations whenever a full line of blocks land together on the game screen (regardless of whether the colours match), in a very similar way to how wins are registered in the original Tetris game.
Whenever players clear an entire line of blocks, a win-multiplier on the left-hand side of the game reels climbs up to a total of 50x, and a new set of blocks will fall down from the top of the screen. If players manage to clear 15 consecutive lines then they'll automatically trigger 10 free spins!
Win Potential
This slot is pretty welcoming to most players, as it has a medium volatility, meaning it's suitable for all budgets big and small. The RTP of Tetris Extreme sits at 96.31%, which is pretty impressive considering this slot plays host to SG Digital's hugely lucrative Mega Drop Jackpot that can see players win six-figure sums of money. Strangely, if you're playing this slot without the Mega Drop jackpot the RTP is actually lower at 94.31%.
The maximum win that players can land win playing
Our Verdict
This wonderfully designed retro slot is not only a lot of fun, but also stays true to its roots, truly living up to the Tetris name! It's not your normal online slot experience, and for that reason we highly recommend giving it a spin!