Love Island star Olivia Bowen teams up with PlayOJO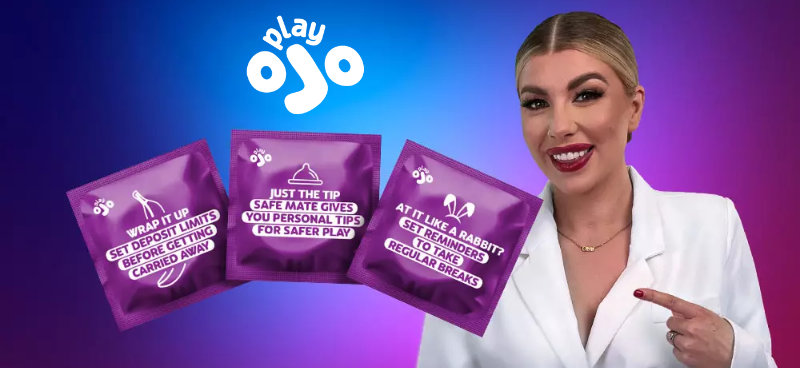 PlayOJO has teamed with Olivia Bowen for a new campaign
It seems that Love Island star, Olivia Bowen, and one of our favourite no wagering casinos, PlayOJO, have joined forces to launch a whole new campaign to promote responsible gambling and PlayOJO's safer play tools.
This new campaign features a tongue-in-cheek approach that seems to draw comparisons between safe sex and safer gambling whilst featuring branded condoms that come with a message about safer gambling.
What is the campaign?
Ultimately, this campaign is focused on promoting all the tools available at PlayOJO to help players gain control and to try and make them seem more enticing.
The areas of focus for this campaign include the time-out tool to set a Cooling-Off Period to lock your account from 24 hours to up to 6 weeks.
They also highlight the Safe Mate tool that allows you to track how much time and money you are spending whilst offering personalised tips to help you play safer.
PlayOJO also promotes how to set your own limits for how much you can deposit with up to 3 limits active. The overall message of the video and campaign is that people should have fun gambling but protection is important as well.
"Done in a way that everyone can relate to," says Bowen
"When it comes to practising safer gambling, it could be considered very similar to practising safe sex and we've worked together to create a tongue-in-cheek, fun video that educates people to gamble responsibly and is done in a way that everyone can relate to," said Olivia Bowen.
Peter Bennett, Head of Marketing at PlayOJO, said: "Our business is built upon the principles of fairness and transparency, but we are also playful and fun.
"We are committed to doing what we can to provide people with the information they need to help identify potential problem behaviours and offer access to those in need of help, but we wanted to do this in an offbeat way that reflects our brand and hopefully will make people smile whilst also getting an important message across."
He added: "PlayOJO is a safe place for people to have fun and gamble responsibly, so we are delighted to be working with Olivia to help raise awareness of this critical issue."