Formula One partners with PokerStars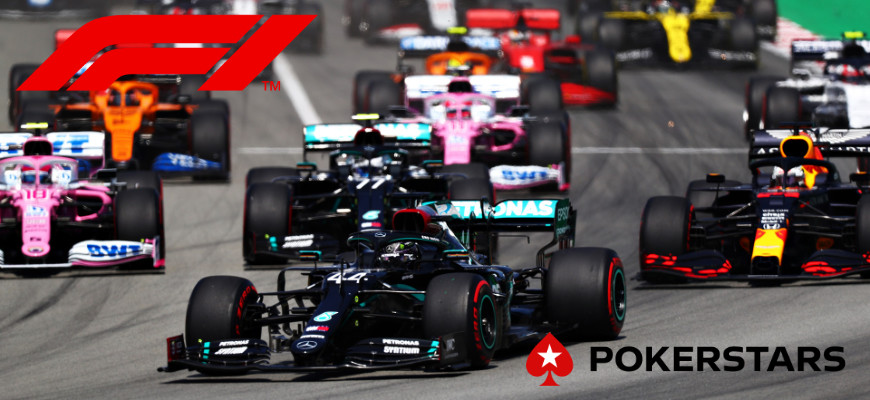 F1 selects PokerStars as their principal betting sponsor
One of our favourite no wagering casinos, PokerStars, has announced a partnership with Formula One which comes just a few months after McLaren Formula One team has partnered with Party Casino. PokerStars will be the new official betting sponsor for Formula One following a deal struck between the casino and Formula One's sponsorship, Interregional Sports Group (ISG).
They have previously partnered in 2018 at an estimated $100 million with the focus being on the development of betting services. This new announcement sees PokerStars featured exclusively across Formula One broadcasts until 2023.
ISG "delighted to have reached this agreement"
The joint chief executive at ISG, Tony Ragan, said: "We're delighted to have reached this agreement with Flutter Group. Combining the worldwide appeal of PokerStars and this targeted approach in engaging fans with many similar traits as the PokerStars' community is an incredible opportunity for innovation and further engagement between the two popular brands."
The ISG can sub-licence betting partnerships to exclusive gambling partners internationally and provide partners with graphics, physical, virtual trackside and digital signage across Formula One's digital and social platform.
Sportsradar, a data and analytics firm, are involved in this agreement as they provide data integrity to coincide with the in-play betting markets. They have previously cooperated with ISG with the launch of Live Odds in 2019, a live and pre-race odds provider that uses exclusive and historical F1 data to create new odds models.
An "exciting proposition" for PokerStars
"Working with Formula 1 provides us with the opportunity to reach a fan base whose passion for sport goes way beyond motorsport," said Tom Warren, the group marketing director at PokerStars.
"To be able to engage an audience of this size and yet focus just on the regions that are key to us makes this a very exciting proposition."
Visit PokerStars Casino here:-