No Wagering's top 5 movie themed slot games
Grab some popcorn and get ready for the ultimate movie countdown
We love a good movie here at NoWagering, who doesn't? Nothing delights us more than when we spot a brand new movie themed online slot hit the lobby at one of our favourite no wagering casinos.
As part of a new series we're bringing you our top 5 themed slot games starting with, you guessed it... Movies! Sit back, relax and enjoy our definitive list.
5) Jumanji
NetEnt are arguably the kings of branded slot games, and they've knocked it out of the park with Jumanji. This 5 reel, 36 win line slot is not only designed beautifully, but amazingly incorporates a board game into the overall play as well.
Four randomly triggered features are available to players: Sticky Vines, which starts a re-spin whilst retaining your original winning reels, Monsoon Wilds, which covers your reels in Wilds, Monkey Mayhem, which creates a guaranteed win and Wild Stampede which adds 4-9 wilds to the reel. On top of all that free spins and a mystery feature also await lucky players.
If you enjoy slots that offer something a little bit more than the traditional spin and win format then NetEnt's Jumanji will keep you entertained.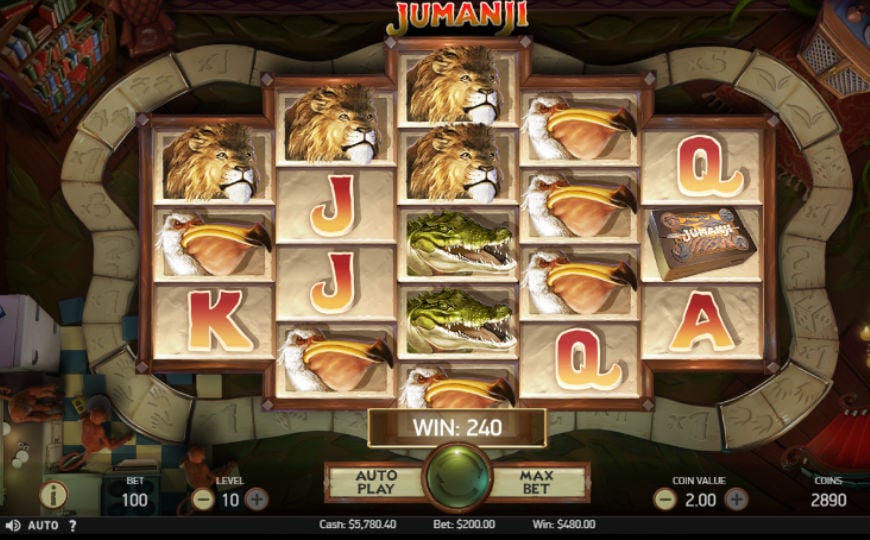 4) Rocky™
If this 5 reel, 25 win line slot doesn't get your heart pumping then we're not quite sure what will! This wonderfully retro slot game features the Italian Stallion himself, Rocky Balboa, as you go head-to-head with a host of formidable foes including, Creed, Clubber Lang and Ivan Drago as you embark upon your quest to become champion of the world.
This slot game features wild, scatter and bonus symbols so expect the unexpected as you'll be hit with a number of fast-paced bonuses including the 'Gamble', the 'Knockout Bonus' and the 'Free Spins bonus'.
Another reason to take a chance at the Rocky slot game is the massive payouts thanks to multipliers and a huge jackpot if you manage to match 5 Rocky icons.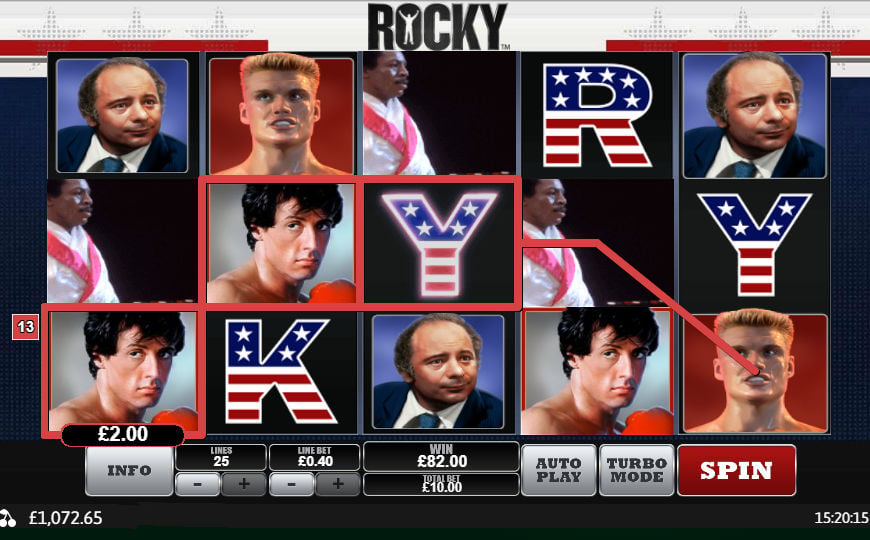 3) Ghostbusters
Who ya gonna call? IGT! This game by veteran developers IGT had us all giddy! As soon you hit spin on this slot you're hit with that catchy theme from the 1984 classic and that was almost enough to get this game into our top 5 straight away.
We've got to give this game so much more credit than that though as it offers players real value! The 5 reel, 30 win line slot has four key bonus features: Mystery Cash Award, Multipliers, Wild Reels, and Extra Wilds. There are also unique ballroom busters and Stay Puft bonus rounds to get stuck into which promise big wins.
Any fan of Ghostbusters will be completely drawn in by this fantastic game, whether that's from the moment the music starts or when you spot Slimer flying across the reels, this truly is a great experience and we just want to keep spinning again and again!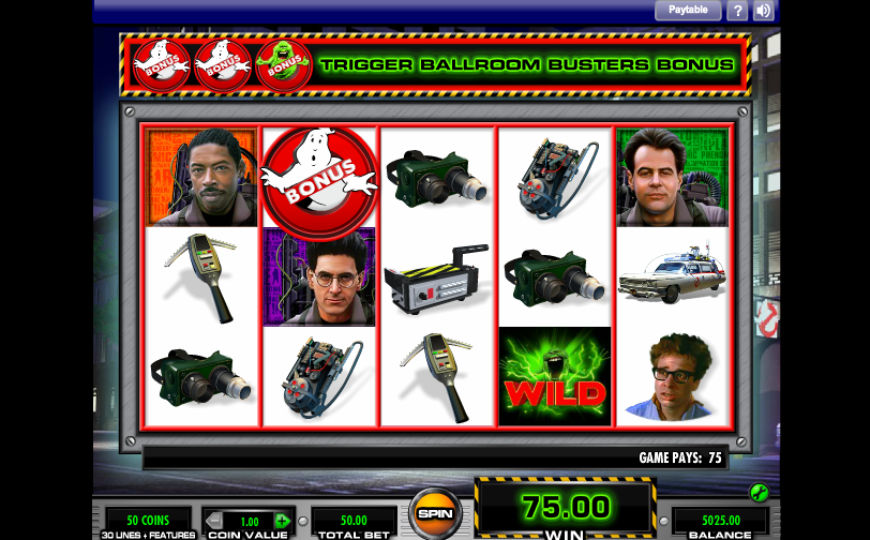 2) Planet of the Apes
They've done it again... NetEnt really do know how to sell a game. Within seconds of pressing play you're treated to a dramatic cinematic that sets the tone nicely for what's yet to come... This game is unique in the fact it offers not one, but two slot games, each with 5 reels and 20 win lines. The two games, Dawn on the left hand side of the screen and Rise on the right both operate almost entirely independent of the other.
The game includes several common features including: Wild Symbols, scatter symbols, free spins and multipliers. Hitting a unique bonus symbol on each side of the game will also trigger exciting bonus features that significantly increase your chances of winning larger prizes.
This well presented title is gripping, great to look at and most importantly incredibly fun to play! We'd highly recommend giving this slot a go.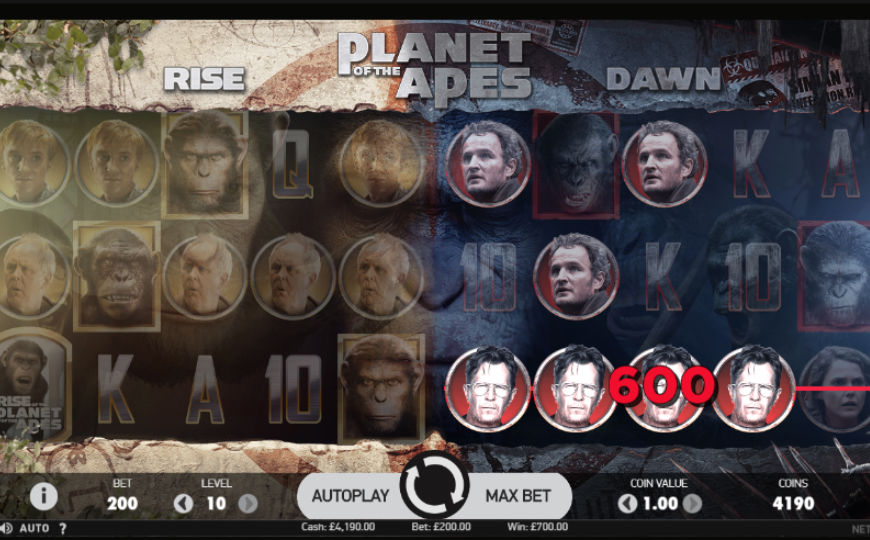 1) From Dusk Till Dawn
This Novomatic title truly charmed us, if you're a fan of this iconic cult B-movie written by none other than Mr Quentin Tarantino himself then this is the game for you. The slot is packed with unique features that make you feel like a winner with every single spin of the reel, and on top of that you're shown clips from the movie and snippets of dialogue throughout, it really is a fully immersive experience.
The base game gives you the opportunity to trigger three bonus features: On The Run, which turns random numbers into Wild Symbols, Everybody Be Cool, which transfers symbols into higher value ones and the Cash Explosion which applies a huge multiplier to your winnings.
If triggered be sure to look out for the Dancing Bonus that not only gives you 10 free spins, but also substitutes a number of symbols for wilds, meaning big money can be won.
Give this game your time, we can absolutely promise you that like protagonists Seth and Richie, you'll be in for a wild ride!