Reactoonz 2 online slot review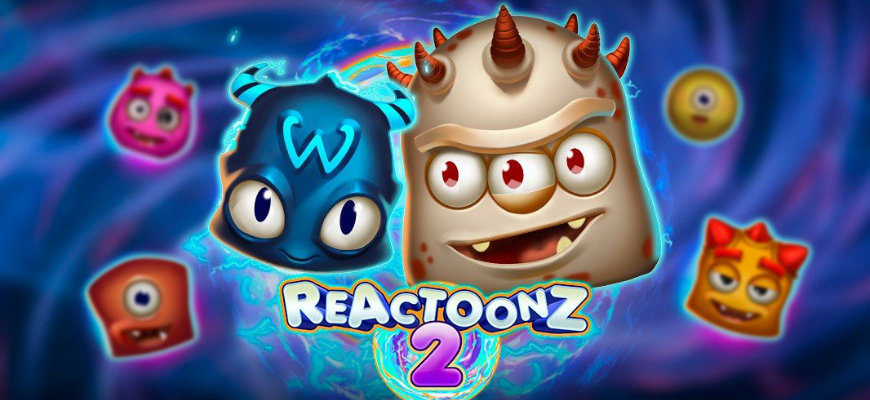 Classic alien themed Play'n GO slot triumphantly returns to the fold in 2020
Reactoonz, one of online slot developer Play'n GO's most popular titles of the last few years has finally received a highly-anticipated sequel as Reactoonz 2 makes its way into no wagering casinos across the internet in October 2020.
The original title, which was released in 2017, has consistently sat amongst the most played games on multiple casino lobbies around the world, with streamers and YouTubers in particular taking a great interest in this Alien-themed cluster pays slot.
Play Reactoonz 2 at these no wagering casinos:-
Reactoonz 2 - Overview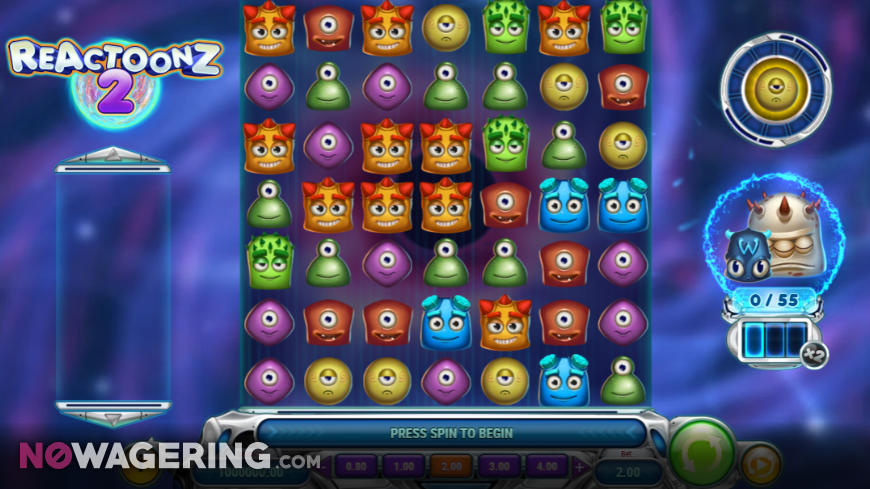 Name:

Reactoonz 2

Developer:

Play 'n Go

RTP:

96.20%

Max payout:

5,083x stake

Volatility:

High

Theme:

Space

Release date:

1st Oct 2020
Reactoonz 2 follows the same formula as the original slot, retaining a 7 x 7 grid layout with wins registered in a cluster pays format. Whenever 5 or more matching symbols are grouped together in a cluster this counts as a winning combination are they removed from the grid, new symbols then fall into the vacant spaces that have been left behind.
Like the original, the gameplay in Reactoonz 2 can get a little bit tricky when you fully get into it, so we'll do our absolute best to explain it as simply as possible!
Reactoonz 2 features
There are two types of symbols in Reactoonz 2, one-eyed aliens and two-eyed aliens. Symbols with one eye are lower paying symbols and those with two are higher paying. On each spin one of the one-eyed alien symbols is chosen to fluctuate.
If any of these fluctuating symbols appear in a winning combination then an 'Electric Wild' appears in the space it once sat, whilst also filling a 'Fluctometer' to the right of the grid.
When this meter is filled completely anywhere between 1 and 3 electric wilds are added to the active grid.
All non-wild symbols that are removed by Electric Wilds either through a winning combination or wild pair explosion will go towards charging up a 'Quantumeter'.
This unique meter has 4 charge levels and can hold up to 135 charges (symbols). Level 1 requires 55 charges, level 2 requires 85, level 3 requires 110 and level 4 requires 135. Level 4 is its overcharged state.
Upon reaching Level 3 and above 'Gargantoon Wilds' are released onto the reel, which as the name suggests are extra large symbols that can be as big as 3x3. If the Quantumeter does not reach level 3 it will unleash 'Energoon Wilds' onto the grid, which are wilds of varying smaller sizes that substitute for all symbols.
Level 1 on the Quantumeter unleashes four 1x1 Energoon wilds.
Level 2 on the Quantumeter unleashes one 2x2 Energoon wild.
Level 3 on the Quantumeter unleashes one 3x3 Gargantoon wild.
Level 4 on the Quantumeter adds a x2 multiplier onto all wins, including the Gargantoon wilds.
This meter can recharged more than once, however if a Gargantoon symbol becomes live then it is temporarily disabled.
When all of the above bonus features have come to an end, and there are still two or more Electric Wilds remaining on the grid then the Wild Pair Explosion feature is triggered.
If there are 2 electric wilds adjacent to each other, all of the symbols, (except wilds) are removed from the grid. If they're not adjacent all symbols between them are destroyed. There is no payout for this, however they do charge the Quantumeter.
Play Reactoonz 2 at these no wagering casinos:-
Reactoonz 2 - Our opinion
If you were a fan of the original Reactoonz online slot then there's absolutely no doubt whatsoever that you'll enjoy this one just as much, if not more! Play'n GO have taken the original game and greatly improved on it with a number of improvements.
The RTP on this volatile slot has taken a little bit of a hit compared to the original, with this one sitting at 96.2%... However, with a max payout of 5,083x your original stake then who are we to complain?! If Cluster Pays slots are your thing then you'll have a great time playing Reactoonz 2.
The market has been asking for another Reactoonz says Play'n GO CEO
CEO Johan Törnqvist spoke about the excitement around this latest slot: "The market has been asking for another Reactoonz title for a considerable amount of time, and we felt the time was right to bring it to life.
"It's important to give operators and players what they want, but you have to ensure it's of the highest quality.
"The reactions to the title have already been overwhelmingly positive; the Reactoonz are back, and everybody is excited!"