Reactoonz 2 Features
Reactoonz 2 is completely bonkers and fast-paced. Unlike the traditional slot system, you play on grid slots with a cascading system. Each time a winning cluster is formed, it's removed to make way for new symbols and potential wins.
Electric wilds, Energoon wilds, Gargantoon wilds substitute any symbols on the reel. There are just so many features that will blow your mind. No play through will be the same and it all depends on how you transform the grids.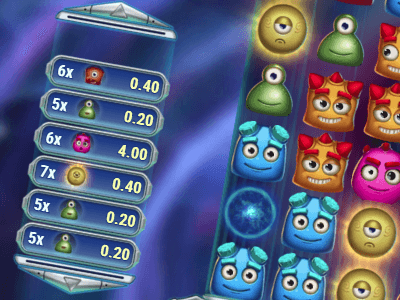 Quantumeter
The main aim is to charge the Quantumeter with normal symbols that are removed by the electric wilds. It has 4 charge levels and holds up to 135 charges. Collect 55 for level 1, 85 for level 2, 110 for level 3 and overcharge it for level 4 at 135.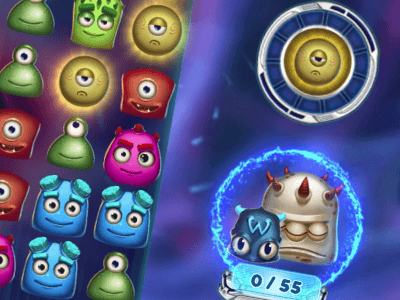 Fluctometer
A one-eyed symbol is chosen at random to fluctuate during each round. Electric wilds appear on spots where a symbol is removed if a fluctuating symbol wins. It can hold up to 11 charges, and can create 1 to 3 electronic wilds. You can recharge but a Gargantoon disables it.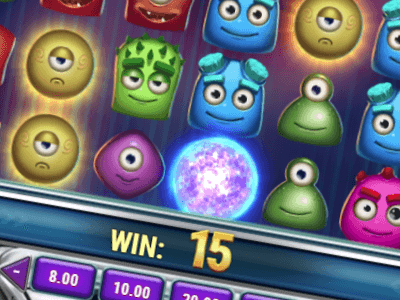 Uncharged Wilds
These wilds can appear on the grid during any cascade. Uncharged wilds do not form any wins but can be transformed into electric wilds when they are horizontally or vertically adjacent to winning symbols or wild pair exposition triggers. Electric wilds can substitute all symbols!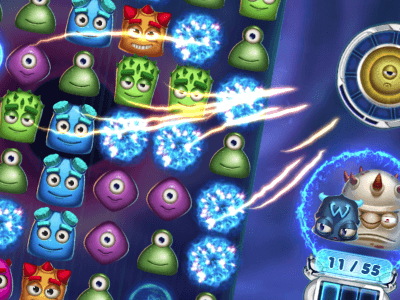 Wild Pair Explosion
Activated after all features have finished and if there are 2+ adjacent electric wilds remaining, all other symbols except other wilds are removed. They do not pay out but charge up the Quantumeter.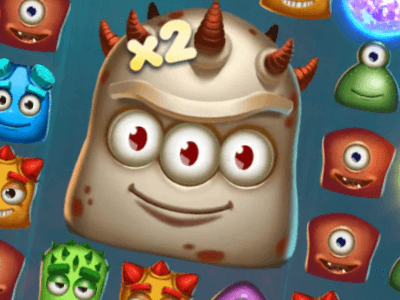 Gargantoon Wilds
The three-eyed alien known as Gargantoon is activated once the Quantumeter reaches level 3 or more. At level 4, it adds a 2x multiplier for all wins but level 3 unleashes a single 3x3 Gargantoon wild that triggers a cascade until there is a 1x1 Gargantoon wild left.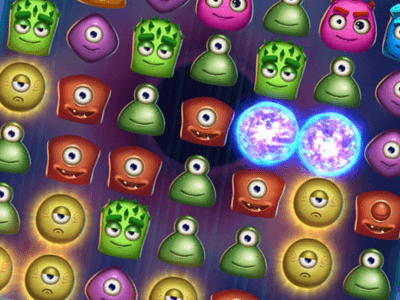 Energoon Wilds
If the Quantumeter does not reach level 3, it unleashes Energoon wilds that substitute any symbol to the grid. Level 2 can unleash a single 2x2 Energoon wild at a cost of 30 charges. Level 1 releases 4 symbols of 1x1 Energoon wilds at a cost of 55 charges.
Reactoonz 2 Review
Everyone's favourite group of wacky aliens are back and even bigger this time. Instead of the traditional spinning and payline system, Reactoonz 2 features a 7x7 cascading video system. You have more exciting ways to win with symbols dropping down and appearing on your screen.
Design
Developed by Play'n Go, Reactoonz 2 is even crazier than the first game. The adorable and charming Reactoonz are back with a new adventure that is so fast-paced. It's full of bright colours, endearing monsters and fun music that really entertains. The quality is so high and definitely sets a high standard for other slot games in the space genre.
Win Potential
As stated earlier, Reactoonz 2 is full of features to keep you busy and it can be absolute bonkers on screen at times. Thankfully the RTP is at a solid 96.20% which is just above the industry standard. That combined with a maximum win of 5,083x your bet makes Reactoonz 2 a game with a decent potential win.
Conclusion
Every playthrough will be different and you'll be finding new ways to win. It may look like a children's game, but with high volatility this is definitely for seasoned players who have the patience and expertise to handle less frequent payouts.
If you love crazy alien creatures and action packed slots, then you'd better check this one out.