Win a share of £50,000 each week with Tombola's Free Vibes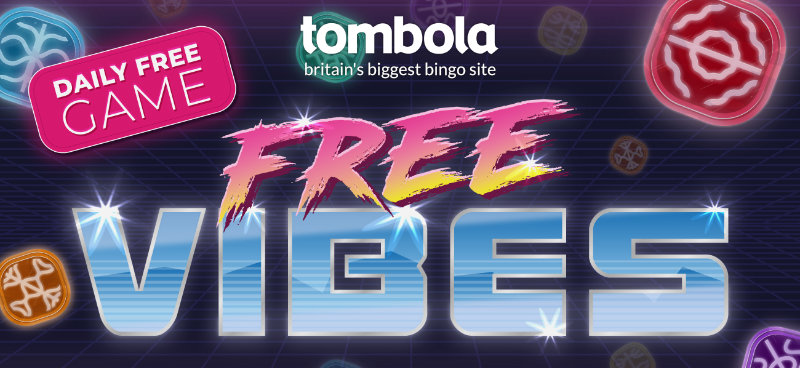 Play a free game and win a share of £50,000!
Our lovely friends at Tombola Arcade and Tombola Bingo are giving you the chance to win a share of £50,000 each week by simply playing their free game Free Vibes. As one of our favourite no wagering bingo sites and no wagering casinos, Tombola is always ready to reward players for free.
You get the chance to play on this free game through the arcade side of Tombola to win up to £5,000 cash each day and all you have to do is register your mobile number.
How to enter?
Once you've signed up to Tombola Arcade or Tombola Bingo, you'll then need to register your mobile number to get a unique code each Monday to access the game.
After you've registered, then you just need to click on Free Vibes through Tombola Arcade. There is even a chance to play a second free game with Free Form available through Tombola Bingo.
What is Free Vibes?
As previously mentioned, Free Vibes is a game available at Tombola for free once you've registered your number and been given a code. During this game, you tap a symbol to collect symbols and there are 16 in total to collect.
Each of the symbols has a unique sound and Tombola suggest playing this game with the sound on to get into the vibe. If you tap one or more collectors, then you'll win a real money prize in Free Vibes.
What can I win in Free Vibes?
There are real money prizes to be won in this free game with prizes starting at £2 but climbing all the way up to £5,000. You can enter once a day with Free Vibes and enter each day to win a maximum of up to £50,000!
The best thing about this promotion is that you don't even have to deposit and all you need to do is register to receive a code. Make sure you do not miss out on this unbelievable promotion as you never know what you might win.
Free Vibes Terms and Conditions
The free game runs from 3rd January until Tombola decides to end this promotion.
You can enter this promotion once through Tombola Arcade and claim one prize each day.
Free Vibes is available to depositing and non-depositing customers aged 18 and over who are registered at Tombola.
After opting into the promotion through SMS, you'll receive a unique 4-digit code to enter the promotion giving you access for the week.
Any prizes won will be credited to the player account straight away.