Fortunium Gold Mega Moolah Features
There's never been a better time to pop on your victorian top hat, twist your villainous moustache and tweak your autoplay settings for some serious steampunk jackpot action. Not got your eyes on the main prize? Well, luckily Fortunium Gold: Mega Moolah is also fantastically full of features.
Win Booster
Hit the Win Booster button and increase your bet by 50%. For this levy players can enjoy guaranteed mystery symbols of high value, or wilds. Carrying over to the Free Spins round, here's a double whammy of win boosts.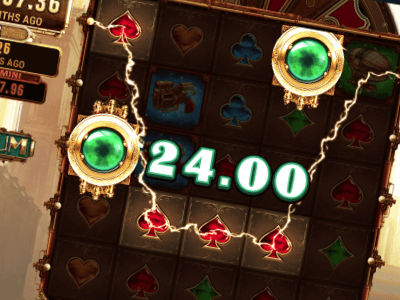 Free Spins
Land 3, 4 or 5 scatters anywhere on the grid in a single spin and unlock the Fortunium Gold: Mega Moolah Free Spins round. Players are awarded with 2x, 20x or 100x their total wager, plus 10 Free Spins. Nice.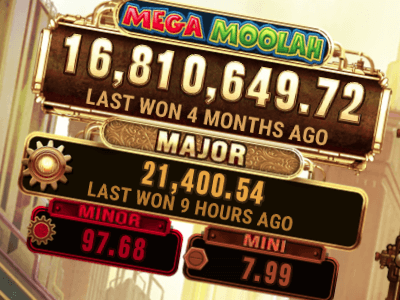 Jackpots
The already famous Mega Moolah progressive jackpots are millionaire makers. Play to win the Mini, Minor, Major and Mega jackpot. With varying prizes, each jackpot also comes fully loaded with its own unique value. More on this later.
Fortunium Gold Mega Moolah Review
Taking place in a world similar to our own, with a few distinct differences, Fortunium Gold: Mega Moolah is a setting both familiar yet slightly alien. Our Male and female leads look as if they've just sauntered out of a steampunk expo, both duly suited and booted for the occasion.
Linked to the record-breaking Mega Moolah progressive slot network, Fortunium Gold: Mega Moolah is a thematically rich outing combining a retro cyberpunk aesthetic with art deco stylings. Here's a slot that's both tirelessly sophisticated and effortlessly en vogue.
Under the hood, Fortunium Gold: Mega Moolah also packs some pretty impressive mechanics. A feature-rich outing, there's something here for every player, and every gaming budget.
The record for a Mega Moolah win stands at €18,915,872. The question players should be asking themselves is: will Fortunium Gold: Mega Moolah be the next slot to pay out the Mega jackpot?
Design
Starting out as a sci-fi subculture in the 1970s, the visual approach for Fortunium Gold: Mega Moolah is inspired by literary greats that stretch back as far as H.G. Wells, Mary Shelley and Jules Verne.
Maximilian, our male protagonist is fitted out in the classic genre go-to: a black three-piece suit accented with seaweed-colour cravat, embellished with various copper, bronze and steel contraptions of the steampunk genre. Heavy metal, but not as we know it.
Victoria, Maximilian's female counterpart is just as outlandishly attired with the same colour-picked green, sporting a techno-bodice and a laws-of-physics defying revolver.
Set against a vintage city scene backdrop, the reels are adorned with symbols familiar to fans of the steampunk genre. While there's plenty for die hard steampunk fans to marvel over, Fortunium Gold: Mega Moolah is still visually accessible to a wider audience, not over using the usual, exhausted steampunk graphic nods.
Gameplay
With an industry-leading graphics package, Fortunium Gold: Mega Moolah also boasts a formidable feature-filled mechanic. The engaging base game is further enhanced by a few added extras, not to mention the main feature: the Mega Moolah progressive jackpots.
Win Booster
Sat patiently in the bottom left section of the game frame, the Win Booster is just a click away from players enjoying bigger wins. Select the Win Booster option and your stake is automatically increased by 50%. So, if you're playing with £0.10 spins, your boosted bet level will now be set at £0.15.
Mystery Symbols
Land the '?' symbol and on any spin and you'll note that these mystery symbols transform into identical symbols and appear stacked. All mystery symbols are not created equally though: the green '?' symbols contain both low and high value symbols while the gold '?' symbols contain only wilds and high value symbols.
Free Spins
3, 4 or 5 scatter symbols on the reels winch open the Free Spins vault in Fortunium Gold: Mega Moolah. Increasing your wins, Mystery Reels appear and with due exclusivity, only house Mystery Symbols. The number of Mystery Reels is decided by how many scatters are triggered during the Free Spins round. They go like this:
● 3x Scatters - 1 Mystery Reel
● 4x Scatters - 2 Mystery Reels
● 5x Scatters - 3 Mystery Reels
All Mystery Symbols shapeshift into identical symbols. If you whacked on the Win Booster feature in the base game, you'll be happy to know that your alchemised gameplay carries through to the Free Spins bonus round.
Jackpots
Triggered when a Mystery Symbol converts into a Jackpot Wild symbol, you're magically transported to a land where the big wheel game dominates. Depending on how fickle the big wheel pointer is, you could be looking at the following jackpots:
● Mini Jackpot is seeded at £10
● Minor Jackpot is seeded at £100
● Major Jackpot is seeded at £10,000
● Mega Jackpot is seeded at £1 million
While the prize values listed above are the minimum, these can go through the progressive slot jackpot roof.
Win Potential
With a rather diminutive RTP of 92.67%, medium volatility Fortunium Gold: Mega Moolah packs 40 paylines across a 5x5 grid. Minimum bets are set at £0.10 and £15 respectively and the maximum win exposure is 800x.
Conclusion
A heady mix of world-class design and record-breaking jackpots, Fortunium Gold: Mega Moolah is a slot that is greater than the sum of its parts.
While thoughtful mechanic architecture and expert design are all present and correct, the real star of the show is the Mega jackpot, and to a lesser extent, the smaller jackpots. Bonafide life-changers, the success stories alone are enough to ensure that Fortunium Gold: Mega Moolah secures its place in the hallowed halls of video slot dominance.