Football: Champions Cup Features
The biggest feature comes from the Penalty Shootout Bonus. This is triggered by landing 3 or more bonus symbols, and it's up to you to either save the ball or score. If you save the ball, you'll win a multiplier but if you score then you'll increase your overall score.
This keeps going until one team eventually wins. If you manage to trigger the feature with 5 bonus symbols, then you could see the multiplier go up to 16x.
Aside from the Penalty Shootout Bonus, there is a Free Spins Tournament round in which you hope to end up in the final. You can gain up to 4 free spins but ultimately aim to gain the cash prize for the winner.
This wouldn't be an online slot without wilds, and these ones can appear across the reels to substitute other symbols. They can also be randomly added at certain parts with up to 5 of them being placed on the reels.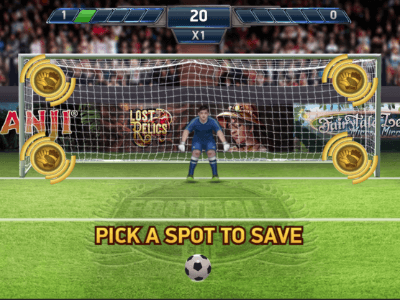 Penalty Shootout Bonus
Landing 3 or more bonus symbols anywhere on the reels will trigger this pick and click penalty shootout game. You pick 1 of 4 positions to try and score or save the ball. There are cash prizes and multipliers within this mode.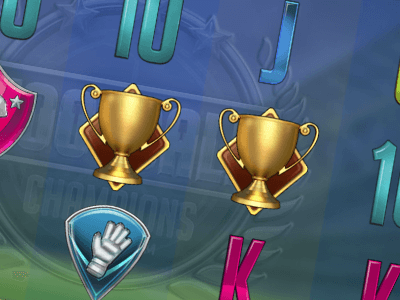 Free Spins
If you land 3 or more cup scatters on the middle reels, then you'll be taken to the free spins tournament aka a knockout. This is a mini-game in which you try to score and land in the final to receive a cash prize.
Football: Champions Cup Review
In 2016, NetEnt was inspired by the Euro and decided to give the world a chance to experience their own football tournament. Football: Champions Cup is a sport themed slot that plays on 5-reels with 20 fixed paylines.
Amazingly, there are two main features which include a Penalty Shootout Bonus and a Free Spins Tournament. See if you can bring football home to your country in this incredible football slot.
Design
The background of the reels is a football pitch with various crowds and supporters in the stadium. Obviously, the reels are set on a football pitch with various different symbols on the reels. Sadly, nothing is really animated and there isn't really any visual life to the base gameplay. However, during the bonus rounds, it becomes more animated and a lot more fun.
In the background, you'll hear crowds cheering and other ambient football noises. It's brilliant to hear and makes it feel a bit more exciting. There's soft music in between spins but it doesn't distract from the intensity of the crowd.
Gameplay
As you open up the slot, you get to decide which country you wish to represent which is brilliant. Other than that, the gameplay is simple and straightforward. The mini-games are engaging but nothing too complicated.
Menus can be found at the bottom of the screen with the spin button in the middle. To the left, you'll notice the information, sound and other general settings that you'll need. If you are struggling at all, just look to the bottom of the reels.
Win Potential
There are cash prizes that can be won throughout the bonus rounds, but the developers state that the maximum win is 1,000x your stake. Ultimately, for a medium to high volatility slot, this is fairly low. Players may be a little disappointed with this payout. However, the RTP is at an outstanding 96.82% which is brilliant for online slots.
Our Verdict
NetEnt is known for brilliant slots in terms of innovative gameplay, and this slot is no exception. The mini-games are loads of fun and the little detail of choosing your country is perfect.
Now, the design may not be mind-blowing, but it's clean and looks good. The biggest disappointment comes from the maximum payout of 1,000x your stake - but we'd recommend giving Football: Champions Cup a spin for the gameplay alone.