£30,000 to be won in tombola arcade's Pigs Can Fly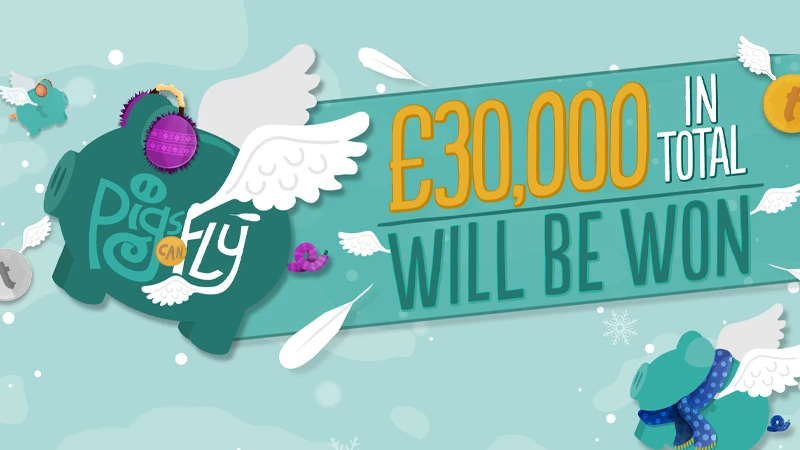 Win a share of £30,000 with tombola arcade
Our friends at tombola arcade are giving away £30,000 from the 17th of January until the 28th of January 2023 with the Pigs Can Fly promotion. Take part to win varying cash prizes from £1 all the way up to £500.
In order to be eligible to enter this promotion, all you need to do is spend £1 of real money in total across arcade games during the qualification times. Once this is confirmed, you'll reveal a free game that will award cash prizes. It's literally that easy!
Details of the promotion
The brilliance of tombola arcade is that you can play on the no wagering casino even if you just have a tombola bingo account. So if you already have a bingo account, then all you need to do is head on over to tombola arcade.
Once you've confirmed your account or signed up, then you need to stake £1 in cash during the qualification times. There are two potential games that can be unlocked from playing from 8pm to 9pm and then again from 9pm to 10pm.
The unlocked games will be playable until 11pm when it expires. It's worth mentioning that the promotion runs each Tuesday, Thursday and Saturday from the 17th until the 28th of January - so make sure that you play on these days if you want to enter.
How to play the free game
When you unlock the free game, you'll find that pigs can actually fly and they can award cash prizes. The goal throughout the game is to tap on each of the 9 flying piggybanks to crack them open.
Match 3 of the prizes to win a cash prize - there are even over 600 prizes available every game. This will reveal money prizes from £1 all the way up to £500. Who knew that flying pigs could be so amazing? Be sure to enter this promotion before it ends!
Terms and Conditions
This promotion runs from the 17th of January until the 28th of January 2023 running on Tuesdays, Thursdays and Saturdays.
All players must be aged 18 and over and will need to verify their age and identity.
To play one game card, the player must stake £1 real money within the time frame. Stakes made with bonus money do not contribute to the stake requirement.
All prizes are real money and have no wagering requirements.