Dream Drop pays out €1.4M on third Mega Jackpot win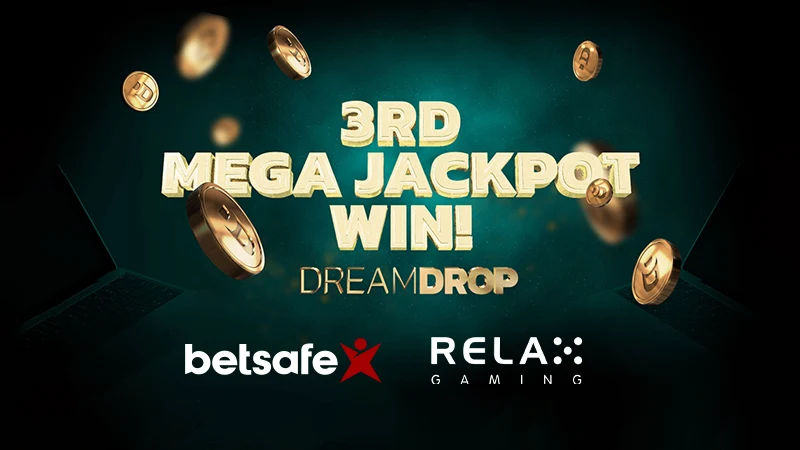 The first-ever millionaire has been made on the Dream Drop Jackpot
In March 2022, Relax Gaming announced a brand-new five-tiered jackpot with the Dream Drop. This was created to rival the biggest jackpots out there and has already had two giant wins in just a short span. The first massive win was in June 2022 as one player won €997,779 on Snake Arena: Dream Drop.
Fast-forward just a few weeks, and the second win occurred on Temple Tumble 2: Dream Drop with €924,386.51 on the Mega Jackpot.
Now, the slot developer has announced the third ever Mega Jackpot win on the Dream Drop on Temple Tumble 2 again. One lucky player from Ireland has won €1,486,291.47 via Betsafe which is part of the Betsson Group.
Play Temple Tumble 2 Dream Drop Here:-
What is Temple Tumble 2?
This slot is the direct sequel to Temple Tumble and is part of the Tumble series. Temple Tumble 2 is also the debut slot to feature the Dream Drop Jackpot.
Throughout the game, players will find free spins and multipliers leading to base game maximum wins of 10,046x the stake. This added with the Dream Drop Jackpot makes Temple Tumble 2: Dream Drop a fan favourite to players.
How does the Dream Drop work?
There are currently eight Dream Drop games out there with the first one being Temple Tumble 2: Dream Drop and the latest one announced being Templar Tumble 2: Dream Drop.
At any moment in the game, 5 DD symbols can drop on the reels to trigger the jackpot. After this, players will then win on the Rapid, Midi, Max, Major or Mega Jackpot.
Play Temple Tumble 2: Dream Drop Here::-
"Kept up the momentum that it started with," says Relax Gaming
Phil Lam, Director of Gaming Performance at Betsson Group, said: "The innovative series of games featuring the Dream Drop jackpots have been a welcome and refreshing addition to our catalogue and we're delighted to see the third Dream Drop Mega jackpot won. It's made one lucky player in Ireland very happy, and we can't wait to see what comes next from Relax Gaming!"
Nadiya Attard, CCO of Relax Gaming, said: "We're delighted to see that Dream Drop has kept up the momentum that it started with and continues to make our games an exhilarating experience for players across a wide range of demographics."
She added: "Even though Dream Drop shows no signs of slowing down, we have some plans in the pipeline to add to this excitement even further. I won't say much more than that now, but watch this space!"