Almost £33m given to GambleAware to create a stabilisation fund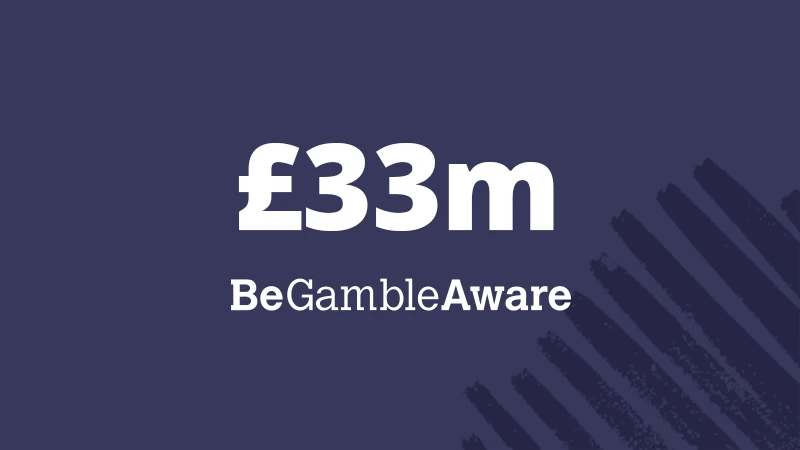 GambleAware, the independent but government-adjacent charity which seeks to prevent problem gambling, is currently funded by voluntary donations from the gambling industry, but this could be about to change.
As many casinos and operators have been making minimal token donations, GambleAware has been campaigning for a mandatory levy to be put in place, and as a result of the ongoing UK gambling reform, it looks like this may finally happen.
To help the charity transition from a system of voluntary to mandatory financing, a fund worth almost £33m has been allocated.
UK gambling reform: the big picture
In April 2023, a Gambling White Paper was published by the government which lays out plans for an overhaul of legislation in the gambling industry. Broadly, the reform aims to reduce problem gambling by targeting specific areas such as mobile gambling and stake limits, particularly amongst players in the 18-24 age group.
A series of discussions are currently taking place between the UKGC, relevant charities, members of the public and health advisers. These talks are scheduled to continue into 2024, with final decisions being published that summer.
The statutory levy
The most recent development is that GambleAware has begun the process of applying for a stabilisation fund to ensure that support, education and treatment facilities are properly financed until the introduction of a statutory levy.
A statutory levy would replace the current voluntary system, making it a legal necessity for gambling operators to pay a certain amount, which would be proportional to their gross earnings, into a fund to help and protect problem gamblers.
A paper presented to the Gambling Commission proposed that this amount should be 1% of their gross gambling yield, with a review of this figure after two years. It also recommended that an independent Safer Gambling Levy Board be established in order to distribute the funds in the most appropriate way.
What's the money for?
The £33m stabilisation fund allocated by the UKGC to GambleAware is to assist the latter through this transitional period, keeping it properly financed until it is receiving money from levy payments.
The Chief Executive of GambleAware, Zoe Osmond, remarked that the stabilisation fund was a welcome interim measure.
"We welcome plans for a statutory levy as outlined in the government's gambling white paper and look forward to its swift implementation. [...] However, this has led to a period of change as industry and the gambling harms research, prevention and treatment sector prepare to transition to the proposed levy."
Therefore, the stabilisation fund exists to "ensure current projects can continue without any risk of experiencing a funding shortfall."
The UKGC and GambleAware have stated that they will "ringfence a proportion of the funding to help stabilise the system of gambling harm prevention, support and treatment."
Those organisations which require access to the funds will need to follow an application process. Applications may be approved if they demonstrate that the money will be used to increase gambling harm awareness, prevent harm to high-risk individuals and communities, prevent the escalation of problem gambling, reduce the legacy of problem gambling, or provide other appropriate services.
Frontline service-providing applicants will be able to access the funding throughout the 2023/24 financial year, with the first round of applications taking place in August 2023, and the second wave expected to occur in November. Priority will be given to those who are seeking funding for the continuation of existing programmes, rather than those exploring "new areas of delivery."
How the levy will affect players
It's too soon to say whether the mandatory levy will represent a change to players, as casinos may seek to protect their profit margins by passing on some of the costs to their consumers.
However, those who may be susceptible to problem gambling and those who are already using the services provided by GambleAware are likely to see an uninterrupted continuation of these valuable services, which is certainly good news on the whole.
How will it affect operators?
Casinos will likely be forced to pay around 1% of their gross earnings into a fund which GambleAware can then allocate accordingly to support relevant charities and assist problem gamblers.
Whilst this is likely to amount to large sums of funding for certain charities, it will pale in comparison to the vastness of the profits made by some operators.
What happens next
As more details come to light regarding the ongoing reform, players and operators are beginning to get a clearer idea of exactly what the changes will involve, and how they may be affected.
The mandatory levy will represent a funding boost for the charities which rely upon it, but it remains to be seen exactly how much of a change this will make for players.
Whilst some operators may reduce jackpots and RTPs to compensate, it seems likely that, in order to remain relevant and competitive, others may opt to absorb the costs of the levy themselves.
Crucially, GambleAware's services will run uninterrupted thanks to the recent allocation of the £33m stabilisation fund.