Slot game terminology explained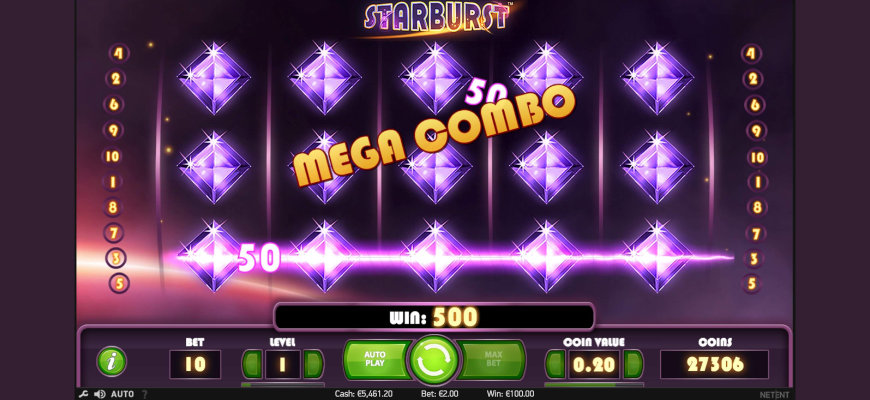 Your easy guide to slot games
So you've found a great welcome bonus at a no wagering casino you want to play at, you register and load up a slot game that looks like it could be for you... But you're overwhelmed with all this terminology you just can't seem to get your head around!
Don't worry! Every new player has been there. Whilst online slot games can look simple from the outset, we've all had to do our fair share of Google searching to fully understand exactly what we were doing, especially as more complex slot games are released on near daily basis.
Sit back, relax... We're going to explain everything in this easy-to-understand slot game terminology glossary.
Types of slot games
Classic slot - You'll recognise a classic slot game as they only have three reels and a single win line. If you're playing a classic slot game online expect the design to be retro, there'll be also no special features or free spins.
Multiline slots - The vast majority of modern slot games are multiline slots, this means that there a multiple ways to win, the more win lines you chose to bet on, the more expensive your bet will be... However, the chances of winning will be higher!
Video slots - Video slots are modern slot games that can be found in both land-based and online casinos, they usually have impressive graphics, sounds and animations.
Progressive Jackpot slots - A Progressive Jackpot is when the overall jackpot payout builds and builds as multiple players play a network of games that are all linked. A small percentage of their bet is added to the total prize fund, which can reach well into the millions.
Daily Jackpot slots - This is a large jackpot slot that MUST be won every single day. The jackpot builds throughout the day in the same manner as a Progressive Jackpot would. Wins are usually in the tens of thousands. Want to find the best Daily Jackpots? Check out our explainer article here.
Freeplay slots - You can play many online slot games completely free on freeplay mode, without the need to deposit any funds, however you cannot win any money from these.
Slot game interface
Bet - A simple one for you here! This refers to the amount of money you're choosing to wager on every spin.
Autoplay - If you have a set amount of money you're willing to spend when playing online slots you may set your game to autoplay, this means you don't have to press play every time you want to spin the reels, it'll spin continuously. You can set a loss limit so it stops at a certain point.
Pay table - Every game has a pay table. This will tell you exactly which combinations of symbols you need to hit in order to trigger a win and how much the win will be.
Win lines - The win lines are symbols that need to be arranged in order for the player to trigger a pay out. Classic slots only have one win line whereas Video slots could have up over 100,000 different ways to win.
Reels - These are the vertical columns covered in symbols that spin. Classic slots have three reels whereas Video slots have five or more.
Symbols - Symbols are the images on the reels, in order to win you'll need to match symbols along the win lines. Different games have different themed symbols, classic symbols include fruit and gems.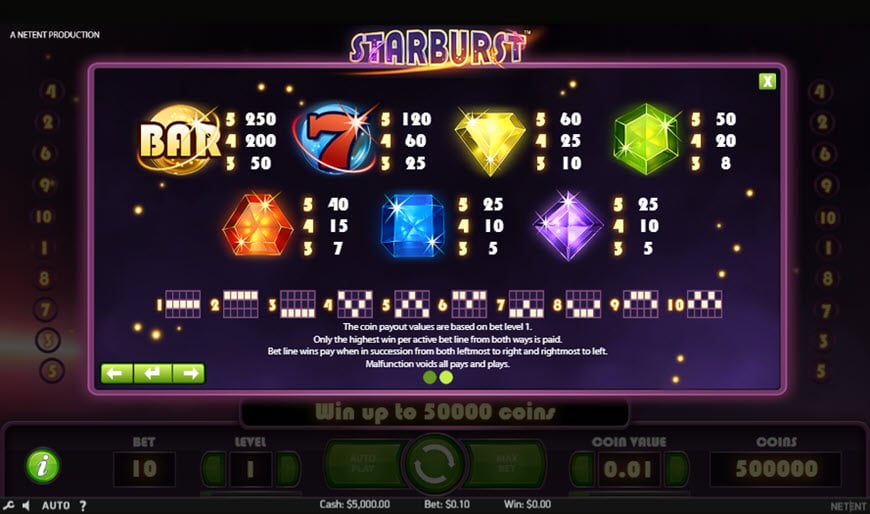 Slot game characteristics
RTP - This stands for 'Return to Player' which is the pay out a slot game makes over time. For example a game with an RTP of 95.5% would pay out £95.50 for every £100 wagered.
RNG - This stands for 'Random Number Generation'. RNG determines the outcome of each spin a player makes on an online slot game.
Volatility - Games with a high volatility will pay out larger amounts, but less frequently. A game that is described as having a low volatility will see players win more frequently, winning smaller amounts.
Developer - The Developers are the company that created a certain slot game. For example the Developer behind slot game Gonzo's Quest is NetEnt.
Slot game features
Bonus rounds - Bonus round special features are unlocked when a player lands a specific combination of symbols, this gives players the opportunity to win much larger amounts.
Wild symbols - You definitely want to see Wild symbols on your reels! They take the place of any other symbol in the game and can turn a line into a winning one.
Scatter symbols - Scatter symbols will trigger a win for the player, regardless of where it lands on the reel. In most games triggering three will unlock free spins or a bonus round.
Cascading reels - Cascading reels are reels that don't spin like they would in a traditional slot game, instead, cascading reels fall from the top of the screen (Think Tetris!)
Gamble mini-game - Found in a select number of slot games, the gamble feature allows players to stake their winning on a double or nothing style card game.