Ruby Walsh Champion's Gold Slot Features
Naturally, the slot has scatters and wilds to help you throughout your playthrough. They even can activate special bonus rounds for even more wins. With the free spins and Race Week Bonus, you could win up to 1,000x your stake. If that isn't enough, then players can win 1 of 3 different bonuses throughout the base game. This could be instant wins, added wilds or even swapping symbols.
Players are spoilt with not only 1, but 3 different types of free spins! They are selected randomly and players are given an extra bonus with their free spin.
Justice payouts - You gain instant wins of up to 10x your stake on non-winning spins.
Odds on wins - All wins during free spins are multiplied by up to 10x your stake.
Non-runner win bet - 5 royal symbols are removed during free spins starting from the lowest value.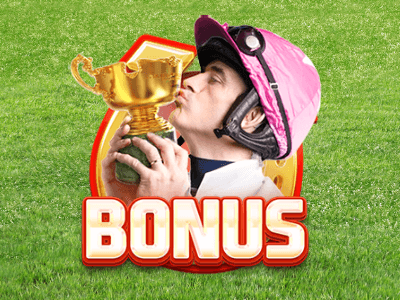 Scatter Symbols
Landing 2x scatter symbols on reels 1, 3 and 5 will result in either free spins or Race Week Bonus. The Race Week bonus symbol on 5 will trigger the Race Week Bonus Round whilst a free spins symbol will activate the free spins round.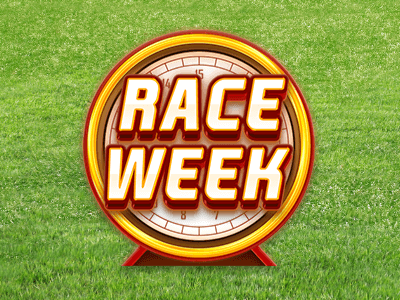 Race Week Bonus
During the first stage of this bonus round, you select a horse for Ruby to ride on. During this stage you can win multipliers of up to 30x your stake until the horse runs out. The second level includes extra prizes that could lead to 1,000x your stake.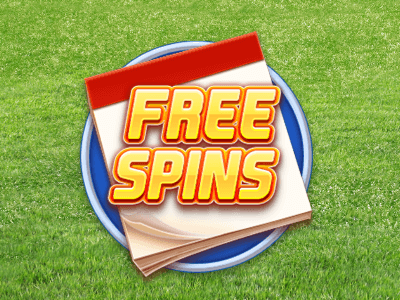 Free Spins
There are 3 different types of free spins that are selected randomly. You could win multipliers of up to 10x or win on non-winning free spins. The maximum free spins available is up to 25 free spins.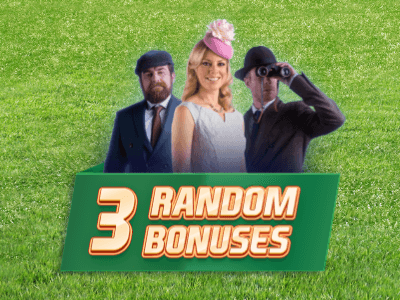 Random Bonus
Players can even win random bonuses throughout the base game with 3 different ones on offer. You could win 247x your stake if you meet the bookie instantly, a lady could blow up to 6 kisses to add wilds, and the steward can swap symbols to create bigger wins!
Ruby Walsh Champion's Gold Slot Review
As the third most prolific jump horse racer in British and Irish history, Ruby Walsh is no doubt a legend within the horse racing world. Fans of Walsh and the sport will be elated to know that you can experience his wins with Ruby Walsh Champion's Gold.
The slot is played on 5-reels with 20 paylines and plays traditionally with spinning the reels. It's a medium volatility slot that can see players win up to 1,000x their stake. It's an essential play for horse racing fans and slot enthusiasts alike.
Design
As you open up the slot, you'll notice bright and vibrant visuals in the background. They definitely have nailed the greenery with the stands of people in the background. It's a little disappointing that it's static, but doesn't look too bad. The clouds are the only thing that are animated and it adds a little more extra to the slot.
The reels themselves are see-through so that you can see the background fully. Thankfully, the symbols on the reels feature funny and tasteful symbols. There are some funny ones of Walsh showing his cheeky side which will be a delight for fans.
Surprisingly, the music is pretty good. You can hear music such as the 'Chariots of Fire' theme by Vangelis and other instrumental tracks as you spin the reels. However, there is pure silence in between spins. If that's what you like, then you'll love this.
Gameplay
As you can imagine, the gameplay is quite traditional. You set your bet and spin - that's the slot. There are bonus rounds and random bonuses, but the slot will walk you through these.
Menus are all at the top left of the slot with paytable, gameplay and other helpful options. Fans of autospins will be happy that you can go up to 100 in this slot. It can be found to the far right of the slot and next to the giant spin button.
Win Potential
Sadly, this slot disappoints again with the low RTP. It's at a measly 94.26% which is below the average standard at 95%. There isn't a jackpot or huge payout either, which makes it even worse. The maximum payout in this slot is 1,000x your stake through the Race Week Bonus or rolling 5 Ruby wilds. So if you are looking for a mega jackpot, this might not be the slot for you.
Our Verdict
On the surface, Ruby Walsh Champion's Gold almost has everything. With exciting features and random bonuses, it sounds perfect. The visuals are even tolerable with creative designs and memorable music. What lets down this slot is the low RTP at 94.26% and the low maximum payout. It's definitely a game for the experience and thrill of the features rather than the engaging win potential.
If you are a casual player who loves horse racing and want some great gameplay, then this is the slot for you. For those of you wanting an impressive jackpot, then try out AP McCoy: Sporting Legends and Frankie Dettori: Sporting Legends.