Another victory for no wagering as Betfred launch new 50 free spins welcome offer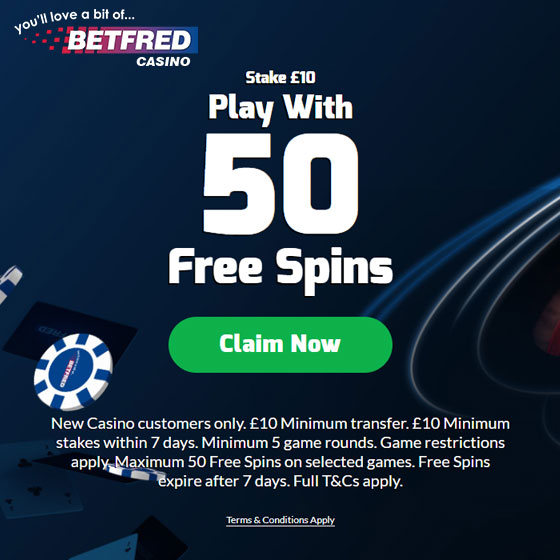 It's a sad fact of the world that a few rotten apples can spoil the entire bunch, which is why many online gaming players now find themselves at the mercy of wagering requirements - requirements which are turning off a lot of new and existing players to these sites.
Thanks to a few crafty players who saw fit to use loopholes to make more money with these sites, a lot of these sites started introducing these wagering requirements, some of which are still unknown to players.
Picture this, you want to play some slots, or bingo, or casino games and you're wondering which site to sign up for, you find one which is offering you a £50 welcome offer, you think 'wow, how could it get better than this?' because who doesn't love free money? Only then, you find out that you have to wager this amount 50 times over before you can get any actual money back, sounds incredibly unfair right?
Well, believe it or not this has been going on for years, and still has a lot of players angry and confused, and rightly so! If you're still unsure what wagering requirements are, you can check out our previous post on them to find out more.
But behind the scenes, there has been unrest stirring amongst the masses who believe that these wagering requirements have turned into nothing more than a way to trick players, and thus have begun a revolution that's still ongoing to this day.
It's easy to see why these requirements have so many players ready to light their torches and sharpen their pitchforks as many online gambling sites weren't even making it very clear how these requirements worked.
Back in 2015, the gambling commision released a code of practice to all licensed gambling operators, stating that they must include any significant limitations relating to promotions in their adverts, as to not mislead consumers.
Unfortunately, not many of them listened and continued to conduct business as usual, which led to the commission raising concerns with the operators directly, which again were ignored. From there, a lot of these operators found themselves facing down the cannons of some hefty fines of up to £300,000 - if they wouldn't take the carrot, they'd have to prepare for the stick.
It's taken time, but it seems many sites have now begun to change their allegiances in this fight, with the newest member to turn coat being BetFred Casino, who have recently launched a new welcome offer which promises players 50 free spins with no wagering requirements at all.
The UK Gambling Commission has been a big help in getting sites like these to see the light, creating a three year road map guide to protect the interests of the customers and prevent all sorts of gambling related harm by raising standards within the industry.
Of course, BetFred aren't the first to do this, as a little while ago, we also saw big names such Guts Casino start offering out promotions with wager-free prizes, and BGO scrap wagering requirements altogether.
It's at times like this when NoWagering is incredibly proud to wave the flag that unites both gambling providers and their consumers together, ensuring terms like Free Spins, are exactly that!