Worms Reloaded Features
As the sequel to Blueprint's Worms Slot, Worms Reloaded is more explosive than before. Players can see themselves winning up to 200x your stake with the red and blue rockets on the reels. Not only that but the Worms Reloaded and wild symbol can deliver a blast of 500x your stake.
This slot contains 4 main features and 5 different types of modifiers. All the bonus features are activated when you achieve 3 bonus symbols on reels 1,3 and 5.
Modifiers
There are 5 modifiers in the game that trigger randomly during each spin. Players can win 3 different wilds - Concrete Donkey Wilds, Banana Bomb Wilds and Bazooka Wilds. Other modifiers include the Holy Hand Grenade and the Teleport Mayhem.
Concrete Donkey Wilds - These wilds take over the entire reel it lands on.
Banana Bomb Wilds - These wilds add banana-inspired wilds anywhere onto the reels.
Bazooka Wilds - These wilds randomly fire bazukas onto the reels.
Holy Hand Grenade - Appears and explodes causing bonus symbols to add to the reels.
Teleport Mayhem - This feature completely rearranges the symbols to form a winning order.
Jackpot King Deluxe
Reels 1 to 5 can contain the Jackpot King Deluxe symbols and rolling 5 can lead to trigger the progressive jackpot. The maximum amount that can be won is 10,000x your bet.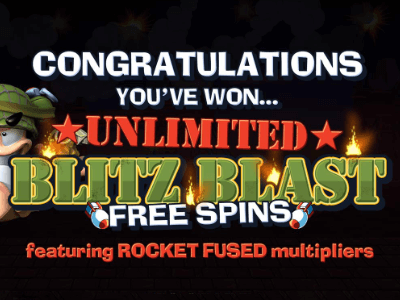 Blitz Blast Free Spins
This bonus round starts with a worm tied to a missile and the player wins free spins until the worm eventually flies off into space. Naturally, the further the fuse - the bigger the multiplier wins.
Super Sheep Free Spins
Giving up 6 free spins, this round finishes once all those spins have finished. Worms can shoot the wilds down through in mode and at the end you'll have the chance to retrigger it by selecting one of 3 grenades.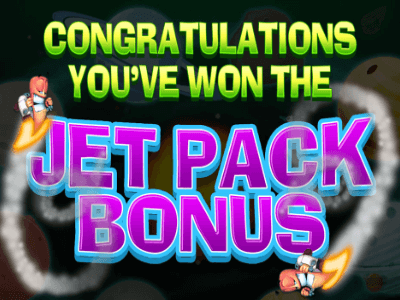 Jet Pack Bonus
During this bonus, it is split up into 2 different stages. In the first stage, you'll have a multiplier trail and the second stage has a Big Money multiplier round.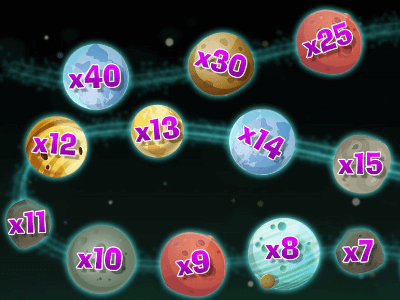 Battle Ground Bonus
Similar to Jet Pack Bonus, you go to a different screen and select until you reveal a worm. You pick from mines to get bonuses, multiplier or to end the round entirely.
Worms Reloaded Review
When we say Worms Reloaded is action-packed, we certainly mean that. On the surface, Worms Reloaded is a 5-reel, 20 payline slot that gives players the chance to win the base maximum of 500x your stake. Don't let that put you off though, you could win up to 10,000x your stake with the impressive Jackpot King Deluxe.
Design
If you've ever played the Worms game, then you'll see that it's almost identical to the slot. With the character designs and bizarre sounds, Worms Reloaded feels like an authentic addition to the franchise. The biggest downside has to be that the backgrounds aren't animated on base spins which feels a little cheap at times.
Thankfully, the bonus rounds make up for it with imaginative backgrounds and vibrant gameplay. What isn't good is the fact that it's pure silent between spins which leaves it feeling a little empty. This could've been epic in design but Blueprint sadly didn't deliver.
Gameplay
Everything is clearly laid out and the symbols are big enough to see. All the instructions needed are at the bottom left of the reels with the spin button to the far right. Next to it, you can find the autospin button that can be set between 10 and 100 autospins.
The gameplay itself is straightforward with players setting the bet and spinning. The modifiers, features and Jackpot King Deluxe are completely random, so there's no need to strategise. You can improve your chances by increasing the bet level but that's about it.
Win Potential
So a maximum win of 500x your stake is pretty low. There is however the Jackpot King Deluxe with a maximum win of 10,000x your stake which makes this slot more appealing. The RTP is at a terrible 92.66% but that's expected with a jackpot. As Worms Reloaded is a medium volatility slot, you can expect steady payouts throughout.
Our Verdict
Worms Reloaded doesn't break barriers with its slot, but it sure is a lot of fun. It can be insane at times but that's part of its charm. The intense gameplay makes up for the lack of innovation in design - so it's recommended for that.
The features, modifiers and Jackpot King Deluxe all combine to make a slot that could become legendary. Make sure to check it out for a 'wormtastic' time!