Win tech goodies playing Jokers Jewels at PlayOJO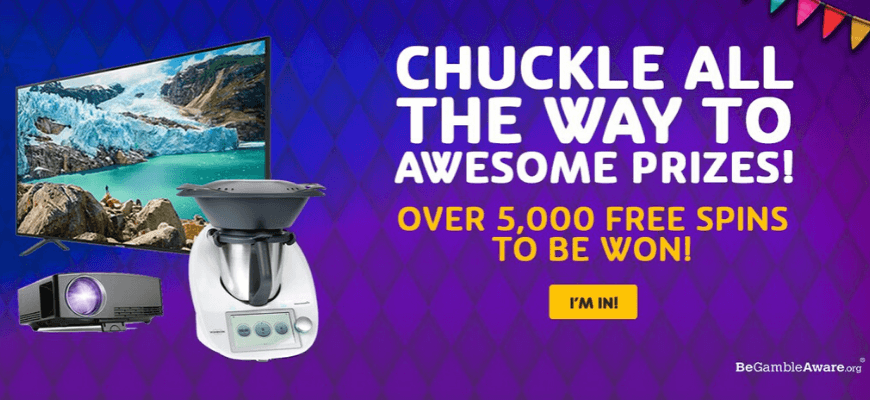 Awesome tech goodies and wager free spins are just waiting to be won!
Being stuck in lockdown can get a bit boring, don't you think? How about if you had some brand new tech goodies delivered right to your door to keep you occupied whilst you're stuck inside.
Well, have we got good news for you! The generous folk at PlayOJO have come through for us again, this time our favourite no wagering casino are giving players the chance to win tech goodies AND over 5,000 free spins that'll see you keep what you win thanks to no wagering requirements, ever. Just WOW!
How do you win PlayOJO's tech goodies?
If you're going after these goodies then you'll need to fire up Pragmatic Play slot Jokers Jewels. once you've played 100 real-money spins on this fantastic online slot you'll receive a reel-spinoff ticket. This ticket can be used to enter yourself into PlayOJO's LOOT AND LOLS' Reel Spinoff slots tournament.
Your score in the LOOT AND LOLS' Reel-Spinoff tournament will determine what prize you receive. If you don't feel like playing through your 100 spins and would much prefer a head start, never fear! You can instead buy unlimited tickets for £1 each... However, with all the time in the world you might as well make those spins!
Before you start earning Reel-Spinoff tickets, you'll need to sign up to play at PlayOJO if you're not already registered by using the link below. Once you're signed up you'll need to visit the Kickers page where you can opt into the LOOT AND LOLS' Tournament.
What tech goodies are PlayOJO giving away?
We'll start with their number one prize, because it's just too cool not to mention. The overall winner will receive a Thermomix TM6 Wifi Cooker, you heard that right! A cooker with Wifi! This tech marvel will impress even the most hardened chefs. Retailing at well over £1,000 it's certainly very generous prize from PlayOJO and we're very jealous of whoever manage to win this prize!
Lucky players can get their hands on a Samsung 75" Smart 4K TV, Smart 4K Interactive Touchscreen Projector and even a Cannon EOS M50 Vlogging Camera Kit. However, our personal favourite on this list are of course the thousands of wager-free spins, especially considering you can win some even if you finish fairly low down on the leaderboard. The full list of prizes are as follows:
1st Prize: Thermomix TM6 Wifi Cooker
2nd Prize: Samsung 75" Smart 4K TV
3rd Prize: Smart 4K Interactive Touchscreen Projector
4th Prize: Cannon EOS M50 Vlogging Camera Kit
5th Prize: PowerWatch 2 Fitness Tracker Smart Watch
6th Prize: iRobot Roomba Robot Vacuum
7th Prize: Sony Wireless Headphones
8th: 400 Free Spins
9th: 350 Free Spins
10th: 300 Free Spins
11th: 250 Free Spins
12th: 200 Free Spins
13th: 150 Free Spins
14th: 100 Free Spins
15th - 19th: 90 Free Spins
20th - 25th: 80 Free Spins
26th - 35th: 70 Free Spins
36th - 45th: 60 Free Spins
46th - 55th: 50 Free Spins
56th - 65th: 40 Free Spins
66th - 75th: 30 Free Spins
76th - 85th: 20 Free Spins
86th - 100th: 10 Free Spins
Terms and Conditions
Free Tickets can only be claimed the day after through the Kickers section around 2pm GMT.
Free Tickets cannot be earned on the last day of the Tournament.
Buying tickets cost £1 and triggers 20 Tournament Spins on The Reel Deal.
No winnings can be gained from any Tournament Spins in the LOOT AND LOLS' Spinoff. The result of the tournament spins is to determine positions on the leaderboard.
All Free Spins won from the Reel Spinoff tournament are only allowed to be used on Jokers Jewels.
Free Spins have a value of £0.10 per spin.
Players that have any form of account limitation such as a cooling off period, temporary suspension or self-exclusion automatically forfeit their right to win and will be disqualified.