Enjoy guaranteed no-wagering prizes with Buzz Casino's Spin Royale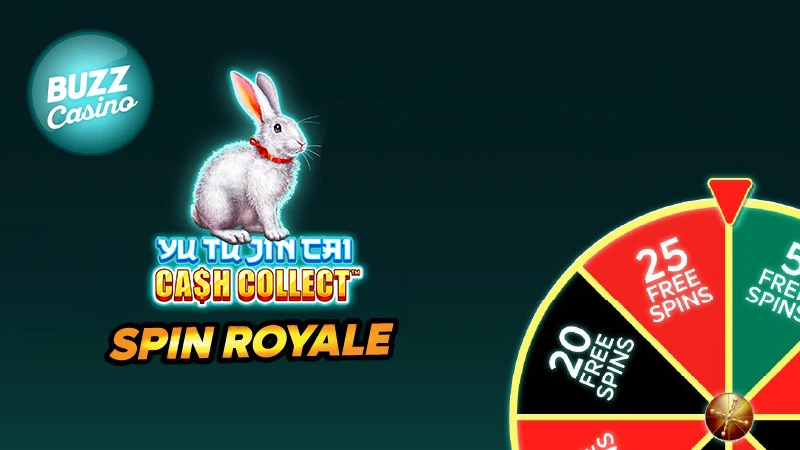 Buzz Casino is back with another incredible shot at no-wagering prizes, with its Spin Royale spinner wheel.
There's a guaranteed prize on offer with every spin of the wheel, with anywhere from 5 to 50 bonus spins to be won. Once you've qualified for a spin of the wheel, you can rest assured that you're in line for one of these bonus spin prizes with absolutely no wagering on anything you go on to win. That means when it's time to cash in the free spins, you're playing for keeps; no strings attached.
To qualify for the Spin Royale spinner wheel, all you need to do is bet £20 on Yu Tu Jin Cai Rabbit: Cash Collect. Every day you bet through £20 on the game, you'll get another shot at the prize wheel to win free spins for the same game, which can convert into real cash winnings if the reels fall in your favour. It's a guaranteed no-wagering prize, exclusively from the team at Buzz Casino.
How It Works
The Spin Royale spinner wheel is all about Yu Tu Jin Cai Rabbit: Cash Collect, a medium volatility Playtech slot with a mystical Oriental theme. Get lucky with the white rabbits here, and you could be in line for some big wins—with up to 500x available as a max win. When you consider that the bonus spins come with absolutely no wagering requirements, it's not too difficult to see how this could work to your advantage.
Every day when you wager £20 or more on Yu Tu Jin Cai Rabbit, you'll be eligible for a spin of the Spin Royale wheel. That's potentially a daily chance to win up to 50 bonus spins on Yu Tu Jin Cai Rabbit every day. With the promotion scheduled to run right through to 5th September at 23:59, there's potentially a lot of action to be had here if you fancy your chances with this slot.
As per the terms and conditions, 'days' run from 6am to one minute to midnight, and you need to stake your £20 within this window to qualify for the Spin Royale. You're eligible for one spin for each of these 'days' on which you qualify, with a minimum of 5 bonus spins to be won—right up to the full 50 if you strike it lucky on the wheel.
If you qualify for a spin on Spin Royale, you need to use it the same day to avoid forfeiture. Bonus spins awarded are valued at 10p per spin, and there's one award daily of the maximum 50 spins. Who knows, with a bit of luck, they could be heading your way.
There are other terms and conditions attached to the offer, of course, but they're all pretty straightforward and non-restrictive. Arguably the most important thing to note here is the lack of wagering requirements, which makes all the difference with promotions like this. Without the need to wager through any winnings, the promotion really can translate into cash winnings.
Remember, the spins themselves are worth 10p a shot, so the 500x maximum means you can win up to £50 per bonus spin. With 50 up for grabs, that's more than ample opportunity to win a top prize from this promo, simply for playing this slot to a cumulative £20 stake at Buzz Casino.
Qualifying Criteria
Most players who stake £20 on Yu Tu Jin Cai Rabbit at Buzz Casino will be eligible for a shot at this promo. You need to be 18+, be located in the UK and have a GBP (£) account. You must have registered at Buzz Casino after 27th September 2018, and played the free win/lose game beforehand. Once you've cumulatively staked the £20, you can refresh your browser, or log out and log back in again to line up your spin of Spin Royale and you're good to go, and always with a 100% guaranteed win of something from the wheel.
Yu Tu Jin Cai Rabbit: Cash Collect
The action is all based around the classic Playtech slot Yu Tu Jin Cai Rabbit: Cash Collect. It's a fairly basic slot, but it's still highly playable, with some decent wins. The relatively stable volatility means it's quite a frequent payer, but the RTP isn't the highest—at 94.91%, it's not what we'd consider amongst the highest-paying slots.
However, when you consider that you're potentially getting up to 50 free spins on a no wagering basis every time you wager £20 or more during the promotional period—plus keeping anything you win on the main slot itself—it's still a great promotion for slots fans.
More than enough reason to sign up for an account at Buzz Casino if you haven't already, to take advantage of yet another impressive promotional offer.