Win guaranteed prizes every day with Buzz Bingo's Advent Calendar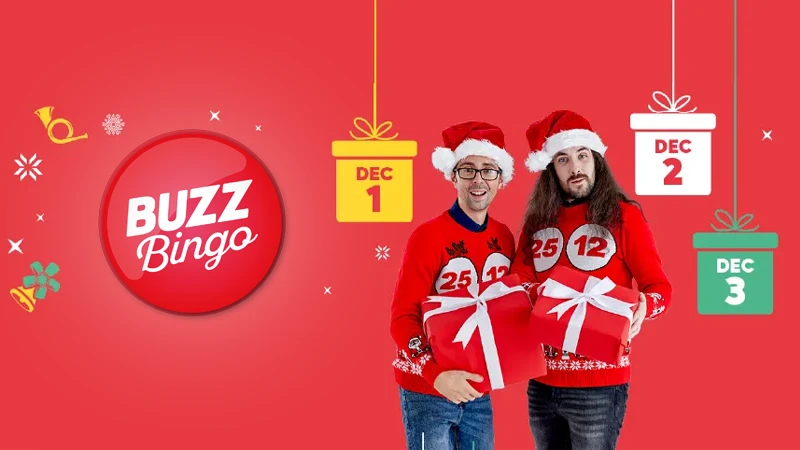 Santa Claus is coming to Buzz Bingo!
Dive into the festive season with open arms courtesy of Buzz Bingo. Every single day, you can open Buzz Bingo's free daily Advent Calendar to win guaranteed prizes from free spins to online bingo bonuses!
There is absolutely no catch attached to this bingo promotion and the slot and bingo bonuses are paid with no wagering requirements attached! You've got nothing to lose with Buzz Bingo's Advent Calendar - so be sure to get in on the action before it's too late.
What prizes can be won?
The best thing about this promotion is the fact that you are guaranteed to win a prize every single day - so you have absolutely nothing to lose. As for the prizes that you can win, these include free spins, bingo bonuses, promotional offers and main event club tickets.
Free Spins
Most of the free spins that can be won will have to be used on Fire Blaze Quattro: Celtic Charms or Fire Blaze Classics: Green Wizard with spins varying from 2 to 5 each worth 10p each.
Additionally, you can gain 2 free spins on Hot Slot: Magic Bombs worth 20p each. There is also the chance to gain 2 free spins for 9 Coins worth 10p each.
Bingo tickets and more
Alongside free spins on online slots, you can gain bingo bonuses from 10p to 30p which can be used on Live Bingo or 90 Ball Bingo only. Both free spins and bingo bonuses have a 7-day expiry period as well meaning that you'll have to use them within this time limit.
If you do not win free spins or bingo bonuses, then do not fret as you can also win promotional offers such as staking £5 to gain a £1 bingo bonus. There are also bonuses that include a deposit and stake of £10 to gain a certain amount of free spins or a specific bonus amount.
Finally, if those do not seem grand enough for you, then you can gain Main Event Club tickets or 12 extra ticket vouchers for use on Sunday 18th of December or Saturday 24th of December for special bingo games. Either way, you are guaranteed to win something in this amazing promotion.
How can I enter the promotion?
In order to enter this wonderful promotion, you'll have to be a verified player at Buzz Bingo. Once this is confirmed, you'll be able to enter the promotion if you are located in the UK.
After this, all you need to do is click on the promotion every day from 12:00am to 11:59pm to open up a door to find out what you have won! If you do not get the present you are looking for, then just try again the day after. There's no reason not to check out this free promotion from Buzz Bingo - so be sure to enter before the 24th of December.
Terms and conditions
The slot and bingo bonuses are paid out with no wagering requirements attached - but the promotional offers (e.g. stake £5 to get £1 bingo bonus) do come attached with wagering requirements varying from x4 to x30).
No alternative bonuses or promotional offers will be awarded for any prizes won on the Advent Calendar.
This promotion runs from the 1st of December until the 24th of December every single day.
All the prizes will be awarded via a bonus generator supplied by Thunderbite.
here is also a £5 minimum withdrawal that applies as per the general terms and conditions at Buzz Bingo.