Kingdoms Rise Features
With a focus on storytelling and gameplay, Kingdoms Rise is a revolutionary slot. From the Kingdoms Rise Jackpot to the Kingdoms Rise Shop, you are guaranteed to find exactly what you need in this game.
Some of the games include classic slots, whilst others have more modern mechanics such as cluster pays and cascading reels. There is literally a Kingdoms Rise game for every sort of online slot player.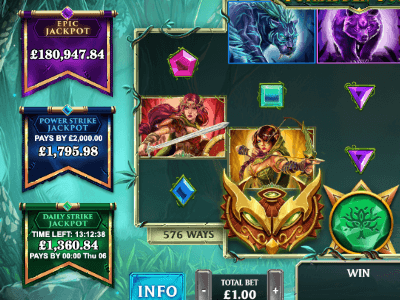 Kingdoms Rise Jackpot
In this series you even have the chance to find 3 progressive jackpots such as the Epic Jackpot, Daily Strike Jackpot and Power Strike Jackpot.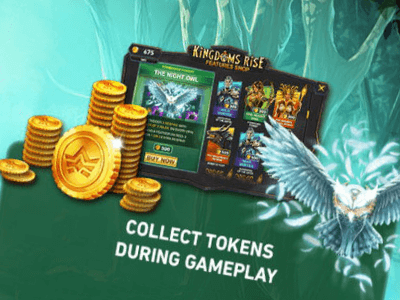 Kingdoms Rise Shop
You'll find that each game in the series is linked by the unique Kingdoms Rise Shop that allows you to buy bonus features with currency earned in the game that carry over throughout the series.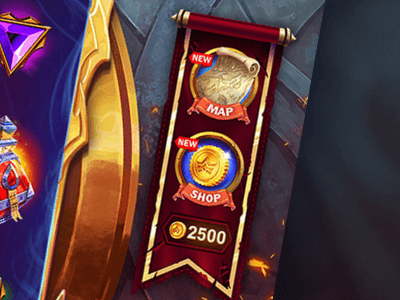 Kingdoms Rise Map
In every game, there is a map to guide you to the next location within the Kingdoms Rise world. You can jump from an ice wasteland to a town in the sky - the choice is up to you.
Kingdoms Rise Review
iGaming legends Playtech return with another mighty game series called Kingdoms Rise. In this series, you are transported to a mysterious world full of beauty and danger. Kingdoms across the world have fallen and it's up to different heroes to stand victorious.
Work your way across the map to find the fabled treasure from the Kingdoms Rise Jackpot which includes 3 progressive jackpots. In every game, you even collect tokens during every spin and can use these items in the Kingdoms Rise Shop to improve your game. So travel through these 9 lands and see if you're up to the challenge of winning the ultimate Kingdoms Rise Jackpot.
Kingdoms Rise: Captain's Treasure
Begin your journey by sailing across the dangerous seas to try to reclaim the precious booty. You'll find yourself teaming up with the mighty captain Red Jack, and it's up to you to find the greatest treasures in the land. There are plenty of ways to win by either purchasing extra bonuses from the Kingdoms Rise Shop, or their in-game re-spins.
Kingdoms Rise: Forbidden Forest
Step foot into this mystical forest filled with ethereal warriors called the Nayaal. Be careful as there are powerful warriors who defend the forest from any strangers. Try your luck at spinning to get past the Nayaal and towards the treasure with the help of the Owl Respin that can give you up to 12 re-spins.
Kingdoms Rise: Legend of Elvenstone
The proud Elvenstone kingdom stands between the dark ocean and defies all elements. It's a place embroiled in a battle between a supreme dragon named Gorog and the trading town. Can you fight to secure the treasure hidden by Gorog? With the help of wilds and the Kingdoms Rise Shop, you'll have a fighting chance to take the treasure.
Kingdoms Rise: Guardians Of The Abyss
It's time to head deep underwater to face your latest challenge and find sacred treasures of the deep. Here you'll face an ancient civilization of noble warriors called the Leviathans. Unlock the secrets of the abyss with generous multipliers that could win you a tasty 7,500x your stake.
Kingdoms Rise: Reign Of Ice
Enter the harsh and brutal wasteland in the cold north. You'll encounter King Styrbjorn and his most prized possessions. It's up to you to reclaim the treasure and get the glory for conquering this land. With options such as re-spins and bonus from the Kingdoms Rise Shop, there's no way you won't miss out on procuring the Kingdoms Rise Jackpot.
Kingdoms Rise: Sands Of Fury
From one wasteland to another, head to see the desert Queen Raz for your next adventure. In a place full of sandstorms, outcasts and dangerous animals - this place is definitely not for the faint of heart. Despite it being a barren land, it's incredibly prosperous with valuables all around. With the help of fury wilds and tokens, you'll be able to fight your way up to the Kingdoms Rise Jackpot.
Kingdoms Rise: Scorching Clouds
You've been to the depths of the Ocean and various landscapes, but how about a floating city? Once you reach the Empire of Celestria, you'll notice dragons guarding various treasures. Humans are no longer your only problem. Help to defeat dragons with features such as free spins, spreading wilds, knight and empress free games.
Kingdoms Rise: Chasm Of Fear
Only the most skilled or wacky adventurers dare to head to the far west. Face scary giants who will hunt anyone who gets in their path. They have collected a huge amount of wealth and treasure, so you'll have to be smart at getting the loot. You won't be alone, as you'll have the assistance of free spins and re-spins to help you get closer to the Kingdoms Rise Jackpot.
Kingdoms Rise: Shadow Queen
It's time to face your biggest challenge yet! Find Talana, the Shadow Queen, and persuade this brutal Archon to give you her riches. Featuring Magic Wins and a Magic Wheel, there are so many features to assist you on your quest.
Kingdoms Rise: Legion Uprising
This time players can embark on a quest through a volcanic kingdom filled with mountains and lava as well as mysterious women, skeleton warriors and firebreathing dragons. Players will find Mighty King's Free Games that can be earned naturally or bought through the networked store.
Kingdoms Rise: Battle Beast
Join a group of prehistoric warriors and sabretooth tigers as you all try to survive against rival clans. This game features the Battle Beast Ways plus feature as well as Sabretooth Slash Free Games that leads to base game wins of up to 10,000x your stake.
Become The Hero
It's entirely up to you in this fantasy-themed progressive jackpot game. With the Kingdoms Rise Jackpot, Kingdoms Rise Shop and the diverse worlds, the Kingdoms Rise series is outstanding.
There is so much detail in this series that it shows what a revolutionary online slot game should be. It blends the best of magical video games with slots to make something truly unique. So, can you battle through these different lands to procure the jackpot?