£265,000+ in Prizes Available With tombola's Summer Specials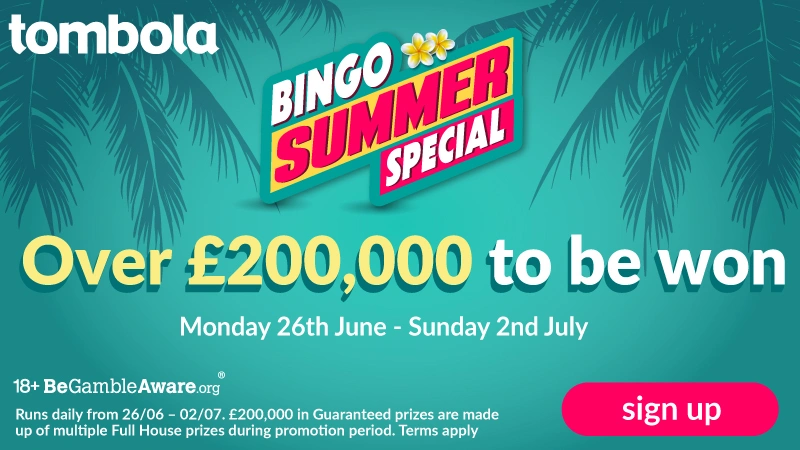 Summer is well and truly upon us and tombola is celebrating in style with over £265,000 in wager-free prizes to be won.
All throughout the week, from Monday 26th June - Sunday 2nd July, you can pick up all kinds of gifts thanks to the various offers taking place every single day. It all kicks off on Monday 26th June at 9pm and you get to keep what you win! Let's take a look at exactly what you can land and how to get your hands on these fabulous prizes.
90s Club Party
It all starts here on Monday 26th June with the bingo90 game. Between 9 pm and 10pm, this fab 90-ball setup brings you an opportunity to win a share of £58,000. Full House prizes in every single game are worth £500, plus there's a £10,000 top prize for a Full House in the Link game as well.
Cash Climber
An incredible £75,000 is guaranteed to be won on Tuesday 27th June between 9pm and 10pm, again thanks to the bingo90 game. There are Full House prizes ranging between £5,000 and £10,000 across 11 brilliant bingo sessions.
Pulse Party
For a chance to collect your share of £25,000 worth of prizes, log in between 8pm and 9pm on Wednesday 28th June and play the Pulse bingo game. This one plays with a pop and floating bubbles help you win a variety of different prizes in the 11 pulse chat rooms. Your numbers float around and as they are called, they will pop. It's something a little bit different and the payouts can be superb.
Free Play Thursday
Between 8pm and 9pm on Thursday 29th June, you just need to play £2 on Reel Bingo and in return, you'll get your hands on 5 free plays at tombola arcade. These free games will come your way by Monday 3rd July and you can head off to tombola arcade to redeem them.
Cinco Links
Another £20,000 is available for bingo fans to lap up throughout every single game on Friday 30th June between 8pm and 9pm. This linked jackpot game has 3 tiers and you can win by matching all 5 cards within 5 or 7 calls. The quicker you match your cards, the better the prizes will be.
£1K Saturday
There is a guaranteed £1,000 5-line prize available with every game up to £11,000 in total, and it will be paid out in just 1 hour. It all takes place on the bingo75 Lines game on Saturday 1st July between 8pm and 9pm.
Back 2 Back Lite Links
The bingoLite game on Sunday 2nd July between 8pm & 9pm is the place to play. This top Link game has a further £11k in Full House prizes with tickets available from just 2p. You can get your hands on a grand in each of the 11 Link games.
Continuing the summer party
Tombola has even more to offer this summer and while the wager-free celebrations are taking place, there are even more ways to get involved at tombola arcade and via the Facebook and Instagram social channels.
Step into Summer Draw
If you like the idea of landing prizes on slots and other casino games, then you can head over to tombola arcade between Friday 30th June and Monday 3rd July to bag extra rewards in this perfect prize draw.
There are loads of free plays to be won and even £1,000 in cash on various games throughout this week-long fiesta.
Simply opt into the Step into Summer Draw, and wager £2 on any games between 8pm & 10pm for a chance to win. Stakes made with bonus money or Free Plays won't count towards the stake requirement. All prizes are free from any wagering requirements!
You can check to see if you've completed both entry requirements for the prize draw on the promotion page by tapping the 'update' button on the promotion page information table or reloading the promotion page on your device.
Bingo Lingo Bonanza
Anyone that loves to keep in touch with their favourite bingo brand over on Facebook and Instagram can pick up a true treat with £5,000 worth of prizes to be won in daily competitions and they are available all week between Monday 26th June and Friday 30th June.
There will be various competitions and quizzes taking place throughout the week and you can be randomly chosen to win top prizes from all of the entries into each competition. It is a wonderful way to pick up some bingo bonuses and other rewards while simply spending a bit of time on your social media platforms.
Free to play daily games
Finally, all day every day, you can play Free Form at tombola and Super Spins over at the tombola arcade for a chance to land part of the £50,000 prize pool and it won't cost you a penny to take part.
Remember to check the terms and conditions
Each and every promotion throughout the wager-free Bingo Summer Special at tombola will have its own terms and conditions along with various general ones that you should read. In general, you need a verified account and must be over 18 to play and take part, but you should always check the specifics of each deal via the T&Cs.