Slingo Rainbow Riches Features
All of the bonus features in Slingo Rainbow Riches are unlocked when players register 5 or more slingos (completed lines) on the bingo card. The bonus features are identical to those found in popular online slot Rainbow Riches Pick n Mix. These are Wishing Well, Cash Crop, Magic Toadstool, Red Magic Toadstool, Road to Riches and Pots of Gold. Players can also receive a free spin in the base game if they come across a free spin symbol at any time on the bottom reel.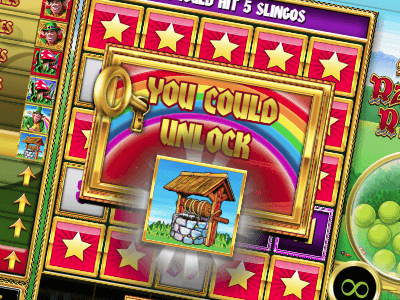 Wishing Well
Unlocked when players get 5 Slingos, the Wishing Well is a pick and click game to win a cash prize.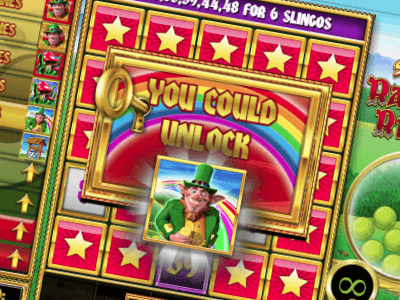 Cash Crop
Unlocked when players get 6 Slingos, Cash Crop is a pick and click game that can see players select coins to win multipliers up to 10x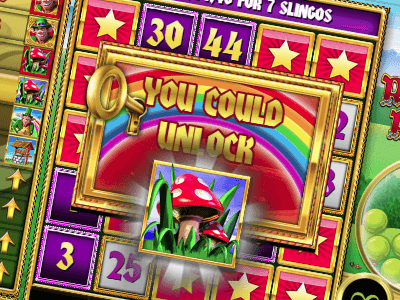 Magic Toadstool
Unlocked when players get 7 Slingos, Magic Toadstool is a pick and click game that sees players pick toadstool to get between 1x and 3x multipliers, landing a fairy means players will get to pick 3 more. The Red Magic Toadstool feature is the same but with all the prizes doubled.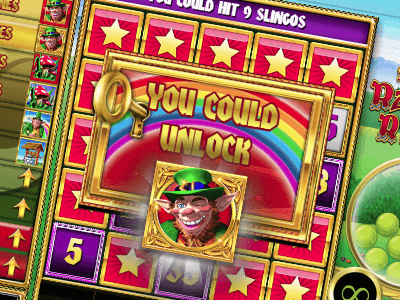 Road to Riches
Unlocked when players get 9 Slingos, Road to Riches sees players spin a wheel to see how many steps they will take along a path. Each step increases a multiplier with the highest being 500x the player's original stake.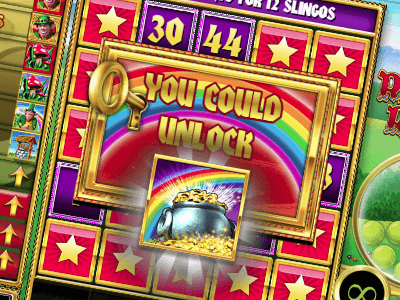 Pots of Gold
When players get a full house they'll unlock the Pots of Gold feature. A wheel of pots spin around and land on either a gold, silver or bronze pot. These pots each have predetermined values with the bronze being the least and the gold being worth the most (1,000x your initial stake).
Slingo Rainbow Riches Review
Slingo Rainbow Riches is a unique game that's a mixture of both online slot and bingo (hence the name Slingo!).
Each game follows the classic Slingo format that sees players wager between 50p and £00 to buy 10 spins of the reels. Each spin reveals 5 numbers, if they match any of the numbers on the 5x5 grid then they're marked off like you would when playing a game of bingo, players win by striking off an entire line (horizontally, vertically or diagonally), the more lines that are struck off the higher the prize.
If players manage to get more than 5 Slingos (winning lines) then they'll unlock one of the bonus rounds that are similar to those you can find on all of the popular Rainbow Riches slot games.