Mystery Reels Features
Mystery Reels is a 5-reel, 20-payline slot that doesn't have too many features to boot, but don't see this as a negative! Like Starburst, many choose to play this game because of how welcoming it is to new players. There are features to enjoy that can prove to be very lucrative, the Golden Apple and the Bonus Wheel, both of watch are a little different from the norm, but very enjoyable to say the least!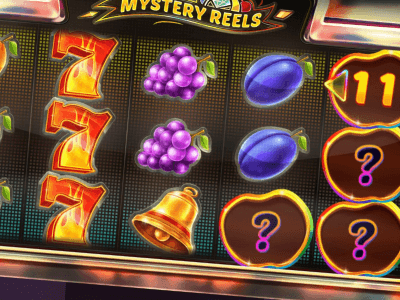 Golden Apple
Every time a golden apple lands on the reels it will be allocated a completely random number, it could be as low as 1, it could be as high as 15. The golden apple then spreads across the reels replacing a set number of symbols with another, making for a potentially huge win.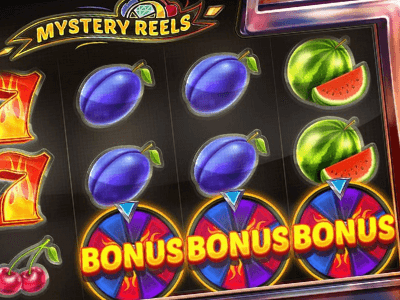 Bonus Wheel
Players can unlock a bonus wheel that can award them a random prize based on their original stake during the previous spin. Prizes include multipliers (2x to 10x), double all prizes, additional wheel spins, bonus wheel multipliers and a mystery symbol that can award any of the aforementioned prizes.
Mystery Reels Review
Red Tiger Gaming have brought the classic pub fruit machine back to life with some exciting twists with their 2017 release of Mystery Reels. This flashy online slot game doesn't have any free spins, scatters OR wilds amazingly, yet it's still a devilishly fun game.
The symbols are exactly what you'd expect from a fruit machine themed game, you can find 7's, bells, watermelons, grapes, plums, oranges, lemons and cherries. Nothing spectacular, however the game remains true to its roots. It is worth looking out for the 7 symbol, landing five will net you 900x your initial stake.
On paper Mystery Reels shouldn't impress us at all… The lack of common slot game features can be quite disheartening at first and the design is as simple as it comes, but don't let that fool you.
However surprised you might be by what this game is lacking, you'll be just as pleasantly surprised at what it does have. Once you land a Mystery Symbol it's quite easy to have your head turned as the winning potential of this special feature can be surprisingly high. Triggering the Wheel Bonus is just as much of a delight, making this game quite novel in the grand scheme of things.
Despite the low RTP and lack of many features players love so much, such as scatters, wilds and free spins, Mystery Reels is a very good game that offers players the opportunity to win 5,000x their initial stake.
It's a little bit different, but it's worth a spin. Had this game not been worth playing it certainly wouldn't have warranted two sequels in the last few years.